Five now-fired Memphis police officers were charged with second-degree murder on Thursday after the group was accused of severely beating Black driver Tyre Nichols, who later died in custody.
Police pulled over the 29-year-old father for a traffic stop on Jan. 7. Nichols' family said he then fled the scene, fearing for his life, before the five officers caught up to him and beat him for three minutes. The Memphis Police Department identified the officers as Tadarrius Bean, Demetrius Haley, Emmit Martin III, Desmond Mills Jr. and Justin Smith.
A grand jury has indicted the officers on charges that include two counts of official misconduct, one count of official oppression, one count of second-degree murder, one count of aggravated assault and two counts of aggravated kidnapping, according to Shelby County court records.
All five officers were held in Shelby County jail, and two were released on bond Thursday.
Nichols' family and its lawyers were given a chance to see body camera footage before it was released to the public. According to family attorney Antonio Romanucci, the video showed the officers using pepper spray, a stun gun and restraint tactics on Nichols, who was eventually taken to a hospital. He died on Jan. 10.
Officials said they will release the video footage to the public on Friday evening. In a statement released on Thursday, President Joe Biden encouraged holding law enforcement accountable through peaceful protests, which Memphis officials are anticipating after the release of the video.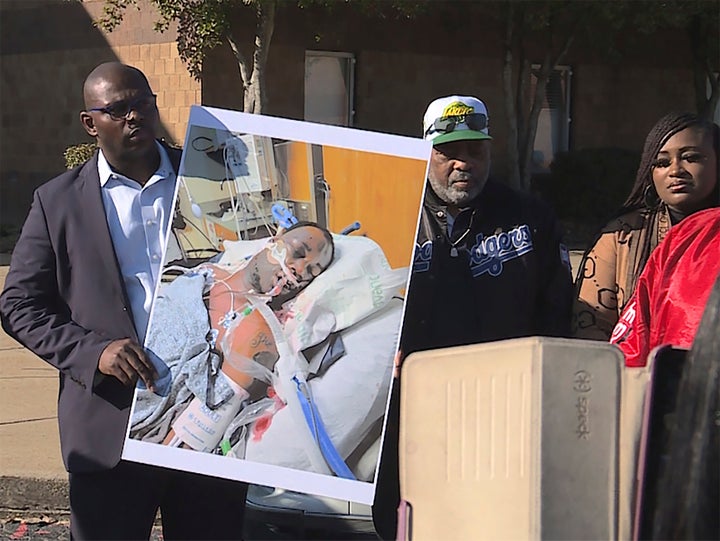 Earlier this month, the family and activists released a photo of Nichols in a hospital bed, bandaged and swollen with a discolored face. The photo was displayed during several demonstrations in the city where the family and protesters demanded justice for Nichols.
Nichols "suffered extensive bleeding caused by a severe beating," family attorney Benjamin Crump said Tuesday after a family-commissioned independent autopsy released its preliminary findings. Local authorities have not yet released an autopsy report.
The Memphis Police Department fired all five officers on Jan. 20 after determining they "violated multiple department policies, including excessive use of force, duty to intervene, and duty to render aid."
Memphis Police Chief CJ Davis released a video late Wednesday saying "these officers were found to be directly responsible for the physical abuse of Mr. Nichols."
While police have not disclosed what units the five officers worked in, WREG-TV reported that at least one of them was with the controversial SCORPION Unit, a 50-person task force created in 2021 as a way to address crime.
Shelby County District Attorney Steve Mulroy confirmed in a press conference on Thursday that the SCORPION Unit was involved in the attack on Nichols.
A man named Cornell McKinney told WREG-TV that the SCORPION Unit stopped him on Jan. 3, just days before Nichols was pulled over and beaten. McKinney recalled the officers in unmarked cars behaving aggressively with him and said he recognized the officers' faces when he saw photos of the police involved in Nichols' case, according to WREG-TV.
The Memphis Fire Department said on Monday that it has relieved two involved firefighters of their duties until the department completes its internal investigation. The department says the firefighters were involved in Nichols' initial patient care.
Nichols was a FedEx worker in the Memphis area who enjoyed skateboarding and photography. The family's lawyers said that in some of Nichols' final moments of consciousness, he called for his mother and expressed wanting to just go home.
Support HuffPost
The Stakes Have Never Been Higher
Related
Popular in the Community