Pompeo said Nikki Haley, while serving as U.S. ambassador to the United Nations, convinced then-White House chief of staff John Kelly to organize an Oval Office meeting between her and the then-president.
But Haley showed up flanked by Trump's senior advisers, his daughter Ivanka Trump and son-in-law Jared Kushner.
"As best Kelly could tell, they were presenting a possible 'Haley for vice-president' option," Pompeo wrote in excerpts of "Never Give An Inch: Fighting For The America I Love" that were published by The Guardian on Thursday.
"I can't confirm this, but (Kelly) was certain he had been played, and he was not happy about it," Pompeo added. "Clearly, this visit did not reflect a team effort but undermined our work for America."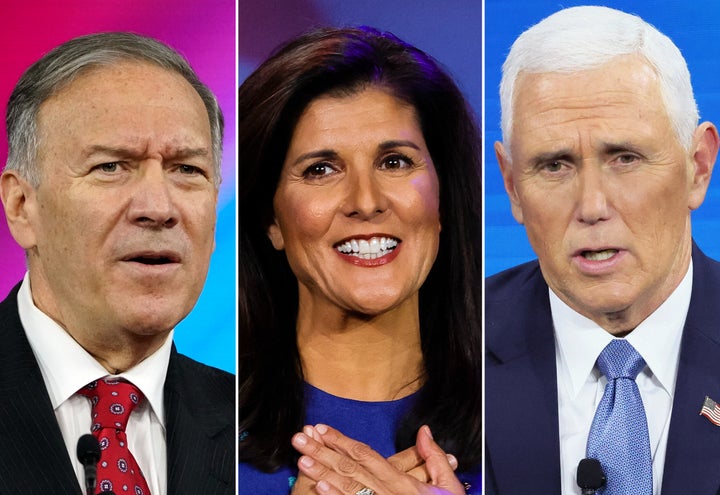 It's unclear when the meeting took place. Haley and Kelly both were serving in Trump's administration from July 2017 to December 2018.
Trump, amid mounting speculation in 2019, was forced to publicly rule out the idea of dumping Pence for Haley, a former governor of South Carolina, on the 2020 ticket.
Pence "is our man 100%," he said at the time.
Pompeo, in his memoir set for release next week, also expressed his apparent disdain for Haley, saying her ambassador role was "a job that is far less important than people think."
"She has described her role as going toe-to-toe with tyrants," he wrote, per The Guardian's excerpts. "If so, then why would she quit such an important job at such an important time?"
Haley left the role at the end of 2018.
Pompeo's digs at Haley should come as no surprise. Both are possible 2024 Republican presidential contenders.
So far, Donald Trump is the only Republican to officially announce a candidacy.
Popular in the Community