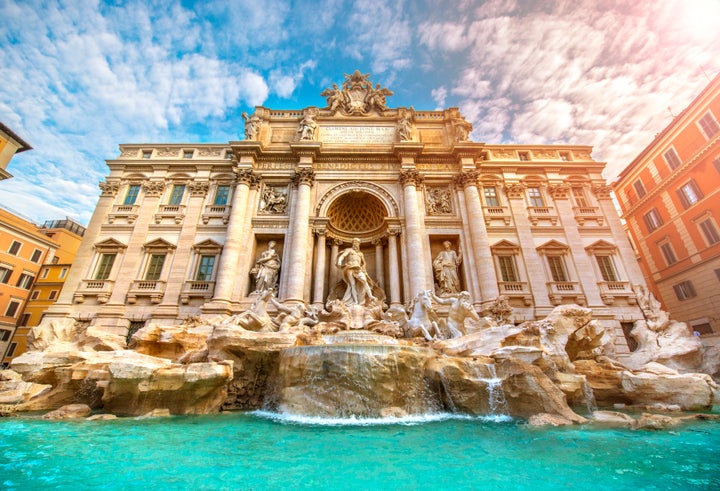 Rome has long been one of the world's most popular travel destinations, and it's easy to see why. The Eternal City is home to countless iconic sites, such as the Colosseum and Trevi Fountain, and the mouthwatering pasta and other great food can't be beat.
But as with any place with a large tourism industry, it's common for visitors to make certain mistakes ― and the locals are in a position to see all of it. We asked people who live in Rome, from expats to natives, to share some of the errors they've observed.
From food faux pas to misguided itineraries, here are 11 mistakes tourists often make while visiting Rome ― and some advice for avoiding them on your travels.
Buying Water
"Don't buy water in Rome ― it's free! There are about 90 fountains in the historic center, typically called nasoni, where you can drink water for free. The water always flows fresh, and very often you will find yourself in front of real works of art. The most famous is the small fountain built into the wall in Via della Fontanella di Borghese. They're usually in cast iron, but some models are in travertine (a local marble), and there are rare examples such as the dragon-shaped Fontana delle Tre Cannelle dating back to 1872 located in Via della Cordonata, near Via Nazionale." ― Diana De Lorenzi, lifestyle blogger
Trying To Cram In Too Many Things
"Rome is a bucket-list destination for a reason: There's a lot to see in the city. But don't try to squeeze it all in in one day! Enjoy 'il dolce far niente' — the sweetness of doing nothing — and pace yourself. Plan one or two activities each day, but then leave time to linger over a leisurely lunch alfresco and wander around the city's small alleyways, popping into shops and galleries." ― Livia Hengel, founder of The Italy Edit
"My first piece of advice to travelers is always slow down, do less. I love Rome, but it is a lot. Pick one big thing a day, like a monument or a museum, and then find a pretty piazza and sit down with a coffee or a Negroni and people watch." ― Gillian Longworth McGuire, travel consultant and author of the newsletter Gillian Knows Best
Ordering A Cappuccino At Lunch Or Dinner
"Cappuccino is only for breakfast! If you would like to live like a local, you can't have a cappuccino after noon. Romans drink cappuccino only in the morning with a delicious cornetto (croissant is for French people, we call it cornetto, literally 'small horn'). During the day, if you need 'power,' you can have an espresso. Romans drink it at every hour, also after dinner!" ― De Lorenzi
Underestimating The Heat
"A mistake made by people traveling in the summer is underestimating the heat. There isn't much shade inside the Colosseum or any at all at the long lines to get into the Pantheon and the Vatican Museums. Air conditioning is not a given in hotels and restaurants. Rome is close to the beach with good train connections. Plan a day that includes a seafood lunch and a nap under an umbrella in one of the nearby towns of Anzio or Ostia or Santa Marinella." ― Longworth McGuire
Misunderstanding Local Food Culture
"Italian food as a homogenous cuisine doesn't exist. Food in Italy is regional and differs city to city, town to town. Yes, you can find a risotto in Rome, but you should have that in Milan and instead go on the hunt for Roman cuisine ― artichokes, carbonara and lamb, to name three of many in the local repertoire. Also, lunch in Rome kicks off anytime between 1 p.m. and 3 p.m. and dinner never before 8 p.m. Finally, Romans don't sit down for pizza at lunchtime. It's for dinner and not to be matched with an Aperol spritz ― that's your aperitivo or after-dinner drink." ― Maria Pasquale, a food and travel journalist and author of "How to Be Italian" and "The Eternal City"
Visiting During Peak Season
"One of the biggest mistakes travelers make when coming to Rome is timing. I realize that if you are traveling with kids, then your timing may be restricted by school schedules. But if not, I would suggest avoiding Rome in high season. The best time to visit is the first half of December, when Rome is decorated for the holidays. And I love Rome during January and February. You can have major attractions like the Trevi Fountain, the Spanish Steps and St. Peters almost to yourself." ― Elizabeth Minchilli, tour guide and and writer
"Visiting Rome during the summer months is one of the biggest mistakes, as temperatures can easily go over 40 degrees Celsius [104 Fahrenheit], making your days truly on fire. It's much better to enjoy the capital in late spring, like April and May, Perfection in my opinion is the month of October. Rome is famous for its October days ― 'Ottobrate' ― splendid autumn days that smell like summer. Remember that in Rome and in Italy in general, air conditioning is not very popular and not everywhere (especially in the rented house). You will find yourself melting like ice lollies in the sun!" ― De Lorenzi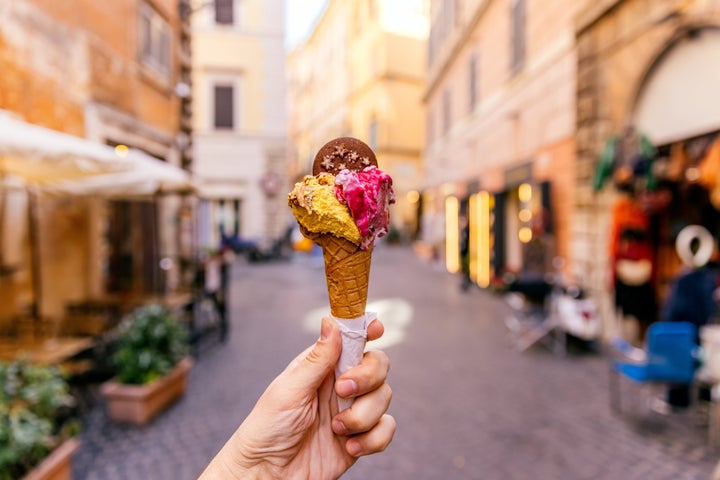 Eating At The Tourist Traps By Attractions
"Food spots directly around famous landmarks sometimes cater to tourism and don't always provide the most authentic experience, or there are so many options that you won't know you're just around the corner from a life-changing supplì. Rome has incredible food and so many great recommendations. Arm yourself with the knowledge!" ― Flavia Brunetti, writer
"Visitors to Italy tend to think it will be easy to find great food. But in cities like Rome, Florence and Venice, it takes some planning. Don't wait until you have spent three hours in the Vatican museum and stumble out dying of hunger to grab the first slice of pizza in your radius. Often the places you see next to major attractions ― like the piazza in front of the Pantheon or the bars in Piazza Navona ― cater to tourists, and so you'll find overpriced mediocre food. Take some time to do research ahead of time and make a game plan. Have your own list of places to grab lunch, dinner or just a coffee or gelato near to the places you might be visiting." ― Minchilli
Not Researching And Booking Ahead
"Since borders reopened after the COVID lockdowns, the city is almost constantly crowded, especially in the warmer months when there is more tourism. It can be so disappointing to be excited to visit somewhere or eat at a certain restaurant only to be turned away or have your heart drop to your feet at the sight of miles-long lines. Book ahead online ― most websites will have an English-language option. A little tip is that many places during the spring and summer will also organize bookable visits that are out of the normal experience, like small group Colosseum night experiences. These are usually exceptional and allow you to see a new place in a different way with fewer people around." ― Brunetti
"A common mistake tourists make when visiting Rome is not taking the time to conduct proper research. Investing some time in understanding essential aspects, such as navigating public transportation, booking tickets in advance for attractions and exploring dining options, will ensure a much more memorable experience." ― Diana Simon, blogger at Browsing Rome
Missing The Delicious Vegetables
"When you need a break from all the pizza and pasta, flip to the back of the menu and order seasonal vegetable sides from the 'contorni' menu. You can ask for them to be served as your antipasto ahead of your main course to add some greens into your diet, or even order a bunch of vegetables as a main dish to enjoy a plant-based lunch. Sautéed chicory with garlic and crushed red peppers and braised Roman artichokes stuffed with herbs are staples on menus across the city." ― Hengel
Expecting Things To Be The Same As Back Home
"Don't assume that everyone in Rome speaks English. Unfortunately this is not the case. Another mistake is believing that public transport is always on time. Unfortunately this is not the case either." ― Melania Migliozzi, lifestyle blogger
Planning A Short Visit
"Two days or a weekend are absolutely not enough to visit the greatness of the capital. Many Romans spend a lifetime discovering it, and in any case it is not enough. Try to dedicate an entire week to Rome and mix the great unmissable monuments with places less subject to mass tourism but no less beautiful. Leaving the center means discovering so much other beauty of life and unforgettable historical places, such as the Parco degli Acquedotti and the architecture of EUR, as well as immerse yourself in the real life of the Romans." ― De Lorenzi
Quotes have been lightly edited and condensed for clarity.
Support HuffPost
A No-B.S. Guide To Life
Popular in the Community