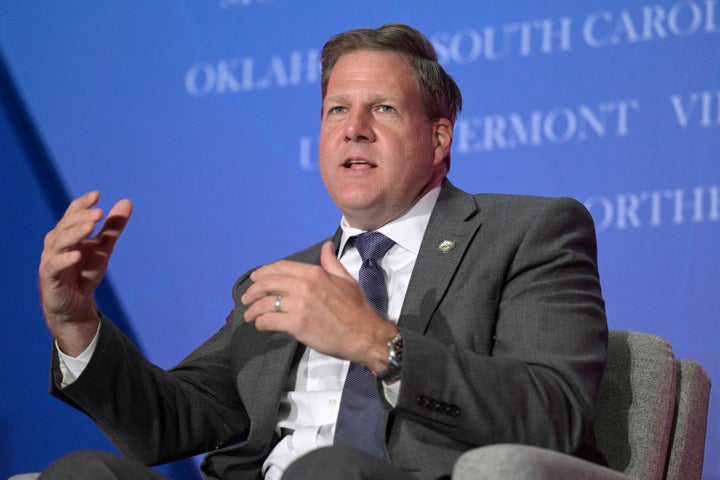 New Hampshire Gov. Chris Sununu has announced he will not run for the 2024 Republican presidential nomination.
Sununu's decision, announced in an exclusive interview with CNN on Monday, comes as a surprise following months of interviews in the national press teasing a potential run.
Sununu told CNN's Dana Bash that former President Donald Trump's strong standing in the polls and the already-crowded nature of the field of contenders seeking to take on Trump convinced him that he could be more effective as someone on the sidelines with a "little more unleashed voice."
Sununu noted that he would have influence over the contest as the leader of the state with the first Republican presidential primary in the country. He plans to urge Trump alternatives to get out of the race if they lack a path to victory, though he declined to name anyone about whom he feels that way, saying he would have stronger opinions after the televised primary debates heat up.
"Given where the polls are right now, every candidate needs to understand the responsibility of getting out and getting out quickly," he told CNN.
Sununu made clear that he sees his primary goal as ensuring Trump's defeat in the primary.
"The math has shown that Donald Trump has no chance of winning in November of '24. He wouldn't even win Georgia. If you're a Republican that can't win Georgia of November '24, you have no shot and he's proven that," Sununu said. "Not only has he proven it, but the candidates he gets behind in a good conservative state like Georgia lose the race. His messaging doesn't translate."
"A vote for him in the in the primary is effectively a vote for Joe Biden," he added.
In the past, Sununu's complicated relationship with the Republican Party has given him pause about running for federal office. Ahead of the 2022 midterm elections, he refused GOP entreaties to challenge New Hampshire Democrat Maggie Hassan for her Senate seat, citing his fear that he would "end up on Capitol Hill debating partisan politics without results."
Currently serving his fourth term as governor, Sununu is a staunch fiscal conservative with a libertarian streak. During his recent media tour, he touted his record of cutting taxes, deregulating business, and loosening the Granite State's already-lax gun laws. He even claimed that his history made him the nation's top governor for "personal freedoms" — ahead of Florida's Ron DeSantis, who has announced his own run for the GOP presidential nomination.
But Sununu had liabilities that would have made him an extreme long shot with a Republican primary electorate that is energized by right-wing populism and remains loyal to former President Donald Trump, who is seeking to retake the White House in 2024.
A moderate on social issues, Sununu signed a bill banning abortions after 24 weeks of pregnancy — far later than the bans signed by DeSantis and other Republican governors. If successful in the primary, he would have had the most liberal position on abortion rights of any Republican presidential nominee in decades.
Sununu has also lambasted Trump in colorful terms and questioned the GOP's focus on so-called culture war issues like rights for transgender people. And he has announced his support for legalizing recreational marijuana use.
Sununu conceded that the Republican base might not be receptive to his particular ideological profile and message.
"They're the ones who elect the nominee. That's right. And that's the frustration," he said. "So I want to make the base bigger. I want to get more independents into the base. I want more young people that have been disenfranchised ― used to be part of the base ― we want to get them back in."
There is already a growing field of Republican candidates hoping to take on Democratic President Joe Biden. In addition to DeSantis and Trump, contenders for the GOP nomination include South Carolina Sen. Tim Scott; Nikki Haley, a former United Nations ambassador and governor of South Carolina; former Arkansas Gov. Asa Hutchinson; and multimillionaire entrepreneur Vivek Ramaswamy.
Popular in the Community