If you're looking for something romantic to watch around Valentine's Day, Netflix has you covered. The streaming service is due to add at least 80 titles in February, including rom-coms and steamy dramas.
"Your Place or Mine," a new romantic comedy featuring Reese Witherspoon and Ashton Kutcher, will premiere on Feb. 10. And starting Feb. 14, viewers will get the chance to watch "A Sunday Affair," a new Nigerian film about a love triangle involving two best friends.
On the show side of things, Netflix will be adding new seasons of the popular psychological thriller "You" (Feb. 9), family sitcom "The Upshaws" (Feb. 16), teen drama "Outer Banks" (Feb. 23) and docuseries "Formula 1: Drive to Survive" (Feb. 24).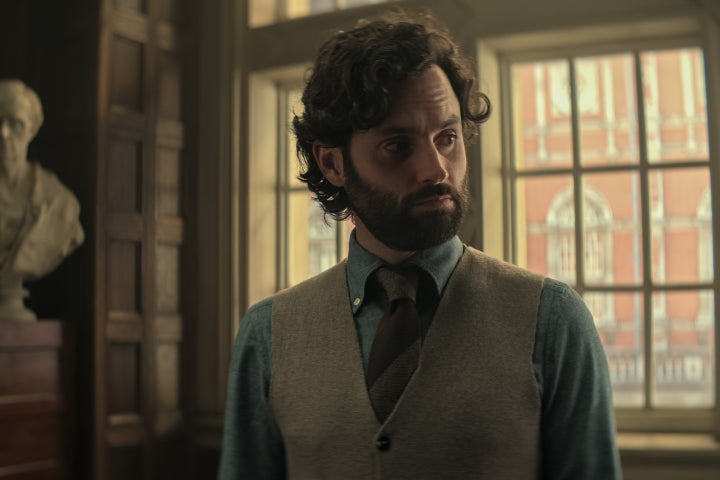 A number of older shows and movies will also be joining the streaming service next month, including season six of "The Great British Baking Show: The Professionals" ― one of several spinoffs of the popular baking competition series. The third and fourth seasons of NBC's medical drama "New Amsterdam" will also become available to Netflix viewers.
"Lord of the Rings" fans are also in for a treat, as all three films in the trilogy are coming to the platform. And if you're looking for an escape to Italy, you'll be able to stream "Eat Pray Love" and "Call Me by Your Name."
Check out the full list of February movies and shows below.
And if you want to stay informed about everything joining Netflix every week, subscribe to the Streamline newsletter.

Feb. 1
"The Great British Baking Show: The Professionals" (Season 6)
"Gunther's Millions" (Netflix Documentary)
"The Lord of the Rings: The Fellowship of the Ring"
"The Lord of the Rings: The Return of the King"
"The Lord of the Rings: The Two Towers"
"New Amsterdam" (Seasons 3-4)
"The Pursuit of Happyness"
"Spy Kids: All the Time in the World"
"Tyler Perry's I Can Do Bad All by Myself"
Feb. 2
"Freeridge" (Netflix Series)
Feb. 3
"Infiesto" (Netflix Film)
"Stromboli" (Netflix Film)
"Thomas & Friends: All Engines Go" (Season 2)
"True Spirit" (Netflix Film)
"Viking Wolf" (Netflix Film)
Feb. 4
Feb. 6
"VINLAND SAGA" (Season 2)
Feb. 8
"Bill Russell: Legend" (Netflix Documentary)
"The Exchange" (Netflix Series)
"MTV Floribama Shore" (Season 1)
Feb. 9
"Dear David" (Netflix Film)
"My Dad the Bounty Hunter" (Netflix Family)
"You" (Season 4, Part 1, Netflix Series)
Feb. 10
"10 Days of a Good Man" (Netflix Film)
"Love is Blind: After the Altar" (Season 3, Netflix Series)
"Love to Hate You" (Netflix Series)
"Your Place or Mine" (Netflix Film)
Feb. 13
"Squared Love All Over Again" (Netflix Film)
Feb. 14
"All the Places" (Netflix Film)
"A Sunday Affair" (Netflix Film)
"In Love All Over Again" (Netflix Series)
"Jim Jefferies: High n' Dry" (Netflix Comedy)
"Pasión de Gavilanes" (Seasons 1-2)
"Perfect Match" (Netflix Series)
"Re/Member" (Netflix Film)
Feb. 15
″#NoFilter" (Netflix Series)
"African Queens: Njinga" (Netflix Documentary)
"Eva Lasting" (Netflix Series)
"Full Swing" (Netflix Documentary)
"The Law According to Lidia Poët" (Netflix Series)
"Red Rose" (Netflix Series)
Feb. 16
"47 Meters Down: Uncaged"
"The Upshaws" (Part 3, Netflix Series)
Feb. 17
"A Girl and an Astronaut" (Netflix Series)
"Community Squad" (Netflix Series)
"Ganglands" (Season 2, Netflix Series)
"Unlocked" (Netflix Film)
Feb. 19
"Whindersson Nunes: Preaching to the Choir" (Netflix Comedy)
Feb. 20
Feb. 22
"Murdaugh Murders: A Southern Scandal" (Netflix Documentary)
"The Strays" (Netflix Film)
"Triptych" (Netflix Series)
Feb. 23
"Call Me Chihiro" (Netflix Film)
"Outer Banks" (Season 3, Netflix Series)
Feb. 24
"Formula 1: Drive to Survive" (Season 5, Netflix Documentary)
"Oddballs" (Season 2, Netflix Family)
"Married at First Sight" (Season 12)
"Pokémon Ultimate Journeys: The Series" (Part 2, Netflix Family)
"The Real World" (Season 12)
"We Have a Ghost" (Netflix Film)
"Who Were We Running From?" (Netflix Series)
Feb. 28
"A Whole Lifetime with Jamie Demetriou" (Netflix Comedy)
"American Pickers" (Season 15)
"Too Hot to Handle: Germany" (Netflix Series)
Support HuffPost
A No-B.S. Guide To Life
Popular in the Community