Republican presidential candidate Nikki Haley on Sunday defended her decision to raise her hand in agreement when asked if she would support Donald Trump as the party's nominee even if he was a convicted felon during the GOP primary debate in Milwaukee last month.
Out of the eight candidates on the stage, only Trump critics former Arkansas Gov. Asa Hutchinson and former New Jersey Gov. Chris Christie said they wouldn't back the four-times-indicted former president if he was found guilty of a crime. Trump skipped the debate.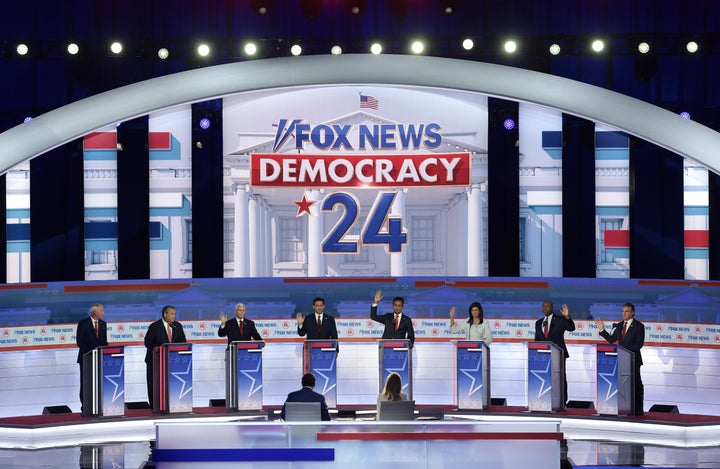 But Haley said her answer was consistent with her decision to sign the pledge put forward by the Republican National Committee as a requirement for appearing at the debate.
"What you saw were candidates on that stage said that they would do exactly what they signed and pledged to do which is support the Republican nominee," Haley told CBS' "Face the Nation."
Haley, though, added that she doesn't expect Americans to vote for someone found guilty of crimes.
"The American people are not going to vote for a convicted criminal," Haley said. "The American people are going to vote for someone who can win a general election. I have faith in the American people."
Still, the former South Carolina governor said ultimately any Republican would be better than President Joe Biden and Vice President Kamala Harris.
Trump has faced charges in four cases, most recently over his efforts to undo Biden's win in Georgia in the 2020 election.
He has also been indicted in Manhattan over his role in a hush money scheme involving adult film actress Stormy Daniels, and in two other federal cases over his alleged mishandling of classified documents, and his plot to remain in power after losing the 2020 contest.
Trump has pleaded not guilty to all charges.
Support HuffPost
The Stakes Have Never Been Higher
Popular in the Community