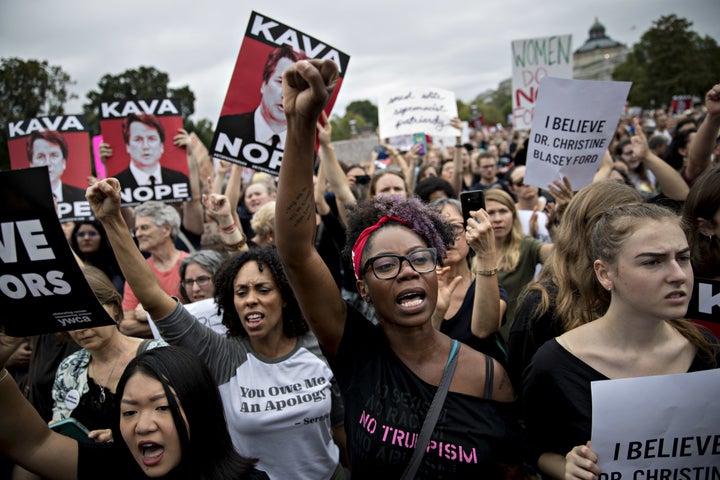 Last week, Sen. Susan Collins doubled down on white supremacy and patriarchy in America. Women and survivors of all genders will never forgive her for it.
In a 43-minute speech last Friday, Collins managed to dismiss survivors, argue in favor of a man accused of sexual assault, and advance Donald Trump's white supremacist political agenda. While a lot of people had been holding out hope for her to vote against confirming Brett Kavanaugh to the Supreme Court, I wasn't surprised.
Like many people of color, on a gut level, I expected this outcome. We've seen the system (and white women) fail us over and over again.
Collins complained that Kavanaugh was being sentenced by public opinion and denied due process — an argument with which I'm familiar. I've been working on the issue of automatic criminalization for a long time. I've spoken out, marched and organized against the lack of a presumption of innocence granted to Tamir Rice, Kalief Browder, Stephon Clark, Chikesia Clemons.
After listening to the senator's speech, I joked about welcoming her into the movement. But of course she wouldn't do anything like that. Because the people typically impacted by automatic criminalization are not white conservative men.
"It's time for white women who are outraged, marginalized and silenced to stand up and speak out for all of our rights."
If Kavanaugh's confirmation hearing exposed anything besides his belligerence and questionable grasp of the truth, it was that the power white men take for granted is under threat. And there are white women who will stop at nothing to protect it.
Women of color have always known there is no justice for us under this current system. Many of our white sisters in the struggle woke up to that reality with the election of Trump. That awakening continues to this very day.
It's time for the 47 percent who voted against Trump to collect their white sisters. We need them all to choose us, their fellow women, over the white men who hurt all of us, but who grant white women a little bit of power along the way.
White women are finally feeling the rage we have felt for the last 400 years. They are feeling the powerlessness we've wrestled with for generations. It's time for them to stand with us — behind us — to ensure equity and justice for all women, for all people.
They don't have to start from scratch. Women of color, particularly black women, have sacrificed for years, laying the groundwork in the process. Exhibit A: Anita Hill, who nearly three decades ago testified before an unsympathetic Judiciary Committee in a world that was nowhere near ready to hear her truth, opened the floodgates for women to speak out about sexual harassment and assault.
Dr. Hill faced many of the same threats as Dr. Christine Blasey Ford, but without a national Me Too movement seeing and supporting her. Like many women of color and unlike Dr. Ford, she wasn't extended empathy or permitted any vulnerability. Her testimony before a group of white men (many of whom are still in elected office) who coldly questioned her credibility, marked one of the first times women openly challenged rape culture in America.
As Brittney Cooper has written, black women's status at the absolute bottom of the American hierarchy, with no access to male or white privilege, has meant that we literally have nothing to lose and everything to potentially gain by putting our bodies on the line. We've done this time and again. We cannot keep doing it on our own.
In some ways, white women have more to lose by rejecting white male patriarchy. But they also have everything to gain. The treatment of Dr. Ford showed once and for all that whiteness is not enough to protect white women from patriarchy.
It's time for white women who are outraged, marginalized and silenced to stand up and speak out for all of our rights. I don't say this to shame white women. I say this because unless we approach these challenges from a place of truth and courage, we will never win.
We need them to get comfortable with discomfort, to check their fellow white women when they prop up white supremacy and white male patriarchy, to sacrifice their bodies and support our work with their dollars as well as their voices. That means showing up, and showing out, but also centering and lifting up our voices and experiences. It means voting for women of color who will fight to end rape culture, white supremacy and patriarchy.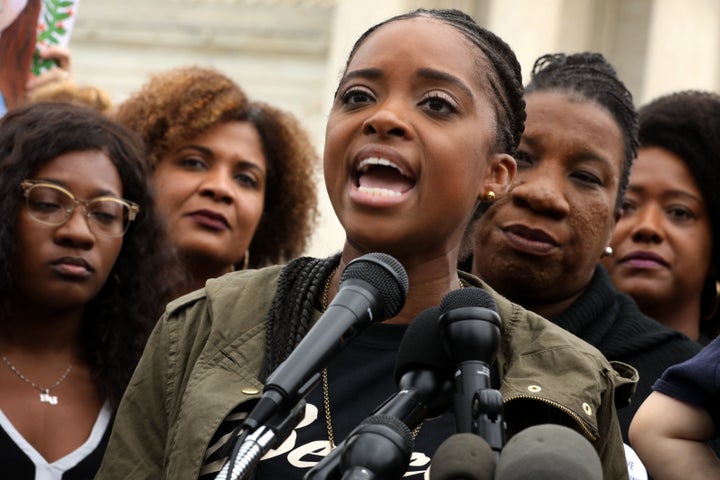 From the first day of the hearing until this past week, where thousands shared their survivor stories and turned their pain into action, we've come together to resist this nominee. For two years, we've fought back against Donald Trump's white supremacist agenda. Now, women are mobilizing en masse like never before: all ages, races, religions, disabilities, sexualities and gender identities. We are running for office in record numbers. We are occupying Senate offices and the Capitol steps, and storming the doors of the Supreme Court.
We're revealing our deepest traumas no matter the consequences and we are no longer containing our fury. Instead, we're using it. We will no longer accept the white, male death grip on power as a foregone conclusion.
In 2017, during the Women's March on Washington ― which I helped organize and which was the largest single-day protest in U.S. history ― we came out in search of hope. But hope alone isn't enough. In November, we will replace rape apologists with the women the march inspired to run against them. In January 2019, we're coming back with an agenda to end rape culture, white supremacy and patriarchy in America.
Our pussy-grabbing president thinks we've given up. We haven't. Over the last five weeks, we've rocked the foundation of the white male patriarchy. And judging from their tantrums, white men (and the white women who support them) are starting to understand that their time in power is coming to an end.
This is just the beginning of a women's wave that will not stop until the country, its laws, its policies, its systems provide justice and equality for us all.
Tamika Mallory is an esteemed social justice leader, advocate and activist.
Related
Popular in the Community