Paramore's Hayley Williams says she regrets how she handled an incident at one of the band's Madison Square Garden shows last week.
The singer expressed remorse for calling out two seemingly disruptive fans in the New York audience, saying she now believes she "abused" her "platform in that moment."
The entertainer was captured on video stopping the band's show and singling out the fans, who seemed to be pushing their way to the front of the pit and getting into a tussle with other attendees.
"Fuck you," Williams said, as seen in a clip of the incident.
"Yes, I will embarrass both of you," she went on, as she singled out the fans in question. "Both of you need to find somewhere else to take care of that shit, 'cause that's not happening here."
Days later, Williams wrote an extensive statement on Discord in which she apologized for how she'd handled the episode.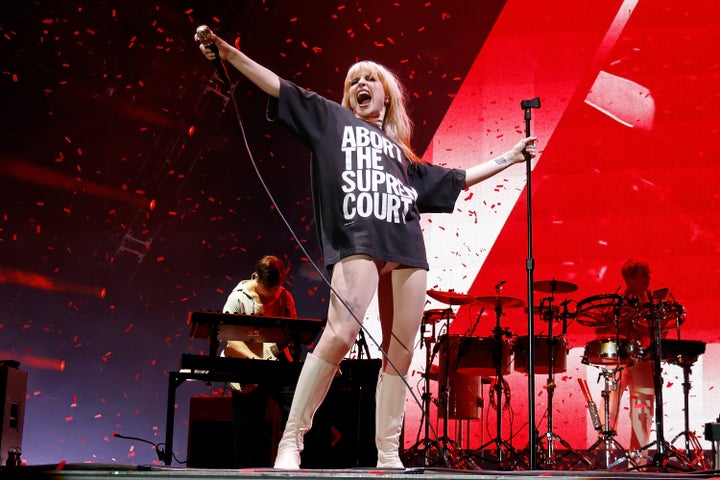 "I have not been able to shake the feeling that I abused my responsibility and my platform in that moment," Williams wrote on June 3, as reported by Rolling Stone and Billboard. "That I hurt those two in a way that will outlast the momentary discomfort of their poor concert etiquette."
"When I saw their faces in the video, I didn't see the smug smiles that some commenters criticized them for. I saw embarrassment and I cried for them," she added. "I'm telling you, I haven't stopped thinking about it. So, if you are those two people... I am sorry for whatever shame or embarrassment I may have caused you."
"I'm not telling you that it's perfectly fine to act entitled or ignorant at a show," she continued. "I'm just saying that I'm sorry that I handled the whole situation like the arbiter of the same type of cancel culture that doesn't often teach or lead in any productive way."
"I'll be happy to tell you I'm very fucking comfortable talking politics," she said while performing at the Adjacent Music Festival in Atlantic City, New Jersey. "If you vote for Ron DeSantis, you're fucking dead to me. Is that comfortable enough for anyone?"
The singer addressed her political statements in her June 3 Discord post, writing: "I hate that the only thing I really know to say to people I deem racist or bigoted in any way is 'you're dead to me' when I know that message isn't the kind that's going to change a hateful heart."
"How can I feel soft and tragic about it in one moment and ragey and rigid the next? Because that's human," she added. "The 'both/and' of all things is my own life's boss-level adversary."
Williams has more plenty more concert dates to figure out the right balance with her fans, as the band is currently on tour in support of its new album, "This Is Why."
Support HuffPost
The Stakes Have Never Been Higher
Popular in the Community