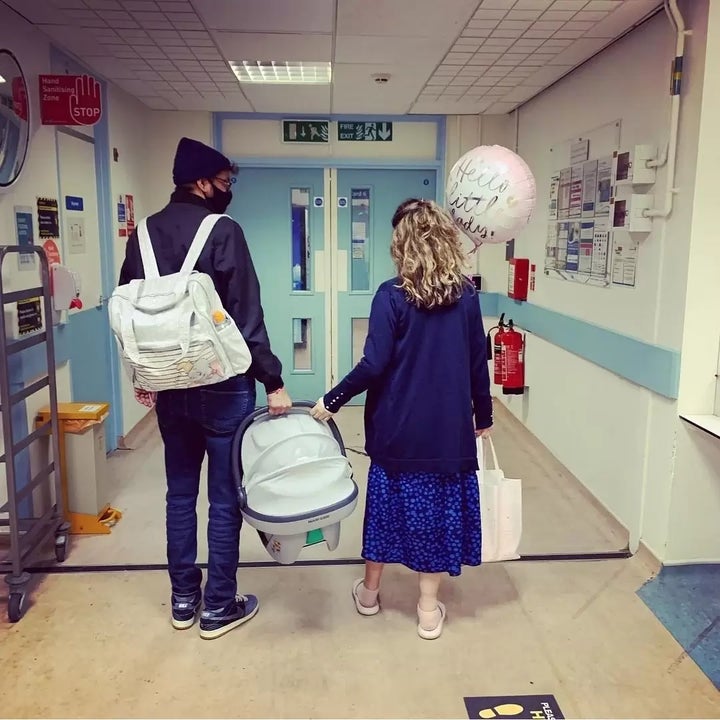 Pregnancy should be a joyful time for a couple. Since meeting my husband, Krunal, I have often thought about what my perfect pregnancy would look like — decorating a nursery together, having my husband on hand to look after my many food cravings, and choosing tiny clothes together in eager anticipation. But the most important thing? Making plans for the future and how we'd bring this baby up together.
But life seldom goes according to plan.
Instead, pregnancy for me was about balancing the lives of my two most important people — my husband and our baby. Because, in a cruel twist of fate, my husband was diagnosed with Stage 4 cancer at the very same time.
In December 2020, my husband suddenly began to experience stomach pain. He visited the doctor but was sent home with painkillers. They didn't think it was anything serious.
During this time, Krunal and I moved into our new home. Only a few days later, I did a pregnancy test, and it was positive. I had previously had a miscarriage, and to me, this baby symbolized hope after the storm. What I didn't know at the time was that another storm was fast approaching, and it would forever turn my life upside down.
In the weeks after we found out about our pregnancy, my husband continued to feel unwell. He was booked in for a scan as a precaution. We weren't too worried. We were joyous in knowing our special news, and life was working out for us.
But they found a lesion in Krunal's bowel. So after a flurry of appointments over the next few weeks, Krunal and I were taken to a small room where a doctor looked at us with an extremely concerned face. "It's cancer," he said.
I looked at Krunal and said: "But we're pregnant…"
We finally met the oncologist in February, where we learned the devastating news that Krunal had advanced, inoperable bowel cancer. Krunal would need the most aggressive form of chemotherapy to try and shrink the cancer. That's all we were told.
My first appointment with the midwife was on the day my husband began chemotherapy. I wasn't allowed to be with him due to COVID. So after spending the night reassuring my husband that everything was going to be OK, I said goodbye to Krunal and burst into tears as I got into my car. I cried the entire way to my appointment and cried when I met my midwife.
Krunal had always looked after me, but once he started treatment, he physically, and at times mentally, couldn't take care of me. I knew I was going to have to look after all three of us. I managed his scans, medical appointments, medicines, nurse visits and food schedules. And that was just the administrative side of cancer.
Then there were the physical side effects of chemotherapy. The treatment left Krunal extremely fatigued and sick for a few days. On those days, I did not leave his side. Instead, I would lie next to him in bed with one hand on his head and one hand on my growing pregnancy bump. When resting, he'd put his head on my lap and hold me tightly.
I went to every hospital appointment with him, even though our oncologist looked at me disapprovingly, saying, "You really shouldn't be in a hospital when you're expecting."
I replied, "I'm not leaving his side."
Looking back now, I didn't allow myself to feel pregnant. I didn't have time. When I wasn't doing things for Krunal, I was just trying to keep my head above water. I had to be strong for him, I couldn't allow myself to break, but I had to give him the courage to keep fighting. It was a lonely time for me.
We had some "silver linings" in the nine months. After going to several pregnancy appointments alone, I found a team of midwives who supported families in situations like ours. This meant they could come to our home for appointments.
It was amazing. Krunal was able to be present for each appointment, eagerly listening to all the pregnancy developments and asking questions animatedly. The most incredible thing was listening to the heartbeat of our baby together. On the days Krunal had energy, we would try to get things arranged for the baby in our new home. In these moments, we forgot we were dealing with a potentially life-threatening cancer. We grew more and more excited to meet this strong little baby of ours. As my belly began to grow, so did Krunal's strength and determination to survive.
For as long as we were together, we believed we could overcome everything. We kept hope and faith — not just in doctors and medicine, but in our love. Our love, we thought, would survive all odds.
But by my final trimester, I was beginning to feel tired. Maybe it was the heaviness of my bump, maybe it was the heaviness of our situation. Still, we tried so hard in those nine months. We loved each other harder than we ever had, and we laughed wholeheartedly when we celebrated small wins.
Our daughter was born one week after Krunal completed his 11th cycle of chemotherapy. Throughout my pregnancy, we were never sure whether Krunal would be able to be present for the birth of our baby due to the treatments. But when the day came, and my contractions began, I saw a strength and excitement in my husband that I'd never seen.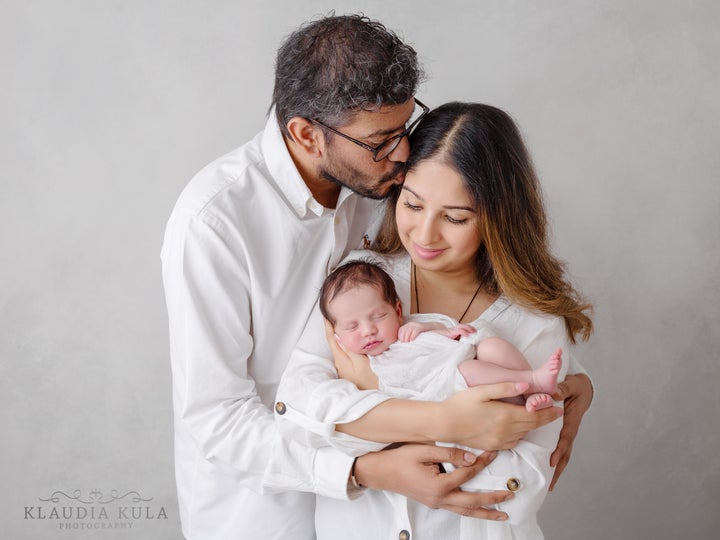 Krunal was with me throughout the entire birth. I will never forget the look on his face when our daughter came into the world. He fell in love immediately. It made him even more determined to face cancer head-on.
He would have one more session of chemotherapy, and finally, we thought, we could resume our lives. He had seemed to respond well to treatment, and scans showed signs of the cancer shrinking.
This, coupled with the arrival of our baby Siya, brought a happiness into our lives that we'd never experienced. With Siya, we felt like we were just regular, new parents — together, we were learning to take care of a baby, changing nappies and doing the night shifts. Krunal had a newfound energy, helping me to look after our baby.
This blissful episode lasted for one whole month until my husband's health began to deteriorate — rapidly. The cancer had grown.
In the final couple of months that followed, life became a flurry of emergency hospital visits and panicked calls to the medical team. My husband was my priority, and I couldn't focus on my new baby. Thankfully, I had family to look after her while I took care of my husband. Hope started to fade. I would look into the eyes of our new baby, wondering how we would manage.
I lost my husband to cancer only four months after giving birth to our daughter.
It felt like my entire world had collapsed around me. I was standing in the ruins of what was once my life. For a very long time, I couldn't see any future for myself, but little by little, day by day, I had to keep going. I was a mother to a baby who had already lost her father. She needed me to be a mother.
I've had to learn to be a single mother while grieving the biggest loss of my life. Yet, despite my pain and heartbreak, I've had to find a way to keep fighting, keep going, and just keep surviving.
I've had no choice but to make decisions on my own about our child, our home, my career, my finances and the future. I have often downplayed the complexity of emotions that come with having a life partner beside you one minute, helping you navigate the messy nature of life, then gone the next. It is so, so hard.
My daughter is the biggest, brightest blessing my husband ever gave me. Maybe he knew I would need that blessing to survive his loss.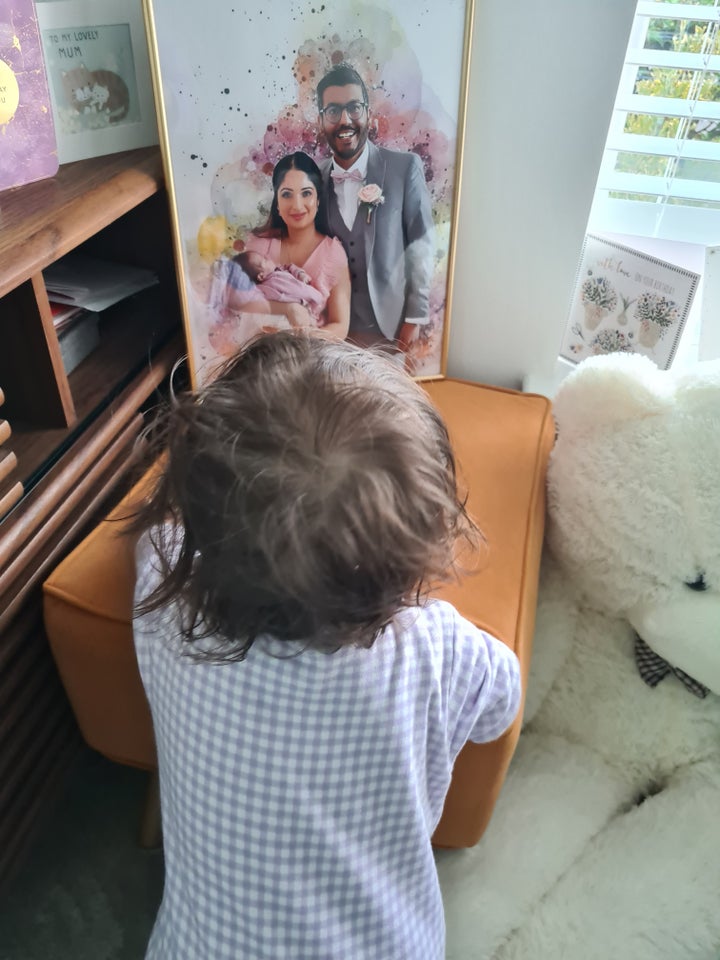 Siya is now 18 months old, and I tell her about her father every day. Each day we wake up, I show her a photo of Krunal and we kiss it. She giggles contentedly and points at his photo. She knows he's her Daddy. I tell her stories and things her father did. I tell her how much he loves her and how proud he is. She is so much like my husband ― her cheeky smile and her playful manner.
There is nothing I would change about falling in love with Krunal. His love will always be the best part of me. Even though we didn't have enough time here together, his love has shaped the person I am today, and I feel so grateful for that.
Each day I count my blessings that with everything that happened that year, Krunal was able to meet his precious daughter. He saw her, he hugged her, he loved her. I will carry that for the rest of my life.
Nimisha Sharma wants to offer a candid, honest and thought-provoking perspective of life through the lived experiences of a British Asian woman. Most recently, she has been documenting her journey of becoming a young widow and mother at the same time. Follow her writing here and on Instagram @nimisha_writer.
Do you have a compelling personal story you'd like to see published on HuffPost? Find out what we're looking for here and send us a pitch.
Popular in the Community