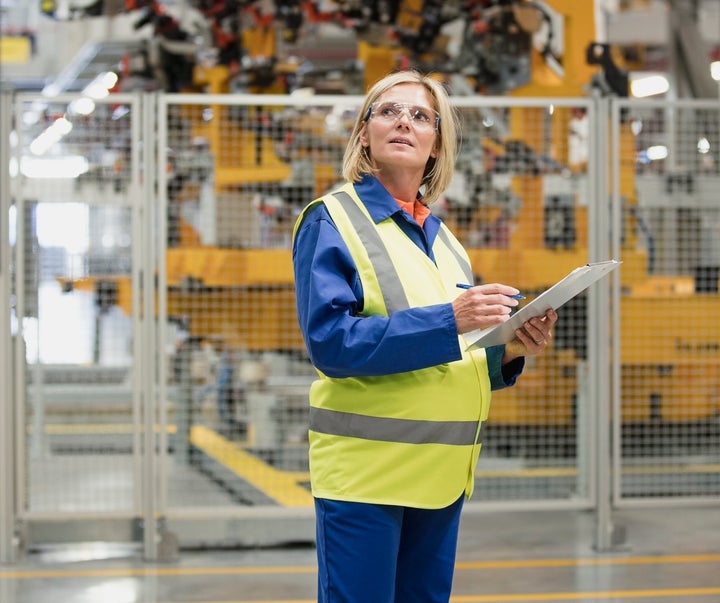 When police officer Lyndi Trischler of Florence, Kentucky, was pregnant, she requested modified duties from her employer.
"I needed to work in our office instead of working on the streets as a patrol officer," Trischler told HuffPost.
The police department denied her request. Trischler's only options were to continue to work patrol or take an unpaid leave that would also terminate her health insurance.
"My pregnancy was very difficult, and I required extensive testing because my son had a fatal health condition," Trischler said. The baby died soon after birth.
In this fraught, stressful circumstance, "the threat of losing my insurance was devastating," she recalled, and her mental health suffered.
"Once it became physically impossible for me to continue working on patrol," Trischler said, "I lost my income."
"My daughter and I had to move in with family when we lost our home," she added.
The denial of her accommodation request meant "I had to risk my health and the health of my son. No mother should have to make that choice."
What protections are provided by the Pregnant Workers Fairness Act?
The $1.7 billion government funding bill signed by President Joe Biden on Dec. 29 includes the Pregnant Workers Fairness Act, which provides protections for workers like Trischler who request accommodations during pregnancy.
Under the new law, which will go into effect at the end of June, employers will be required to provide "reasonable" accommodations to employees unless they would present an "undue hardship" for the employer.
In a case like Trischler's, for example, a transfer of duties to an office is a reasonable request when other employees are granted such duties. An employer would not be required to create a new position to accommodate a pregnant worker's need.
Advocates stress the modest nature of the accommodations that pregnant workers tend to seek.
Sharon Terman, a senior staff attorney for Legal Aid at Work, gave the following examples of accommodations: "sitting on a stool while working, receiving a larger uniform, taking extra bathroom breaks, avoiding exposure to toxic chemicals, being able to carry a water bottle, avoiding climbing ladders and getting help with heavy lifting. These modifications are by their nature temporary and typically very easy for employers to provide."
Jessica Stender, policy director and deputy legal director for Equal Rights Advocates, one of the organizations that lobbied for the Pregnant Workers Fairness Act, told HuffPost, "We really have seen this troubling trend that when a pregnant person — usually a woman — goes to their employer with what is often a very minimal accommodation request, the employer often essentially immediately denies the request without even engaging in any kind of dialogue to determine whether it is reasonable and feasible."
Under the new law, pregnant workers will have a path to recourse in such situations.
Candice Branner, who worked as a transportation security officer at San Francisco International Airport, approached her supervisor with a doctor's note when she was pregnant that requested modifications to her duties limiting her need to bend, lift or stand for long periods of time. Branner also requested the use of a cart to move around the airport.
"I was sent home that day," Branner told HuffPost. "I never returned back to work."
She explained, "It wasn't really a dialogue, or 'Come in and let's talk about it' or anything like that. It was like, one day I was at the airport and the next day I was gone."
The loss of paid work came as a shock during a vulnerable time, Branner said.
"We were two young people working. For one person to go off work — you have these plans, because our child was planned, and something is messing up our plans. It was a very scary moment. An unsure moment. I went through a lot, just being at home, depressed, things like that."
California does have a law protecting pregnant workers from being denied reasonable accommodations and being forced into unpaid leave in this way, and Branner and 41 other women won a $450,000 settlement from their employer in March 2021.
Terman said that her organization has "advised and represented many pregnant workers who have sought accommodations under California's pregnancy accommodation law."
Thirty other states and the District of Columbia have similar laws, as do four cities. Now the Pregnant Workers Fairness Act will bring this protection to workers throughout the country.
"Workers' rights should never be determined by ZIP code," Stender said.
How is the Pregnant Workers Fairness Act different from laws already in place?
Prior federal legislation provided protection against pregnancy discrimination and some accommodations for disability but was insufficient to meet pregnant workers' needs, advocates say.
The Pregnancy Discrimination Act of 1978 prevented pregnant people from discrimination in hiring decisions, "an important first step," Stender said. Yet its language regarding accommodations made it challenging for pregnant workers to seek accommodations.
"Under the PDA, to be entitled to an accommodation, a pregnant worker has to show that other workers who are not pregnant but similar in their ability or inability to work receive accommodations at their workplace," Terman explained.
If a pregnant worker sought to be relieved of heavy-lifting duties, they would have to be able to point to another worker who was relieved of heavy-lifting duties due to an injury, for example. Yet many workers aren't in a position to go looking for such a comparison, and the result was that employers frequently denied requests for pregnancy accommodations without consequence.
"Two-thirds of pregnant workers were losing their Pregnancy Discrimination Act claims in federal court before passage of the Pregnant Workers Fairness Act," said Elizabeth Gedmark, vice president of A Better Balance, a nonprofit advocacy organization.
This was even after a Supreme Court case, Young v. UPS, appeared to set a precedent in favor of workers' rights.
"Having this affirmative right directly written into statute is a really important development to ensure that workers really get these accommodations," Stender said.
The 1990 Americans With Disabilities Act provides a model for giving workers reasonable accommodations, but it doesn't cover accommodations for a regular (non-disabling) pregnancy.
"Health care providers often advise people with perfectly normal pregnancies to take reasonable measures to protect their health, such as sitting when possible, taking an extra break, or avoiding dangerous tasks or toxins at work," Terman explained.
When the Pregnant Workers Fairness Act goes into effect at the end of June, it will provide these kinds of protections for all pregnant people.
"This has been a 10-year fight to get these basic protections in place," Stender told HuffPost.
The legislation had been introduced in every congressional session since 2011. It passed the House in May 2021 and was included as an amendment to the recent government spending bill.
"The fact that it's taken this long," Stender said, "is really a sign of a lack of importance put on women in the workforce."
The law, Terman said, is "especially important for low-paid workers and pregnant people of color who are more likely to work in low-paid industries and physically demanding jobs, and who frequently are forced to choose between a healthy pregnancy and maintaining their livelihood."
Trischler, the police officer, said, "What happened to me was not an isolated incident." The passage of the law "ensures that no one will have to go through the struggle that I did just to receive modest accommodations."
The $1.7 billion government spending bill also includes the PUMP for Nursing Mothers Act, which expands the pool of workers who are entitled to time during work hours to express breast milk. The act also extends the time period that employers must offer this accommodation from one year to two, in line with the American Academy of Pediatrics breastfeeding guidelines, which were revised in June 2022 to recommend that children nurse "as long as mutually desired by mother and child for 2 years or beyond." The previous AAP guidelines advised nursing for one year or beyond.
How do I get workplace accommodations?
If you are pregnant or nursing and you need modifications to your job, such as a change in schedule to accommodate morning sickness or breaks to pump breast milk, you may be able to get help from your human resources department or your union representative.
Even though the Pregnant Workers Fairness Act doesn't go into effect until the end of June, many employers, knowing that they will soon need to comply with the new law, may be encouraged to grant pregnant or lactating workers accommodations now.