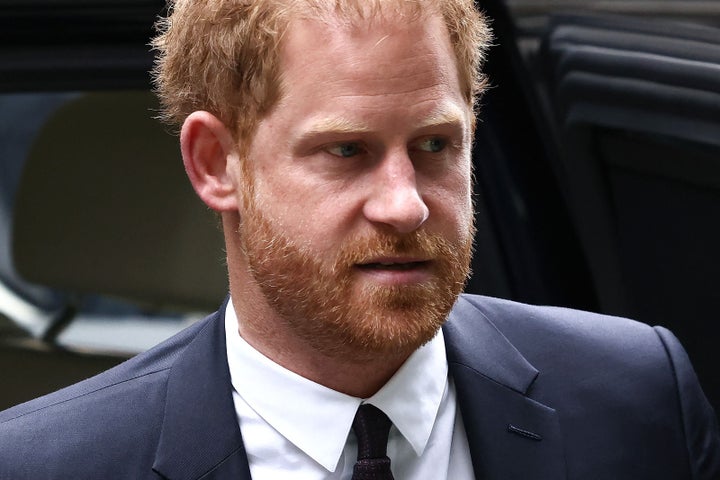 Why is Harry in court again?
The Duke of Sussex is testifying as part of a wider case alleging that the newspaper publishers used illegal means – such as hiring private investigators and phone-hacking – to obtain information about high profile people for articles.
The publishers have denied the allegations against them, alleging there is "zero" evidence of Harry's phone being hacked. They say his claim also exceeds the legal time limit for such cases, which is just six years after someone findings out they may be a victim of such violations.
This is just one day in a case set to run to the end of June. Three other celebrity witnesses are also set to take to the stand, claiming they were victims of phone-hacking as part of a wider 100-strong group.
This is a test case, meaning if these four claimants win, the judge will use it as a template for how much the publisher needs to pay in damages for other phone-hacking cases.
This is a civil case with no jury.
Harry is expected to take to the stand for a second day of cross-examination on Wednesday, and has been instructed not to discuss his evidence with anyone until his time on the stand is completed.
He already surprised the judge on Monday by not attending court because he only left California late on Sunday, having stayed to celebrate his daughter Princess Lilibet's second birthday.
Here's what we found out from just his first day in court.
What did Harry claim in his 49-page witness statement?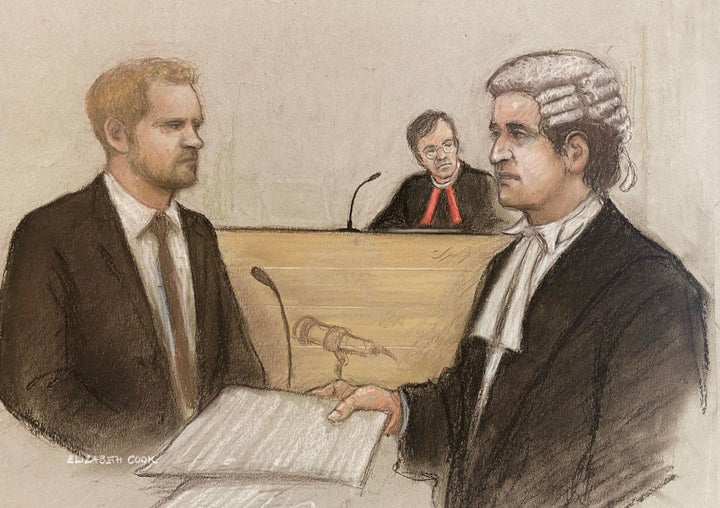 1. Press cast Harry as a 'thicko'
The royal claims the tabloids cast every royal in a certain role in their "vile" way of working – and he was seen as a "thicko," "cheat," "underage drinker" or "irresponsible drug taker."
He said he ended up "playing up to a lot of headlines," thinking he may as well "do the crime" if people already believed it.
"It was a downward spiral, whereby the tabloids would constantly try and coax me, a 'damaged' young man, into doing something stupid that would make a good story and sell lots of newspapers," Harry said.
2. Press 'largely' responsible for Sussexes leaving UK
Harry said: "In large part... due to the constant intrusion, inciting of hatred and harassment by the tabloid press into every aspect of our private lives, which had a devastating impact on our mental health and wellbeing.
"We were also very concerned for the security and safety of our son."
3. Harry blames press for 'paranoia' in his relationships – including his marriage
He said: "Whenever I got into a relationship, they were very keen to report the details but would then, very quickly, seek to try and break it up by putting as much strain on it and creating as much distrust as humanly possible.
"This twisted objective is still pursued to this day even though I'm now married."
He said his relationships are not in the public interest, but this intrusion meant he couldn't "trust anybody".
He also says his relationship with ex-girlfriend Chelsy Davy was deeply affected by supposed phone-hacking, as they could "never understand how private elements of our life together were finding their way into the tabloids." That contributed to her decision not to continue a "royal life," which was "incredibly upsetting" for Harry.
This paranoia extended to fears about his safety. He said when he saw photographers in unexpected places, "my security and I simply couldn't know whether they were reaching for a camera or drawing some kind of weapon" and that he used to even hide in car trunks to escape the press.
4. Harry suspected phone-hacking as articles had 'snippets of truth'
Tabloids articles were "often wrong but interspersed with snippets of truth," leading Harry to think were "most likely gleaned from voicemail interception and/or unlawful information gathering."
Harry claims he remembers dismissing problems with his voicemail as "a technical glitch".
His witness statement also points to various payments made for some stories as evidence of unlawful information gathering.
5. Harry accuses editors and journalists of having 'blood' on their hands
He clarified when cross-examined that "editors and journalists" cause "a lot of pain and in some cases inadvertently death."
He asked how long "before someone can put a stop to this madness"?
6. Piers Morgan leaves Harry 'physically sick'
Morgan, who was editor of The Daily Mirror between 1995 and 2004, wrote publicly about Princess Diana's friendship with TV star Michael Barrymore back in the 90s. Harry claimed that the ex-editor was aware of details about their relationship because he was hacking Diana's phones.
His witness statement reads: "The thought of Piers Morgan and his band of journalists earwigging into my mother's private and sensitive messages ... makes me feel physically sick and even more determined to hold those responsible, including Mr Morgan, accountable for their vile and entirely unjustified behaviour."
7. Harry and Meghan subject to 'intimidation' from Morgan
The Duke alleges that "as a consequence of me bringing my Mirror Group claim, both myself and my wife have been subjected to a barrage of horrific personal attacks and intimidation from Piers Morgan".
He claims this was "presumably in retaliation and in the hope that I will back down," before Morgan could be held accountable.
8. Princess Diana 'wasn't paranoid'
He said Diana was not paranoid, but "she was fearful of what was actually happening to her and now I know that I was the same".
He also touched on the false reports James Hewitt was his real father, noting: "At the time of this article and others similar to it, I wasn't actually aware that my mother hadn't met Major Hewitt until after I was born."
9. Harry was called a 'pussy' by classmates
Harry said stories reporting his various ailments while at school meant "I was often singled out for being a 'sick note' or a 'pussy' because articles like this made routine injuries seem like such a big deal".
10. Harry and William were furious about his mother's former butler's indiscretion
The Duke says reports that he and his brother were irritated by Paul Burrell's regular disclosures about Diana to the press were true, as the royals thought she deserved "privacy in death".
Reports that he called Burrell a "two-faced shit" "could have been lifted directly from a voicemail I had left," Harry suggested.
11. Harry thinks UK government and press are at 'rock bottom'
Harry said "the state of our press and our government" are "at rock bottom".
"Democracy fails when your press fails to scrutinize and hold the government accountable, and instead choose to get into bed with them so they can ensure the status quo."
He called for journalists to expose those "stolen or highjacked the privileges and powers of the press," claiming the British public "deserve to know the depths" of what is happening.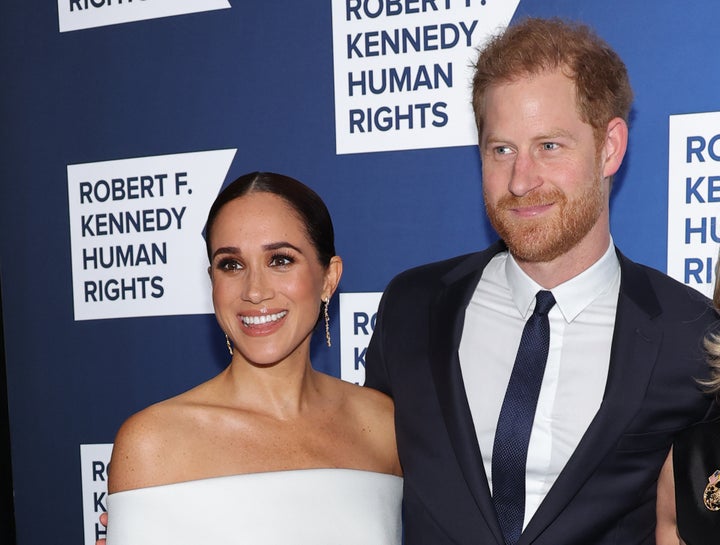 12. Queen sent an aide to watch over Harry during his gap year
Harry visited a beach resort in Australia during his gap year. In his witness statement, he claimed "the Queen had asked one of her assistant private secretaries to fly out to Noosa and take a house down the road from where I was staying, without me knowing".
"She was concerned about the extent of the coverage of my trip and wanted someone I knew to be nearby, in case I needed support," he added.
13. Harry was 'miserable' and a 'laughing stock' at school over glandular fever reports
The royal was "ashamed" of catching the so-called kissing disease, and so was deeply affected by articles revealing his illness.
He claimed the story "made sure the whole country knew about my diagnosis," adding: "The whole school seemed to know, no one would go near me and I was a bit of a laughing stock. I felt miserable."
14. Harry fretted over drug reports
Commenting on reports from 2002 about Harry supposedly taking drugs in a London pub, the royal said: "The fact that the defendant's journalists were trying to drag some of my friends into this and name and shame them sickens me."
The prince adds: "Not only did I have the stress and worry about who I could trust with any personal details about myself, but I also knew I had to worry about anyone that I was close to becoming a target for the defendant."
15. Harry is not bringing claim because of hatred for the tabloids
The royal claimed: "I am bringing this claim, not because I hate the tabloid press or even necessarily a section of it, but in order to properly hold the people who have hijacked those privileges, which come with being a member of the press, to account for their actions."
He added that the media is "unbelievably dangerous" for everyone if you are a person of interest to the press.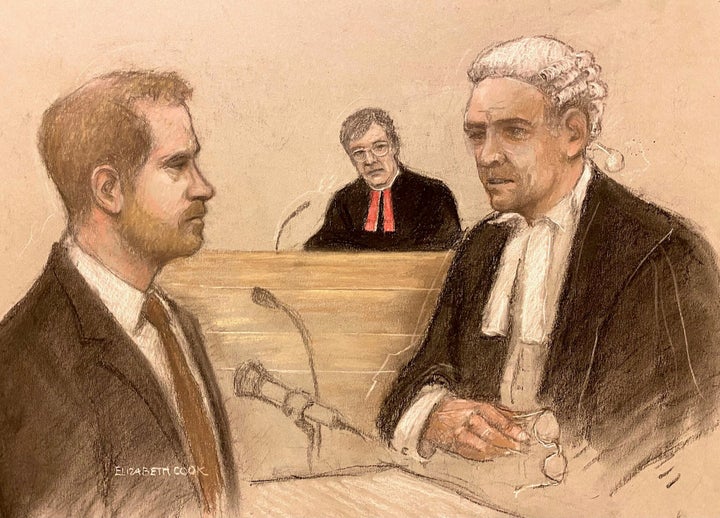 What did we find out from the cross-examination?
Harry was cross-examined by the Mirror Group Newspaper's barrister Andrew Green over 33 articles (out of 147 submitted by his team) written between 1996 and 2010, which the royal claims include unlawfully gathered information.
There seemed to be different prongs to Green's cross-examination:
Questioning if Harry was aware of all the articles he was complaining about – if he didn't know of that particular story, Green asked if it was really so distressing to the royal
Questioning if the MGN's pieces were that different from contemporary from other tabloids, which may have published pieces earlier – if so, how could it be said to be unlawful
Questioning if the information may have come from the Palace, rather than through unlawful means
Questioning if Harry was more embarrassed about the story rather than how it was revealed.
1. Harry said he's not sure how many of the articles he saw at the time of publication
He said looking through them with his legal team "jogged memories" and that "every single article has caused me distress" in some capacity, because the stories had an impact on him and those around him – including Diana.
2. Harry admitted to long-standing hostility to the press
"I've experienced hostility from the press since I was born," Harry said, admitting that he also has a "long-standing hostility to the press".
3. Green disputed Harry's timeline
The prince says he was given a mobile phone when he went to Eton in 1998 – but one of the early articles he is disputing stretches back to 1996.
Harry said that his mother called him on a landline – and said reports which included details of their conversation are still inexplicable.
4. Harry claimed hacking was done on burner phones
He suggests these were destroyed and there was no call data, so he has "little to go on" when it comes to evidence.
Mirror's lawyer replies that there is call data in relation to other targets but not Harry.
5. Harry said journalists were 'desperate for anything royal'
While Harry regularly criticised the press as a whole, Green regularly pointed out that stories the royal brought to court often include information reported somewhere else days before.
"Just because there was a story which came out previously doesn't mean there weren't attempts to take the story further," Harry replied.
6. Harry was pushed to be specific about who hacked who
"We are, Prince Harry, in the realms of total speculation," Green said.
But Harry said it's up to journalists to answer such questions, claiming: "I do not believe that as a witness it's my job to deconstruct the article or be able to answer which parts are unlawfully obtained and which aren't. I think the journalist themselves should be doing that."
Green also suggested that Harry's fame means there are different routes for people to obtain information about him, but the royal says his circle became smaller over the years, meaning he has very few people close to him.
7. Harry said he lost friends over fears they were behind press leaks
The royal said: "As a child at school I would have made the assumption that it was a friend... who went to the papers. Now, many years later, unfortunately that's not the case.... and those friends, they are no longer my friends."
8. Harry and Green discussed Palace cooperation
Harry suggested that there was "one individual" within the Palace who collaborated with the now-defunct News of the World.
It comes after he wrote in his memoir "Spare" that "spin doctors" worked with the media for stories about Harry's use of cannabis.
The spin doctor in question was supposedly Mark Bolland, who was the deputy private secretary to then-Prince of Wales, Charles, from 1997 to 2002.
Green claimed: "Private information about you that you present as being gathered unlawfully was actually provided by Mr Bolland."
When Green said that was "unfair" to then blame journalists, Harry said "you'd have to ask the journalists".
The royal also suggested that the Palace would sometimes only make information public once a journalist had asked a specific question. He queried how they would have the information to ask about various matters in the first place.
Green also suggested that some information would come from Palace aides and minds but Harry rejected that.
9. Harry suggested King Charles could have been hacked too
It comes after an old article which said Charles was "worried sick" but then "hugely relieved" when he found out Harry only used cannabis.
Harry says there was "potentially unlawful information gathering" there.
10. Harry admitted there are similarities between contemporary reports
The Duke of Sussex admitted there were similarities between contemporary reports, meaning MGN may have just taken information already in the public domain in the articles Harry has submitted as evidence.
However, Harry often points to invoices linked to various articles and says "the timing was suspicious," adding that the appearance of interviews was enough to incentivize rivals to get more information through various means.
11. "Spare" was also dragged into it
Harry's memoir was used as evidence from the MGN barrister over Paul Burrell. In "Spare," Harry appears to suggest he would have wanted a meeting with Burrell.
But, he claimed in witness statement that he was "firmly against meeting" Burrell "at this point" in his life after the former aide spoke the press about Diana.
Harry points out that he wrote "Spare" when he was 38, but his witness statement is about being 18. He eventually conceded that he can't remember what he would have wanted at the time.
12. Harry said articles on Paul Burrell 'seeds distrust between brothers'
The royal said reports he had called Diana's former butler a "two-faced shit" in a voicemail to his brother William just "seed distrust between brothers".
He admitted in his witness statement that this was the sort of thing he might say to his brother over voicemail.
13. Harry's big moment may be linked to reports about his flight details
Green suggested that reports about Harry's trip to meet Chelsy Davy's family may have come from her uncle – but the royal disputed this and said it was unlikely he would have known the details of Harry's flights, because it was a security risk.
Harry also questioned if the journalist was honest about her sources – and claimed that saying information has come from a "pal" could indicate phone hacking.
He also claimed that false details from events were inserted into articles to "distract from the true means of obtaining the information," and to "put me off the scent".
14. Harry had one 'mind-blank' moment – but also tried to question the barrister
Harry said that it was "distressing" to look at some articles again, and did have one difficult moment around 3pm, when he said: "My mind goes blank for a moment."
The MGN barrister has said that he has "sympathy" for the royal after years of media intrusion – although he made it clear this is not the same as unlawful activity.
Harry also attempted to ask a question about who wrote one particular article, only to be told: "I am here to cross-examine you, I am afraid that's the way this works, Prince Harry."
15. Harry says he was 'suspicious' over his phone calls with Davy
Harry claimed that MGN must have had "copies" of his phone calls to his ex-girlfriend, claiming: "I don't believe my girlfriend would have ever spoken to a stranger on the phone about our relationship."
Green asked if Harry had any evidence of this – but Harry said he didn't, as "it's hidden or destroyed," as evidenced by his legal team.
Related
Popular in the Community