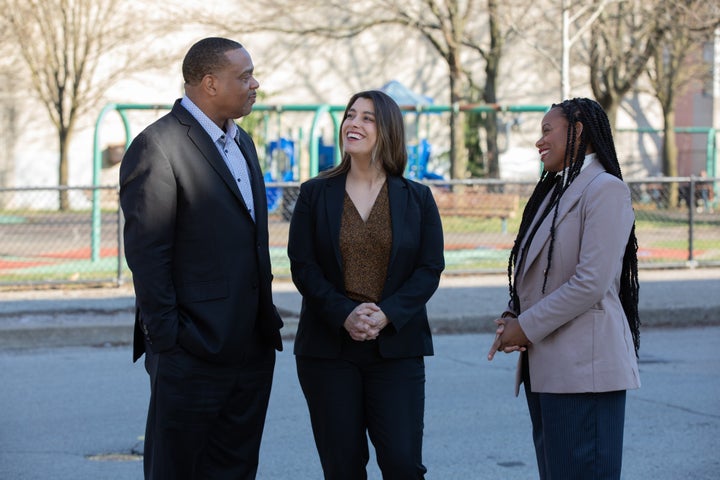 Progressive Democrats won a host of competitive races in Pennsylvania's Allegheny County on Tuesday, significantly reducing the influence of the party's moderate wing in a region that includes the city of Pittsburgh.
State Rep. Sara Innamorato's victory in the Democratic primary for county executive was perhaps the most consequential result.
Meanwhile, progressive challenger Matt Dugan unseated Allegheny County's Democratic district attorney, Stephen Zappala. And Bethany Hallam, an at-large member of the county council, survived a challenge from a moderate contender.
"People are hungry for a government that works for them," Innamorato told HuffPost. "They are hungry for policies that progressives tend to espouse during campaigns and use when they govern."
The primary's outcome is the product of a yearslong campaign by progressives to win elections in a county where the reigning Democratic Party has historically been moderate — and often lacking in female and nonwhite representation.
Should she win the general election in November, Innamorato would replace outgoing County Executive Rich Fitzgerald (D), a deal-maker with ties to both big business and organized labor who served for three four-year terms.
Fitzgerald has been determined to reverse the left's advances in the Pittsburgh area since an initial wave of progressive wins in 2018, when Innamorato and Summer Lee (D), backed by the Democratic Socialists of America political group, ousted two old-guard Democratic state lawmakers.
In the 2022 Democratic primaries, Fitzgerald endorsed then-U.S. Rep. Conor Lamb's bid for the U.S. Senate nomination over the more progressive candidate and ultimate winner, John Fetterman. He also endorsed attorney Steve Irwin over Lee for a seat in the U.S. House, which she ultimately won.
This time, Innamorato benefited from a crowded primary field, triumphing over at least two serious contenders: Pittsburgh Controller Michael Lamb and Allegheny County Treasurer John Weinstein. (Fitzgerald had endorsed Michael Lamb, who is Conor Lamb's uncle.)
She also ran on a clear, progressive message, pitching voters on her vision for more affordable housing, tougher environmental regulations, and higher taxes on big corporations and nonprofits like the University of Pittsburgh Medical Center. All the while, Innamorato highlighted how the loss of her father to an opioid addiction shaped her worldview, and presided over a grassroots canvassing network that helped identify 20,000 voters supporting Innamorato.
"Over the course of the last five or 10 years, we've been really building a coalition of people and organizations across Allegheny County that care deeply about affordable housing, clean air and clean water, good union jobs — the most basic things that we need in our everyday lives," said Jennifer Rafanan Kennedy, the chair of Innamorato's campaign committee and managing director of Pennsylvania United, a progressive umbrella group that has been active in many of the Pittsburgh left's electoral successes.
"It's really that cycle of issue-based organizing and elections that has allowed us to build the kind of power that's needed to transform this county."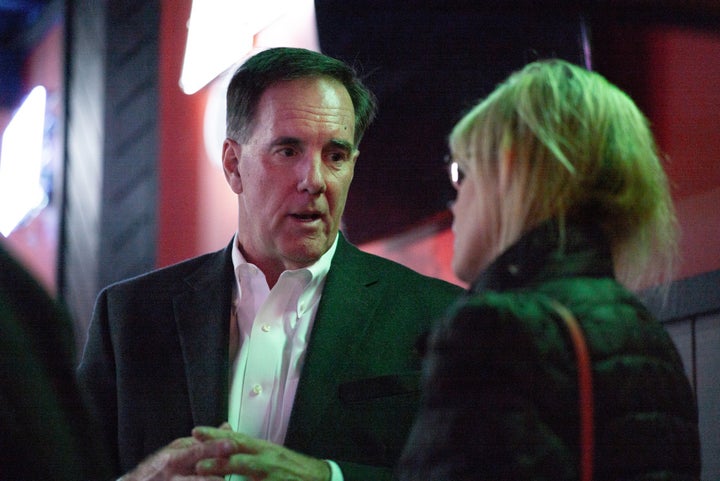 But Pittsburgh's ascendant left cannot declare victory just yet, even if Dugan does not have a Republican opponent and Hallam is widely viewed as safe.
Joe Rockey, Innamorato's Republican opponent and a former banking executive with PNC Financial Services Group, could mount a competitive campaign. Allegheny County has about twice as many registered Democrats as Republicans, but many of those Democrats are more moderate than Innamorato.
"Sara was the weakest candidate from our perspective coming out of the primary," said Mark Harris, a Republican consultant advising Rockey's campaign. "The voters in the county are going to have a clear choice between the steady executive leadership of a moderate versus someone who's well outside the mainstream."
Harris added, "If you want to continue the Fitzgerald jobs-first efforts, Joe Rockey on those issues is closer."
A key flashpoint in the campaign is likely to be the issue of hydraulic fracturing for natural gas, commonly known as fracking.
Many environmentalists and public health experts fault the energy extraction method for leaking dangerous methane gas and jeopardizing local freshwater supplies. But proponents of the technology note that using gas to generate electricity results in lower greenhouse emissions compared with coal. And local labor unions have become heavily dependent on the industry as a source of high-paying union jobs.
Fitzgerald in 2013 signed off on a fracking initiative at the Pittsburgh International Airport. The project has generated millions of dollars in annual revenue that the county has used to lower airline fees and expand airport operations (though some observers note that the revenue has fallen short of initial expectations).
Innamorato confirmed to HuffPost that she would seek to effectively ban fracking by having the Allegheny County Health Department issue new rules regulating the practice out of existence.
She conceded that the office of the executive would need to resolve legal jurisdiction issues over the airport with the Federal Aviation Administration, as well as with the county's many municipalities that currently exercise control over land use.
"What it means for existing infrastructure is more unclear, but we will pursue and exercise the full authority of the [Health] Department," she said.
Innamorato and her allies are confident that she will prevail against Rockey, having already shown that she can garner support in suburban communities well outside of Pittsburgh.
She also plans to emphasize to elected Democrats in federal and state offices the importance of having a party member heading the county prior to the 2024 presidential and congressional elections.
"We've collectively breathed a lot of new life into the party and created excitement around it," Innamorato said. "That can enhance turnout and ensure that we're reaching people who feel disengaged in the process and give them an opportunity to be a part of it."
She is even planning to give Fitzgerald a call. Will she seek the outgoing county executive's endorsement?
"I'll welcome anyone's support," she said. "If you care about the future of this region, we should care about our current elected leaders and the people who want to guide us into the future."
Need help with substance use disorder or mental health issues? In the U.S., call 800-662-HELP (4357) for the SAMHSA National Helpline.
Popular in the Community