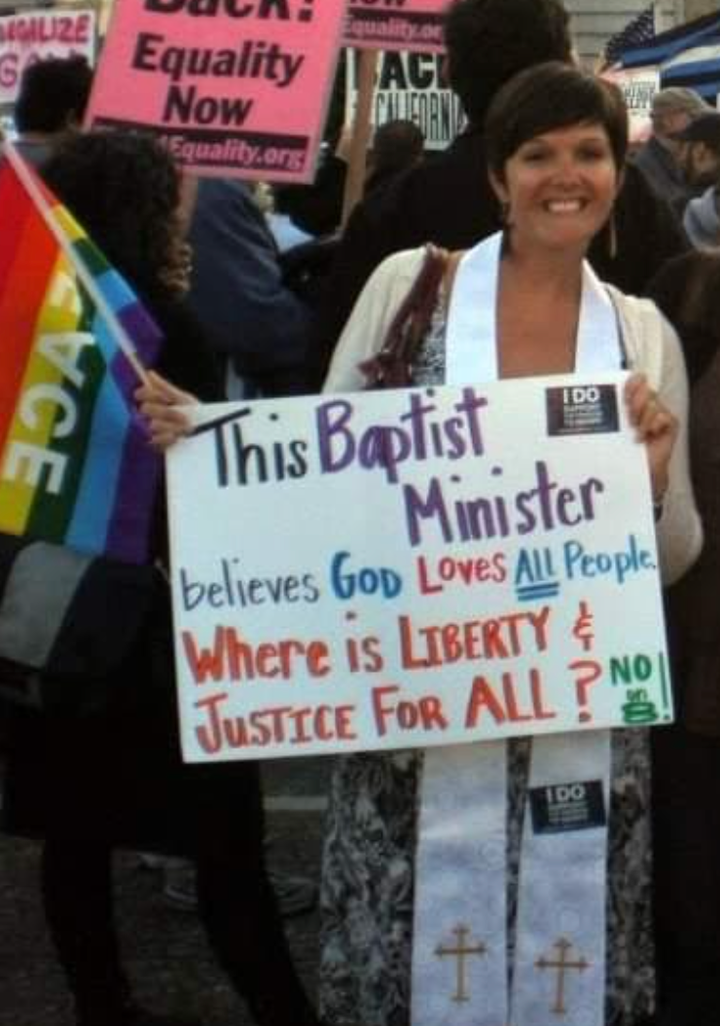 I ducked as an offering plate whizzed past my head. Clad in a stodgy clergy robe, a rainbow stole draped over my narrow shoulders, I stood in a sanctuary that seated 2,500. I was pastor of an "open and affirming" church, which is essentially religious jargon claiming they welcome and affirm queer people, something most churches prohibit. I mean, they had hired me, a queer clergywoman, as pastor.
And I'd suffered the consequences. A thick hate mail folder bulged in my filing cabinet. Sometimes the letters described in detail the way my flesh would smell when I burned in hell; a couple included death threats. But that didn't do me in. We, activists, wear such threats as some kind of twisted badge of honor. It wasn't the external discrimination — levied by preachers and politicians — that caused me to resign. Nope. It was the internal, underhanded, invalidating sexist and heterosexist microaggressions from within a community that claimed to honor and support queer people.
For my own mental, spiritual, and now physical health — those offering plates are heavy, people — I decided to leave.
I felt like such a failure. Creative, queer ministry was what I'd dedicated my life to. It was my calling. It was what I studied for eleven years of higher education. An undergraduate degree in religion led to seminary, which paved the way for a Ph.D., where I studied the role of feminist and queer bodies in world religions.
Even more, I felt the church had failed me. I knew that most churches didn't affirm queer people. In fact, they were antagonistic, hateful and exclusive. But I had hope in so-called "reconciling" ministries aimed at welcoming the LGBTQIA+ community. Though many amazing queer ministries exist within myriad wisdom traditions, my experience was that religion still had to be translated through the lens of heteronormativity. I didn't want to reconcile myself to those institutions but to reimagine spirituality altogether.
"Stay and fight," some queer congregants begged me.
But I'd fought valiantly for 15 years, and those stained-glass walls were caging me in, contorting me into a version of myself that was depressed, anxious and sick. I didn't want to live like that. And I certainly didn't want to raise my child in that world.
After nearly 15 years as a pastor, I realized institutional religion was toxic for queer women like me. So, I left to traverse the American landscape with my wife and toddler, researching the lives, legends and legacies of revolutionary queer women. My travelation was this: In order for religion — any religion — to be truly affirming of all people, we must queer spirituality.
For the next decade, I pondered, created programs, researched, painted, published books and even taught courses about queer spirituality. But it wasn't until my home state of Florida's anti-LGBTQIA+ legislation that it dawned on me what exactly it means to queer your spirituality. In light of "Don't Say Gay," legally prohibiting gender-affirming care for minors, legislating that hospitals and doctors can refuse treatment to queer people on "religious grounds," and banning books about us, I feel called to double down on queer spirituality. For myself. And for my community.
Intentionally transgressive and subversive, queer spirituality means recovering, restoring, and reimagining spirituality.
We begin with recovery. Queer people have been damned, banned, and excluded by so many institutional religions. These institutions have done real harm, causing unfathomable trauma. Whether it's calling us abominations bound for hell, funding our beheadings abroad or hurling that offering plate toward my head, religion's primary function in most queer people's lives is one of hurt. To queer spirituality means we not only have to acknowledge this hurt, but we must galvanize ourselves to recover from it. And religions must repent and ask our forgiveness. The first step toward a queer spirituality is recovering from the ways religion has hurt us, individually and collectively.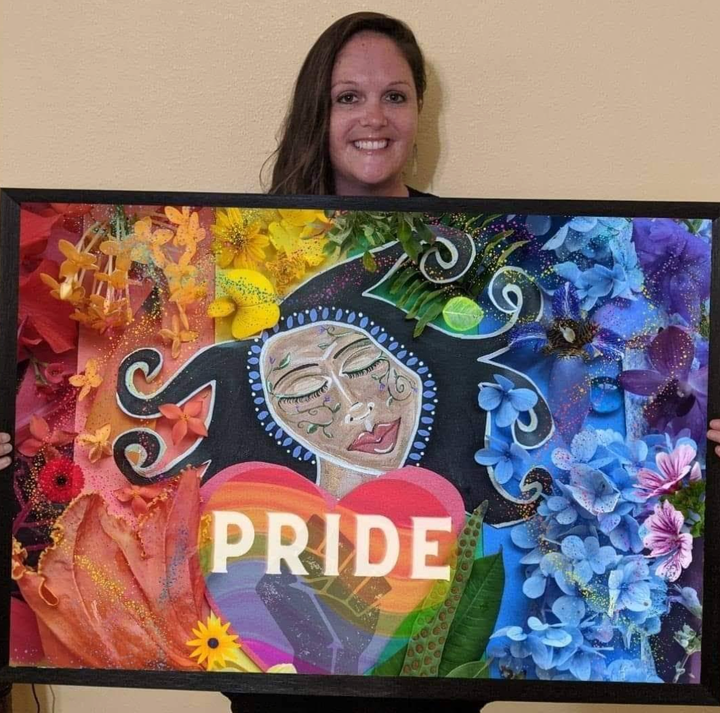 After recovery comes restoration. Queer people must restore the forgotten and erased voices of queer saints hidden in the crevices of our cannons. This was what I did as I researched throughout the country, recovering from pastoral trauma. In peeling back the layers of history — history told through the lens of straight supremacy — we find countless inspiring, bold, faithful stories of queer saints from every major wisdom tradition. In order to queer our spirituality, we must uncover their stories and proclaim them with the fervor of a preacher.
Whether it's the woman-loving, status-quo-overturning Judith in Judaism or the Episcopal saint Pauli Murray, queer people have led rituals, surrendered to Allah, prayed to Yahweh, preached of Jesus, meditated with Buddha, danced alongside Shiva, and guided our spirituality for millennia.
Once we recover from religious trauma, we can restore the forgotten stories of queer spiritual leaders.
Finally, restoration leads to re-imagination. The uncovered stories of queer saints empower us to reimagine what spirituality looks like. I think of the radical imagination of Buddhist trans folx who have envisioned Guanyin, the Buddhist goddess of compassion and mercy, as a trans icon because of her gender fluidity.
Or how queer Catholics have reimagined the saints Perpetua and Felicity as the Patron Saints for same-sex marriage because of the records of their love found in their diaries and how they held one another and kissed while being stoned to death. Not simply martyrs for the faith but martyrs for "forbidden love."
This re-imagination is key. Because the restoration of queer saints is rooted in the "reconciling" model I spoke of earlier, it lifts up the stories of queer people within the world's religions. But that is not enough.
For many queer people, there is no amount of restoration or reconciliation that can heal the trauma they've endured. Whether it's the fact that "homosexuality" is a crime in 67 different countries, and in several, it's a capital offense that can quite literally lead to the death penalty due to either Christian or Muslim extremism, or it's Sen. Marco Rubio (R-Fla.) using his Catholicism as a bludgeon to bully the Los Angeles Dodgers to rescind their invitation to celebrate the Sisters of Perpetual Indulgence, the deep and everlasting harm religion has done to queer people sometimes cannot be forgiven or reconciled.
But queer spirituality reimagines something altogether different than queer religion. The innate spirituality of queer folx creates alternative rituals where the club is our chapel, the rainbow flag and the virtues it represents, our sacred symbol, renaming ceremonies of our trans kindred, our baptism or mikveh, Pride, our holiest of days, and our chosen families, our faith community. Our meditation is liberation. Our prayer authenticity. If the early church father Irenaeus is correct in asserting that "The glory of God is humanity fully alive," then whether or not there is a god, queer people show us what it truly means to live fully and authentically as ourselves.
As we celebrate Pride, I'll tell you what my experience as a lapsed queer clergywoman has taught me to be proud of. I'm proud of the radical imagination of the queer community. Whether it's our faithfulness to one another when the world is unfaithful to us, the spiritual authenticity of trans kindred living into the fullness of themselves, or Karamo reminding us all of our innate worth on "Queer Eye," the queer community reimagines what it means to be spiritually human. That's queer spirituality. And that's something no politician or preacher can take away.
Do you have a compelling personal story you'd like to see published on HuffPost? Find out what we're looking for here and send us a pitch.
Popular in the Community