A Senate committee on Wednesday advanced legislation aimed at preventing disasters like February's fiery train derailment and chemical spill in East Palestine, Ohio.
The Railway Safety Act of 2023, championed by Ohio Sens. J.D. Vance (R) and Sherrod Brown (D), has attracted rare bipartisan support in a fiercely divided Congress. Both President Joe Biden (D) and former President Donald Trump (R) have endorsed the measure.
The Senate Committee on Commerce, Science and Transportation voted 16-11 in favor of the measure, advancing it to the full Senate for consideration.
In its current form, the bill would establish new safety requirements for freight trains hauling hazardous materials, limit the overall size of trains, require at least two-person crews, and drastically increase penalties for rail safety violations. It would also funnel additional funds to law enforcement and first responders for hazardous material training.
"We have allowed the rail industry to socialize the risk of their business while privatizing the rewards," Vance said during Wednesday's hearing. "The people of East Palestine are going to deal with the costs of what Norfolk Southern did for the next generation — the mental health costs, the physical health costs, the economic damage, the loss of home and property values."
"The least that we can do is make it less likely that the next East Palestine happens in our communities," he said.
On Feb. 3, a nearly 2-mile-long Norfolk Southern train carrying toxic and flammable materials, including hundreds of thousands of pounds of vinyl chloride, a common chemical used in the production of plastics, careened off the tracks in East Palestine, a town of approximately 5,000 people on the Ohio-Pennsylvania border. Fearing a catastrophic explosion, authorities conducted what they described as a "controlled burn" of the vinyl chloride three days after the crash, releasing black clouds of toxic smoke into the air.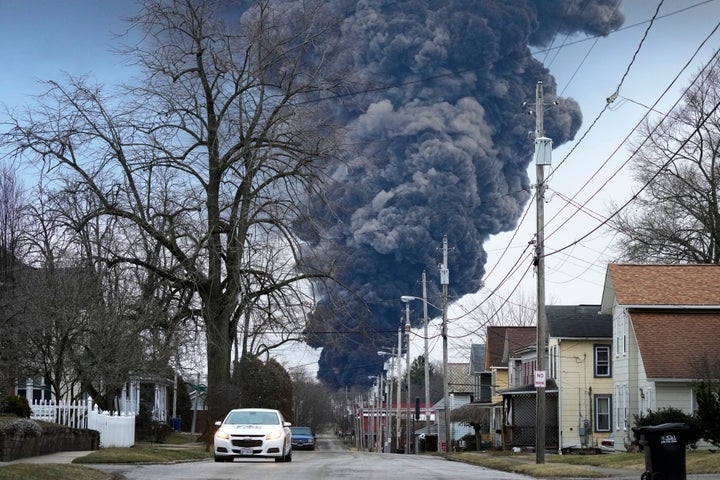 The bill, which has expanded since first being introduced in March, picked up several new supporters ahead of Wednesday's committee vote, including Sen. Maria Cantwell (D-Wash.), chair of the Commerce Committee, and three additional Republicans: Sens. Mike Braun (R-Ind.), Roger Marshall (R-Kan.) and Mitt Romney (R-Utah).
"No community should have to go through the trauma, evacuation and environmental damage that East Palestine had to go through, especially when you can prevent these [incidents] from happening," Cantwell said Wednesday.
Several Republicans on the committee voiced concern that the bill will increase costs for both industry and American consumers. Announcing his opposition to the bill, Sen. Ted Cruz (R-Texas), the committee's ranking Republican, argued it would give the Biden administration a "free hand to aggressively restrict the movement of coal, oil, natural gas, ethanol and other essential commodities that the radical green movement hates."
Vance swung back at Cruz's comments, noting that a number of industry groups have come out in support of the bill.
"They would not be supporting it if they thought it would make it impossible to transport their product by rail," Vance said. "Yes, it may make rail transportation a little bit more expensive. But it's going to make rail transportation a little bit more expensive in the service of safety."
The bipartisan effort to boost rail safety in the wake of the Ohio disaster hasn't been without its partisan attacks.
Republicans have largely condemned the Biden administration's federal response in Ohio while applauding Republican Gov. Mike DeWine and state agencies despite their numerous missteps at the state level. In a statement announcing support for the bill, Trump slammed Biden for not visiting East Palestine in the wake of the disaster and heaped praise on Vance.
"JD Vance has been working hard in the Senate to make sure nothing like this EVER happens again, and that's why it's so important for Congress to pass his Railway Safety Act," Trump's statement said.
The railroad industry has a long history of fighting stricter safety regulations while gutting staff. And it found an ally in the Trump administration, which in 2018 repealed an Obama administration-era rule requiring electronically controlled pneumatic brakes — a modern technology that Norfolk Southern once embraced — on trains hauling a certain amount of crude oil and other so-called "high-hazard flammable" materials. The Association of American Railroads, an industry lobbying group of which Norfolk Southern is a member, fiercely opposed the regulation.
"Do Republicans stand for corporate America or our own people?" Vance wrote in a Twitter post ahead of Wednesday's vote. "It's time for choosing."
Popular in the Community