Last year, the top films at the box office featured more women of color as lead characters than in previous years. However, it was one of the only noticeable improvements in an overall disappointing outlook for representation in front of the camera, according to one major study.
In 2022, 16 of the top 100 highest-grossing movies in the U.S. starred a woman of color as the film's lead or co-lead — five more than in 2021, as documented in the University of Southern California's Annenberg Inclusion Initiative's latest report. The study, released Thursday, is the group's annual examination of the gender, race/ethnicity and age of lead actors in major movies.
In addition to the 16 movies starring women of color, two top movies in 2022 featured lead roles for nonbinary actors of color: Janelle Monáe in "Glass Onion: A Knives Out Mystery" and Amandla Stenberg in "Bodies Bodies Bodies." And in a substantial shift from previous years, women of color outpaced men of color in leading roles: The men were leads or co-leads in 14 of the year's top movies.
The uptick in leading women and nonbinary performers of color on screen was the report's only bright spot. In 2022, there were no marked improvements in the percentages of women or people of color as leads in major films, the study found. Those percentages have barely moved in the past five years, painting not a particularly optimistic picture. It all suggests that in a period of increased calls for change from multiple so-called reckonings — like the Me Too movement and the aftermath of the police murder of George Floyd — "any commitments to diversity or inclusion were mere lip service," the report warns. (The group, founded by Stacy L. Smith, says it plans to examine LGBTQ+ representation and disability representation in a report later this year.)
On female representation, 44% of 2022's major films featured women in lead roles, similar to the 41% in 2021. Over the past five years, the percentage of top films starring women has plateaued at about 40% each year, and in no year has it reached gender parity, according to the study.
Similarly, on-screen representation for people of color has barely shifted. Of the 100 top movies in 2022, 29% featured actors of color as leads or co-leads. It's not substantially different from the past five years, during which the percentage has plateaued at about 30%, far below proportional representation based on the U.S. census. Of the actors of color playing leads in 2022, 36.4% were Black, 24.2% were multiracial/multiethnic, 21.2% were Asian and 18.2% were Hispanic/Latino.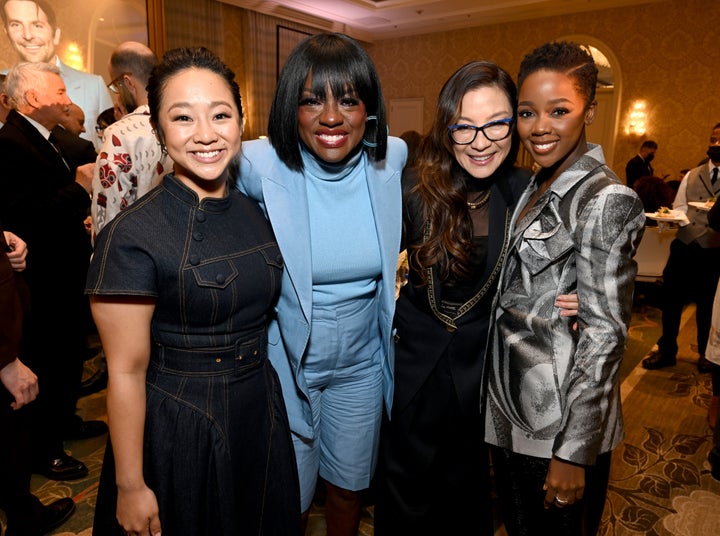 In Hollywood, there has been a longstanding pattern of female performers being seen as disposable once they reach middle age, whereas their male counterparts often continue to be cast in leading roles. Only 10 films in 2022 starred a woman who was 45 or older, which was, once again, not substantially different from the last few years, the study found. By contrast, men who were 45 or older were leads or co-leads in 35 of the top movies last year. In other words, an older man was 3.5 times as likely to star in one of 2022's major movies than an older woman.
Of those films, five featured women of color who were 45 or older as leads: Michelle Yeoh in "Everything Everywhere All at Once," Viola Davis in "The Woman King," Jennifer Lopez in "Marry Me," Halle Berry in "Moonfall" and Aishwarya Rai Bachchan in "Ponniyin Selvan: Part I." This was a marked improvement from both 2021 and 2020, when there were zero top films led by older women of color. However, it's somewhat lower than for older men of color, who led eight films in 2022. And it's substantially lower than for older white men, who were the lead actors in 27 of the top films in 2022 — meaning that an older white man was 5.4 times more likely to be cast as the lead of a major movie than an older woman of color.
The study also broke down the films by major studios and distributors to get a sense of who led the industry in 2022. According to the report, two studios and distributors had more than half of their films centering women: Lionsgate (75%) and Paramount (55.6%). Several had one-third of their 2022 releases featuring lead actors of color. But as the report points out, "none of the distributors achieved proportional representation" for people of color.
"Only when every major studio and distributor reaches equity will we see industry-wide improvement. Doing so means that executives — particularly those with greenlight authority — must think about how each film they add to their slate contributes to reaching parity," the study's authors — Smith, Katherine Neff and Katherine Pieper, wrote in the report. They called on Hollywood executives to challenge their biases on "what or who is likely to sell at the box office." That means giving films by and about women and people of color a fairer shot at success, from development, to production, to marketing to the awards race.
"By critically evaluating the decision-making process and the way that stories are supported within a studio, companies can remove the barriers that prevent more films that star women and people of color from making it to the screen," they wrote, pointing out that studios and distributors have been trying to attract audiences back to movie theaters following the pandemic-related uncertainty of the past three years. Many years of research on the entertainment industry has consistently demonstrated that diversity is essential to Hollywood's bottom line.
"At the start of 2023, as executives plan for the future, it is time to make equity and inclusion more than a strategy but an underlying business imperative."
Read the full study here.
Popular in the Community