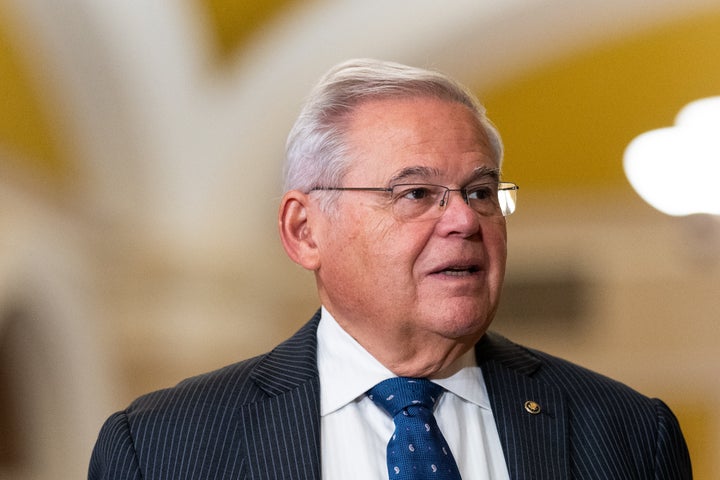 Sen. Robert Menendez (D-N.J.), the chairman of the Senate Foreign Relations Committee, was indicted by federal prosecutors in New York on charges that he accepted bribes including $100,000 in gold bars and $480,000 in cash in exchange for official acts that aided an Egyptian American businessman.
The indictment in the Southern District of New York alleges that Menendez and his wife, Nadine Menendez, "engaged in a corrupt relationship with three New Jersey associates and businessmen" ― Wael Hana, Jose Uribe and Fred Daibes ― where the Menendezes "agreed to and did accept hundreds of thousands of dollars of bribes" in exchange for taking official acts to "enrich" the businessmen and aid the Egyptian government.
"The indictment alleges the senator and his wife accepted hundreds of thousands of dollars of bribes in exchange for Sen. Menendez using his power and influence to protect and to enrich those businessmen and to benefit the government of Egypt," Damian Williams, U.S. attorney for the Southern District of New York, said in a press conference on Friday.
Williams added that the "investigation is very much ongoing."
In a statement, Menendez firmly denied the allegations and claimed that he was being prosecuted by a conspiracy led by people who "simply cannot accept that a first generation Latino-American from humble beginnings could rise to be a U.S. Senator and serve with honor and distinction."
"For years, forces behind the scenes have repeatedly attempted to silence my voice and dig my political grave," Menendez said in his statement. "Since this investigation was leaked nearly a year ago, there has been an active smear campaign of anonymous sources and innuendos to create an air of impropriety where none exists."
Menendez was previously indicted on bribery charges in 2015 for allegedly attempting to help a New Jersey doctor accused of committing extensive Medicare fraud. Prosecutors alleged that Menendez tried to intervene on the doctor's behalf after receiving paid vacations, gifts and hundreds of thousands in campaign support through a super PAC. The case ended in a hung jury in 2017 before being dismissed by the judge one year later. The Senate Ethics Committee later admonished Menendez for accepting gifts from the doctor.
According to the new indictment, Hana, working with his associates Uribe and Daibes, allegedly provided Menendez and his wife with cash, gold bars and mortgage payments in exchange for help in securing a lucrative contract in Egypt to monopolize the market for certifying imported halal meat. In addition, Menendez is alleged to have helped secure military aid for the government of Egypt.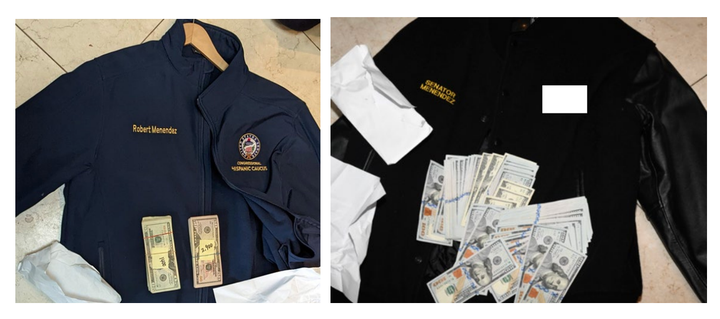 A search of Menendez's home by federal agents revealed the gold bars and cash stashed in clothes bearing Menendez's name and in a safe deposit box belonging to Menendez's wife. Some of the cash was found in an envelope bearing the fingerprints of Daibes or his driver, prosecutors say.
The indictment details how Menendez met Hana through his wife Nadine when the two were dating in 2018. Nadine Menendez and Hana had been friends for years, prosecutors say, and Hana hosted the two at dinners that he paid for with Egyptian military leaders in attendance. The dinners occurred two months after the Department of Justice announced it would not seek to retry Menendez after his first bribery trial ended in a hung jury. At the time, the U.S. government had put $195 million in military aid on hold amid accusations of human rights violations by the Egyptian government of Abdel-Fattah el-Sissi, who came to power in a military coup in 2013.
The indictment alleges that Menendez agreed to use his position as the ranking member of the Senate Foreign Relations Committee to help free the military aid for Egypt. Without telling his staff, Menendez allegedly sought "highly sensitive" information about the U.S. Embassy in Egypt and passed it along, through his wife, to Egyptian military officials, according to the indictment. At the alleged request of his wife, prosecutors say Menendez ghostwrote a letter for the Egyptian government lobbying his fellow senators to support releasing the withheld military aid. He sent the letter to his wife from his personal email, which he later deleted, according to the indictment.
At first, Hana failed to deliver the alleged bribes to Nadine Menendez, who was allegedly promised a "no-show" job in exchange for her help. The indictment says that job materialized after Hana's IS EG Halal company received a monopoly from the Egyptian government on inspecting and certifying U.S. meat imports as halal, which means the animals were killed and processed according to Islamic law. To receive the payments, prosecutors allege, Nadine Menendez formed a corporate entity called Strategic International Business Consultants. In a text to a friend included in the indictment, she explained, "every time I'm in a middle person for a deal I am asking to get paid and this is my consulting company."
Without competition, the indictment says, Hana's monopoly increased payments from U.S. suppliers, which caught the ire of the Department of Agriculture. The USDA prepared a report detailing the increased costs caused by Hana's monopoly. Menendez then allegedly intervened at the suggestion of his wife and Hana by pressuring a USDA official to stop interfering with Hana's halal certification monopoly. The USDA did not follow Menendez's advice, according to the indictment.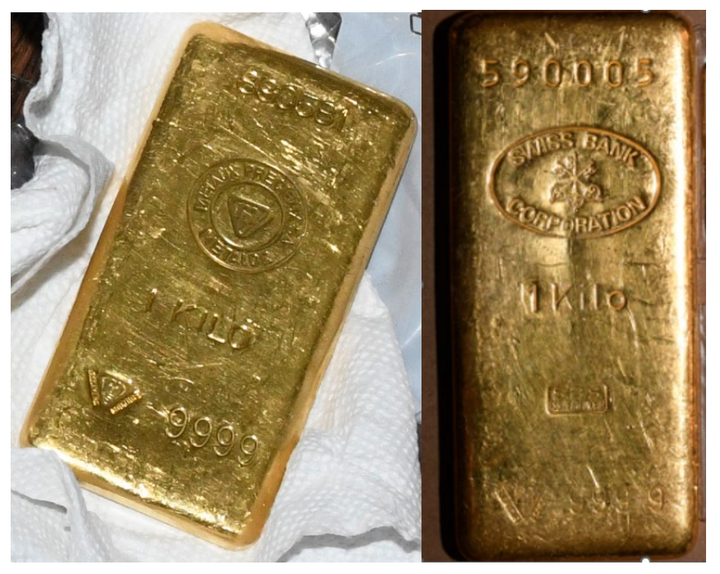 Hana's alleged payments to Menendez and his wife also allegedly included the use of profits from the halal company to pay off Nadine Menendez's mortgage. These payments began after Nadine told Hana's associate Uribe that after her next trip to Egypt, "[Hana] will be more powerful than the president of Egypt," the indictment says.
Those alleged payments were often delivered by Uribe or Daibes, although sometimes they did not arrive as expected, according to the indictment. "I am soooooo upset," Nadine Menendez allegedly texted her husband after Hana did not leave her an expected envelope filled with cash. She complained that she hoped "he would honor his word" and provide payment after the senator met with Egyptian officials, the indictment says. After fretting that she should text Daibes to demand the payment, the senator responded, "No, you should not text or email," according to prosecutors.
Menendez is also alleged to have intervened at the behest of Egyptian officials by sending a letter to the State Department on negotiations between Egypt, Ethiopia and Sudan about a dam Ethiopia was building on the Nile River. Around this time, Hana allegedly purchased 22 1-ounce gold bars, two of which prosecutors say were found in the search of Menendez's home.
In addition to the alleged bribery related to Egypt, Menendez is also accused of interfering in a criminal investigation into an associate of Uribe's in New Jersey by advising and pressuring a senior state prosecutor to resolve the case in favor of the defendant.
Uribe then allegedly purchased a Mercedes-Benz for Nadine Menendez. After receiving the car, the indictment says, Nadine texted her husband: "Congratulations mon amour de la vie, we are the proud owners of a 2019 Mercedes." The text concluded with a heart emoji.
Menendez is also alleged to have intervened in a federal criminal proceeding on Daibes' behalf by promoting the nomination of a U.S. attorney whom he thought would treat Daibes favorably. But after the confirmation of that nominee (who was not named in the indictment, but who the timeline indicates would be current U.S. Attorney for New Jersey Philip Sellinger) that prosecutor recused himself from Daibes' case. Menendez allegedly continued to pressure officials to drop the investigation. At the same time, Daibes and his driver allegedly delivered envelopes with thousands of dollars in cash to the Menendezes' home that prosecutors say were later found in the search of the property. "Christmas in January," Nadine allegedly said in a text to Daibes.
Several days later, Bob Menendez allegedly conducted a Google search for "kilo of gold price." Nadine Menendez later allegedly brought two kilo gold bars to be appraised by a jeweler. Prosecutors say those two gold bars bore serial numbers showing they were purchased by Daibes.
Support HuffPost
The Stakes Have Never Been Higher
Popular in the Community