Sally Field's son, writer Sam Greisman, may not have been able to attend the SAG Awards, but he was certainly there in spirit — or at least in the Twitterverse.
Greisman shared his thoughts about the show in a series of tweets on Sunday night. He posted a photo of Austin Butler onstage with his mother, who received this year's SAG Lifetime Achievement Award.
Butler escorted Field to the stage to accept the award, but Greisman suggested that her interaction with the "Elvis" actor may have been a prize enough.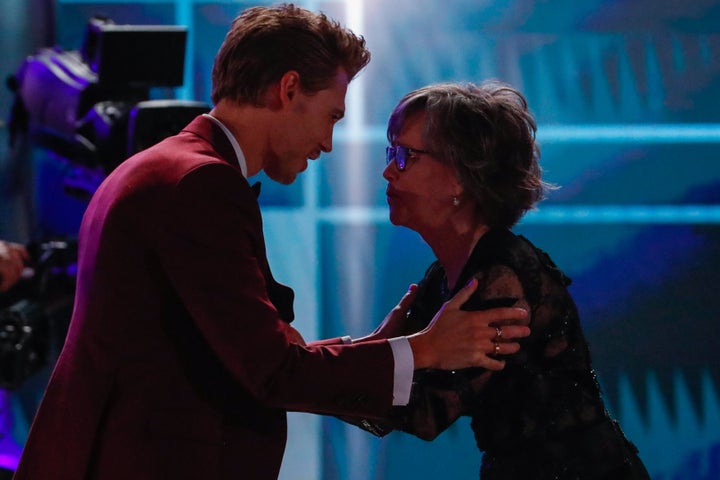 Greisman also took notice of the admiration and love Andrew Garfield showed his mom during the night, tweeting his disappointment about missing Garfield at the award show days prior.
Garfield presented the lifetime achievement award to his "The Amazing Spider-Man" co-star. During his speech, he called Field a "titan of acting" and a "north star."
He later crashed Field's interview with Entertainment Tonight to ensure she was doing OK, telling the interviewer that Field is "some kind of surrogate something in my life."
Greisman joked that Garfield's affection might have upstaged his family's treatment of Field.
″Andrew Garfield really raising the bar for her real-life family," he wrote. "We're not that nice to her!"
Field shares Greisman with her ex-husband, Alan Greisman. The "80 for Brady" actor is also mom to Peter Craig and Eli Craig, whom she had from her previous marriage to Steven Craig.
The two-time Oscar winner received wide praise for her SAG Awards speech, in which she noted her white privilege in her journey in the film industry.
"I was a little white girl with a pug-nose born in Pasadena, California," Field said onstage. "And when I look around this room tonight, I know my fight ― as hard as it was ― was lightweight compared to some of yours. I thank you, and I applaud you."
Popular in the Community