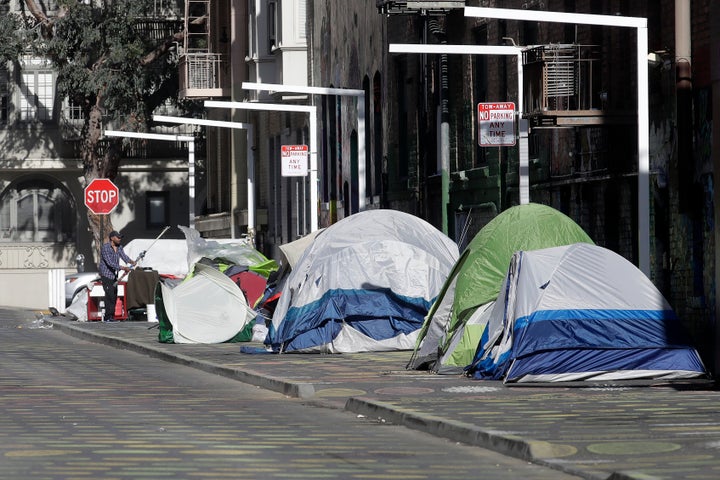 A San Francisco gallery owner who was filmed blasting a homeless woman with a hose while ordering her to get off the sidewalk has been arrested for battery, police said.
Shannon Collier Gwin, 71, was taken into custody Wednesday following an investigation into the Jan. 9 incident, the San Francisco Police Department said.
"The alleged battery of an unhoused member of our community is completely unacceptable. Mr. Gwin will face appropriate consequences for his actions," San Francisco District Attorney Brooke Jenkins posted on Twitter.
"Move! Move! Move! OK? You gonna move?" he asks her after turning the hose off.
Police said the city's Street Crisis Response Team, which specializes in handling homelessness, mental health or substance use challenges, responded to the incident and "provided multiple service options to the victim." Both the man and the woman declined further police action at the time, authorities said in a statement.
Gwin spoke to the San Francisco Chronicle immediately following the incident and said he has had constant run-ins with the woman and was trying to clean the street, but she refused to move.
"She starts screaming belligerent things, spitting, yelling at me," he told the Chronicle. "At that point she was so out of control... I spray her with the hose and say move, move. I will help you."
"You know, spraying her's not the solution, but spraying her was something that woke her up, and that calmed her down," he added. "So am I sorry? I'm only sorry that... my way of helping her countlessly has gotten nothing done."
Gwin later expressed deeper regret and said he's "committed to making amends" for his actions in a video statement shared with ABC 7 News.
"I completely broke. I'm not equipped or trained to deal with the long-term citywide problem like this," he said, appearing to reference the city's homeless crisis. "I can only ask others maybe to try to better understand my breaking point by looking at sudden reactions they might have had in their life and how they may have strongly overreacted and now feel so humbled and sorry."
The city has acknowledged homelessness to be one of the biggest issues affecting residents, with a reported 7,754 people having experienced homelessness in the city last year. An extreme housing shortage has been blamed for driving up housing costs, making rent unaffordable for many people.
Popular in the Community