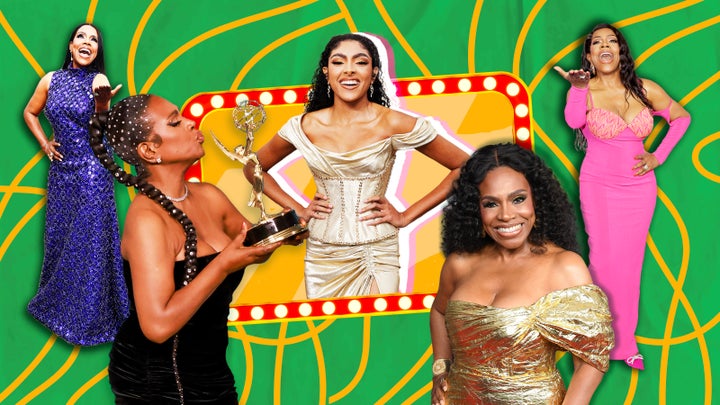 The glitz and glamour of entertainment is nothing without the people who dress today's biggest stars. For "Who's Behind the Clothes," HuffPost spotlights stylists and costume designers who have delivered some of our favorite celebrities' or characters' most memorable looks.
Ten years ago, if you asked Ivy Coco Maurice whether she aspired to be a stylist, she would've vehemently said no. Today, Maurice, 28, is the architect behind mother Sheryl Lee Ralph's critically acclaimed red carpet looks. Before earning the "Abbott Elementary" star a spot on the New York Times' Most Stylish People list, young Maurice would sketch designs in the comfort of Ralph's home or spend hours in the aisles of a store called Jet Rag on La Brea Avenue in Los Angeles.
"During the 2008 recession, transitioning from middle school to high school," Maurice said, "times were tough for our family financially. My mom would leave me with like $20 or $40 to take care of myself for the weekend. I would have basketball games like on Sundays and Saturdays, but if I didn't have a game, I was thrifting. [Jet Rag] would have a $1 sale on Sundays, that was literally how I got some of my flyest outfits."
Though adolescent Maurice may not have initially envisioned herself as a stylist, her family's connection to fashion runs deep. Born Ivy Victoria Julia Maurice, she is named after her maternal grandmother, Ivy Ralph, who owned an atelier in the 1970s in Kingston, Jamaica, called The House of Ivy. Maurice would spend her summers in Jamaica, learning from the matriarch who dressed politicians including former prime ministers Michael Manley and P.J. Patterson.
"I'd be discrediting who I am if I didn't pay homage to my Jamaican culture," Maurice said. "I'm deeply rooted in this. Before my grandmother passed away, her last words were, 'Take care of your mom.' So in this phase of her life, this is the way that I can take care of her. I have a gift that was given to me from her mother, from fashion that now I can carry on and make her shine."
In addition to being Sheryl Lee Ralph's daughter, Maurice is a creative entrepreneur, vice president of a sibling-run nonprofit, WalkGood, and "a West Indian, West African from West L.A." Balancing a bicoastal life in Los Angeles and Miami, Maurice stumbled into styling her mother when she visited her Florida residence. Ralph needed a few looks for an "Abbott Elementary" press tour, and the rest is history. Maurice says she's grateful for divine timing.
"If my mom was having this momentum maybe 10 or eight years ago, I probably wouldn't be able to give this energy and contribute to her success," she said. "My brother wouldn't be able to contribute to her creative direction in the way that he does now. This is a family business, and I'm so glad that my brother and I are on the creative end and are able to add fuel to an amazing fire."
For "Who's Behind the Clothes," Maurice told HuffPost about her journey from being her grandmother's apprentice to influencing and styling, how she approaches dressing her mother and what we can expect to see Ralph in ahead of her Super Bowl performance.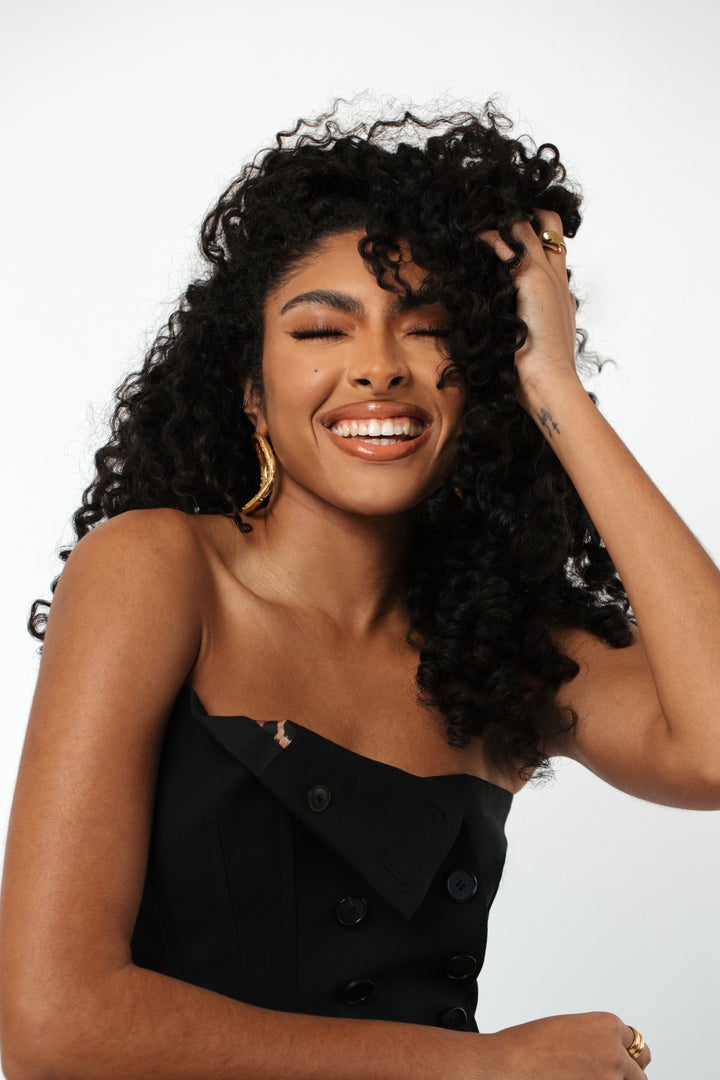 How did you begin styling your mother, Sheryl Lee Ralph?
Honestly, it started in my Miami apartment last year. She was helping me get situated in this new apartment that I had, and she was like, "I've got press for 'Abbott Elementary.' I need four looks." And I was just like, "Girl, what? We're supposed to be having mommy-daughter time. We're supposed to be curating my apartment." So we end up going to Neiman's and Saks, and I started curating these looks, and she's like, "I love it. Boom." I posted it on TikTok, I posted it on Twitter, and people were like, "Oh, my God, it's a new and improved Sheryl Lee Ralph." I'm like, "This is a joke, you guys. This is for fun. I'm playing dress-up with my mom." This is something that my mom and I have been doing our entire lives. She's always come to me for style advice. After posting, she was like, "I think you really have a gift for this, and I think that you should stick to it. We should ride this wave." Then it really just started to fall right into what it was supposed to be.
We hit award season and got positive reviews. Then Season 2 [of "Abbott Elementary"] got approved, more press happened and people were just saying, "Oh, my god, Sheryl Lee Ralph's press tour looks!" and I was like, "This is insane." Then [former WNBA great] Lisa Leslie, who was a great mentor of mine, started reaching out, and I was like, "OK, God has detoured me to my destiny," and I'm so grateful because this is what I'm supposed to be doing. What started off as a joke ended up being something that's really serious for me.
What was the impetus for you to embark on a career in fashion and styling?
To be honest, I would be giving myself a disservice if I said I just started styling this year. That's not true. I actually started styling when I was like 3 or 4 years old. I grew up in Jamaica with my brother, and we spent all our summers down there, we went to school out there. The crazy thing is that my maternal grandmother, who I'm named after — Ivy Ralph — was the pioneer of fashion for the Kareeba (or Kariba), which was the national uniform for Jamaica. I spent my summers in her factory learning fabrics, learning how she styled women, men and politicians of our great island. I would take remnants, she would test me on them and she taught me how to sew by hand. I ended up actually going to school at Syracuse, where I studied economics and retail management, and I worked in showrooms. After I worked in showrooms, I knew for a fact that I was not meant to be a stylist. Like I told my 19-year-old self, "This is what I don't want to do." But somehow, nine years later, almost a decade later, God has led me to something I thought I didn't want to do, but it's actually something I'm supposed to be doing.
From the "Abbott Elementary" press tour to award seasons, where do you glean the inspiration when you style your mother? How do you approach dressing her?
I think the crazy thing is that when it comes down to style and fashion, my grandmother always told me — and it's a patois saying — "Style yuh ave it, o yuh nuh ave it," meaning either you got it or you don't. The great thing about my mom is that she has it. The greatest accessory to fashion is confidence, knowing that you can wear the outfit and not have the outfit wear you. It's easy to dress her because she loves to show up in a space feeling good and looking good. She's beautiful. She's gorgeous. She has an amazing, voluptuous shape. She loves to accentuate that. She's so infectious with her smile, it's like anything she wears, she's going to shine. She lives and thrives in color. I'm really pulling from her energy and just pulling from how she feels about herself.
But I also take the time to look at young Sheryl Lee Ralph, when she was first stepping out on the scene, when most of the time she was dressing herself. I wanted to be able to reinvent that energy into this new wave of Sheryl Lee Ralph. I'm inspired by vintage Sheryl Lee Ralph. Her biggest inspiration is like Diahann Carroll, women like that. I look at just the history of Dorothy Dandridge and strong women that my mom felt like she could model her fashion sense after growing up as a little girl. So I spend a lot of time on pictures; I have just mood boards for days of Black women and their style, because the one thing about Sheryl Lee Ralph is that she wants to look classic. A classic gem, just effortless. I do a lot of vintage research on the women that she feels that she wants to emulate.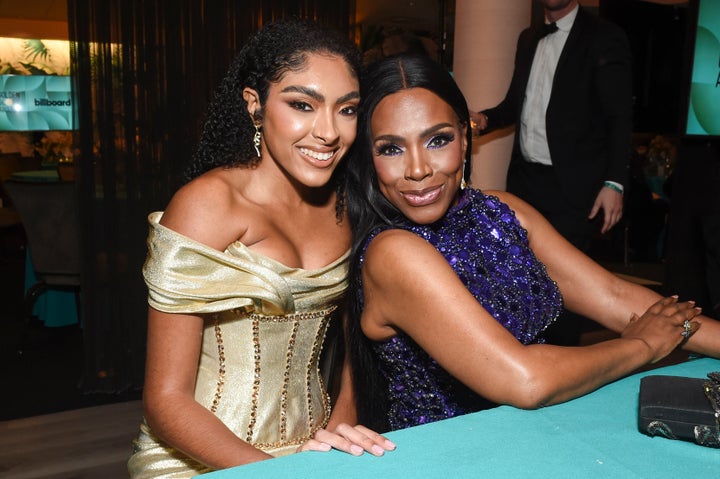 You've styled her in Black designer labels, such as Jason Rembert's Aliétte, Claude Kameni and Brandon Blackwood. What are some brands you tend to frequent when dressing your mother, and do you feel a responsibility to differentiate her from her onscreen characters, from Dee Mitchell to Barbara Howard?
Before I went into styling full time, I really was doing creative consulting and influencer work. When it came down to being an influencer, I would get hit up by so many Black designers saying, "Try our product, try our product." So when I went into styling, I was like, "I can use those connections." I actually formulated a relationship with people.
I met Jason on the set of my mom's Essence Magazine digital cover, and I was like, "Bro, we got to link up! I want her to wear custom Aliétte." He was like, "Send me your schedule and let's pick an event that I can dress her for. I would love to." He literally told me that he was so grateful for this opportunity because Black designers don't always get the privilege to be on the main stage, like the Golden Globes, the Oscars. I want to be able to put on the people that were able to pave the way for me because he's one of my biggest fashion inspirations.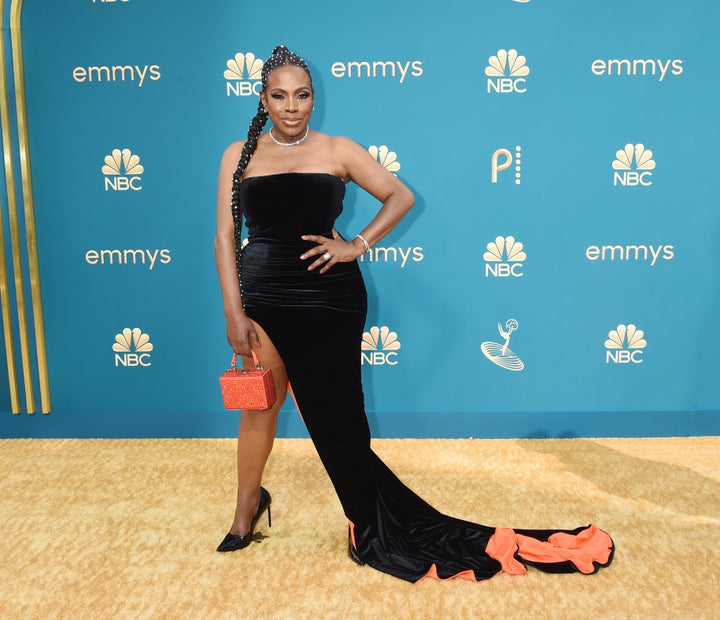 I love that other Black designers are able to reach out to me, because I never kind of started this wave intentionally. It's just solely the people that were looking out for me. I find that people don't correlate people of color [with] luxury. I love that she can serve luxury and it can be Black — because [being] Black is the greatest luxury. When it comes down to that, I think this is a time in my mom's life where she's really getting the most custom looks ever. She shared that back in those "Moesha" days, people really weren't coming out like, "Hey, Sheryl Lee, we want to give you a custom look." She shared with me, as an artist, that people have turned her down because she's "too dark" or because her shape "doesn't resonate" with the style or the brand.
I take that into consideration when I'm reaching out to designers because, first of all, we believe in longevity when I'm building relationships, then, number two, do you even want her in your garments? You have to be aligned with the designer, you have to be aligned with your client and you have to be aligned with the vision.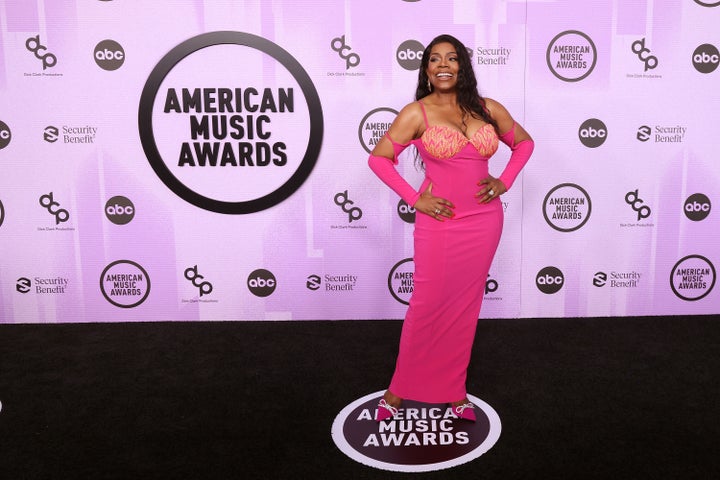 With that Essence Magazine photoshoot, her Savage x Fenty Show appearance and opening the Super Bowl, your mother has had an incredible year. Are you styling her for her performance? And what can we expect to see her in on Super Bowl Sunday?
Yes, I am styling her for the Super Bowl, and it's gonna be a look! That's all I gotta say. I think the greatest thing about it is that I'm trying to be intentional about who is designing it. Obviously, she'll be wearing a custom look by a Black designer. It's a young Black designer, but I don't want to let his name out. You gotta have that energy singing the Black national anthem. Just know that the look is extravagant. That is the word. She is Queen Muva in this look. I'm very excited.
And don't worry: It's going to resonate with the culture. Very much so. This is the first live experience where we're adding my creative direction because I'm not just styling my mom, but I'm also creating the experience of what I want it to visually look like around her. This is like another zone for me. It's not just styling, it's creative direction. That's what I'm really excited about because I've now been able to push myself in a whole new category of what styling is. This is once-in-a-lifetime.
Recently, there's been discourse about the "nepo baby." How do you think being Sheryl Lee Ralph's daughter has affected or influenced your ability to forge relationships in fashion?
I've said it once before, and I've said it many times: I will ride being Sheryl Lee Ralph's daughter until the wheels fall off. You can call it nepotism or call it whatever you want, but this is a badge of honor. Whether she was famous or not, I would still be proud to be her daughter because of the woman she is. I think how people choose to respect me and how to treat me in this new wave is new for them, but if you ask my entire family, I have been doing this for over a decade. As an influencer, a lot of people didn't even know that she was my mom. We don't look alike, so it's not like people will even put two and two together. When they found out, by then it was like, "Oh, this girl has been in the game for eight years."
I started off having my own blog. I had my own community. I was writing freelance for like Black outlets like Ebony, I lived in New York and went to all the fashion weeks where these relationships developed. During that time where I was solely just influencing, I didn't know where it was going to lead me. But now it's propelled me into full-time styling because I've realized — and I said this to my mother today — these past eight, nine years of connecting with all these designers and going to all these events, it's coming back. All of these people, I already know them and they're already down to create custom for you. It was like, "Wow, I was supposed to do all of that on my own, so we could be able to expand as a family." I was building, but God was just like, "I'll show you where you're going, right? Just keep building."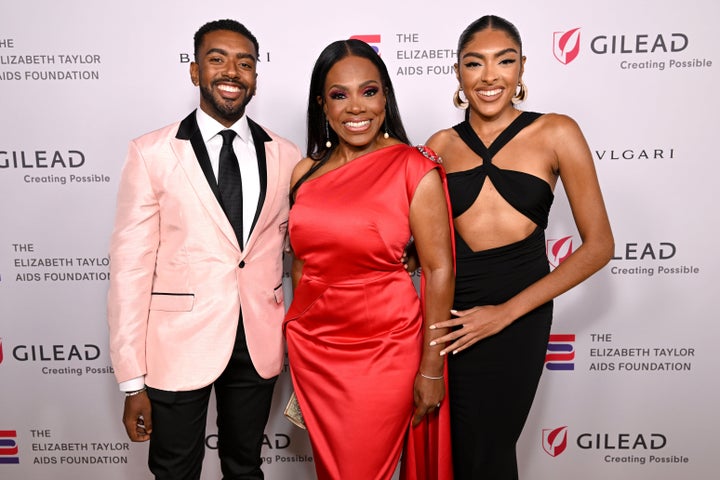 How would you describe your personal sense of style, and how has your heritage shaped that?
I'd be discrediting who I am if I didn't pay homage to my Jamaican culture. Also, my father is French West African. I mean, [he is] the most suited, fly guy you'll ever meet. He's just always introduced me to different senses of style, how a woman should dress and carry herself, and all of those things. Everybody in my family, including my grandmother and my mom, we've all been ingrained into fashion because of who we are culturally. Growing up, my family has probably been my biggest inspiration when it comes down to fashion. I've always been infatuated with sports and played a lot of sports, but everybody knew me as that girl who was fly and always had a really dope outfit. Growing up, I had really bad acne and I never wanted people to look at my face. I wanted them to see what was literally on me, like my outfit. I would go to games and I would dress really fly that day because I was really insecure about my acne. Fashion was really a way for me to express myself. If you've seen that meme where it's like, "You've got two sides: either wearing dunks or a heel." That's always been me and my style. One of my biggest fashion inspirations is my brother. I used to sleep in my brother's room until I was maybe 11 or 12, and we went to school with each other for maybe like three or four years. I just remember being so in love with the way he dressed and how he carried himself [as a part of] the millennial generation and early 2000s. I am who I am because of my family.
On the note of sports, you mentioned that WNBA legend Lisa Leslie, who first took note of you styling your mom, has been a mentor of yours for years. Tell me about your relationship with her and whether that has been the catalyst for you to expand to other clientele.
Lisa is my sister, auntie, friend, mentor and bestie all in one. That's an extension of my family. When I was 14 and just playing ball, my mom really wanted me to be at my best. She met Lisa at an event and was like, "My daughter loves you, and she just needs a friend." I wasn't rebellious as a kid, but I had the same routine. I didn't really have my parents around, since [they] divorced when I was super young. My mom was traveling, the recession was hitting and I just spent a lot of time alone, being a little lone wolf. Lisa was just that person who was like, "OK, on Saturday morning, we're gonna go shoot." She was a judgment-free zone for me. It was like one of those things where she was like, "Whether you're going to play basketball in life, I really don't care. I'm here for you." I see her for who she is because she wanted to hold my hand when I was at a point in my life where I didn't want anybody to hold my hand. She just nurtured me as a human. I feel grateful for the relationship because you hear things from your parents, but you don't listen, then you hear the same thing from somebody else and you listen.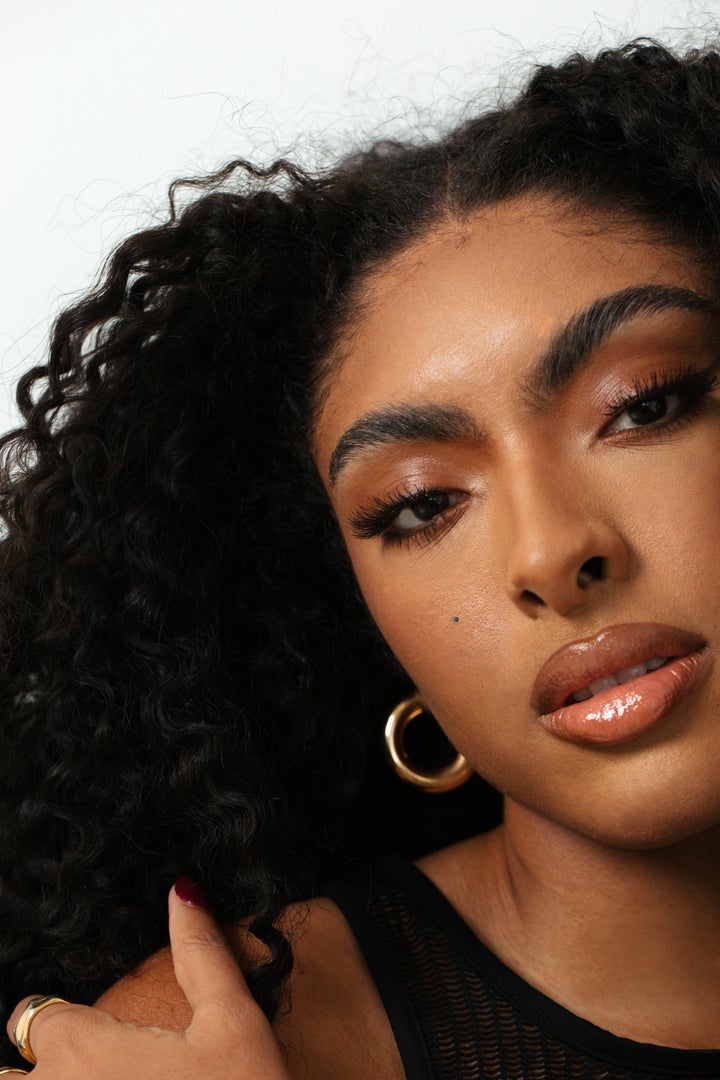 After I styled my mom for something in August, I think it was the Television Critics Award or something like that, [Lisa] saw it and was like, "I want you to style me. I've got something coming up." The energy of how I feel styling my mom is how I feel like with Lisa. Nothing's forced, Lisa has a great sense of style; she knows who she is. Then it made me even more comfortable because I was just like, "All right, I actually know what type of clients I want to have." Maybe most people want to work with the upcoming artists, but what about the women that have devoted so much time and energy into their career? And now they have to have a new phase of their career? Men get older and they get sexy. Women get older and it's "different." I want to be able to cater to the mature woman, the seasoned woman, the woman who really knows who she is. It's easy to work with them, and they're excited about reinventing themselves. I don't want to forget about these women because they deserve so much. They deserve their flowers and they deserve to smell their roses, so I want to make them feel good in those moments. As I continue to expand my clientele, I want to make sure that energetically it's just a good fit for me. I believe styling is [a form of] service, like I feel like that's God using me. The best thing that anybody can do in life, or what I feel I can do is make somebody feel good about themselves.
As you think of next steps, which labels and designer do you aspire to see your mother in?
Kerby Jean-Raymond's Pyer Moss. That is who I want to see my mom in. That's who I'm reaching out to next. That would be a dream. I gravitate toward designers Jason [Rembert] Aliétte. But even the younger designers like Anifa Mvuemba of Hanifa. I would love to get stuff with Anifa. I think even working with shoes. Kendall Miles is a great shoe designer for Black luxury. A Black girl designing Italian leather shoes? Come on.
Your hand is in so many different pots: WalkGood L.A., WalkGood Wear House of Ivy, etc. Tell me a bit more about those ventures and how they fuel you. "WalkGood" was born during the summer of 2020, correct?
"WalkGood" is a Jamaican euphemism, actually. Our grandmother, Miss Ivy, always used to tell us, "Yuh walk good, big up yourself, make sure you're safe." That's really what WalkGood means: Get to your destination safely, go with good stride. After 10 weeks of protesting, we realized that we needed to heal as a community together. One thing that people don't know is that when we first were protesting, we made shirts. My brother and I literally designed shirts, and the money that we made from the shirts would go back to the families that were affected by police brutality. I was literally tie-dying shirts, making designs with my brother late at night, but I found my passion in creating again through our nonprofit. That's how WalkGood Wear became an extension of that, and it's inspirational streetwear to me.
My brother and I have a new collection that we're actually dropping really soon, but it's a power and passion project. We're community creatives because I feel like there is no unity without community. It's amazing seeing people wear our designs at the gym, and I'm wearing it right now. People don't know that I took this picture of my brother in our backyard, and it's now become the logo for our nonprofit. Him being my biggest fashion inspiration growing up as a kid and us now having an inspirational streetwear line together is really cool. When we started walking, it wasn't even intentional; we were just moved by what was happening around us. We've just been able to follow in [my mother's] footsteps of her philanthropic work, that I think has been the biggest change in our lives.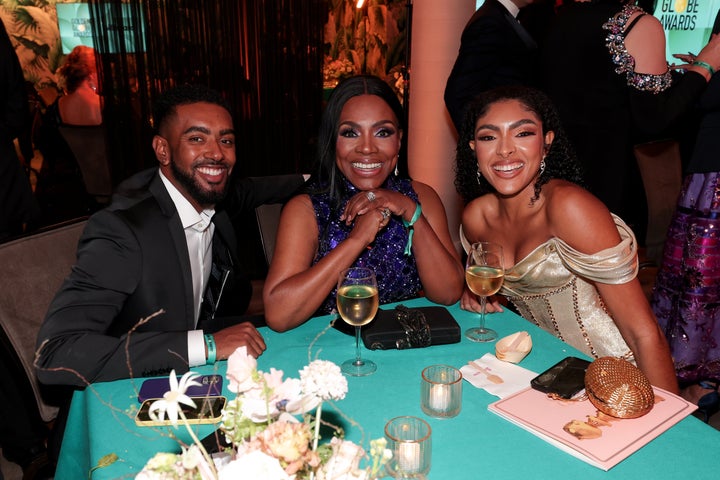 What does it mean to you to see your mother achieve these moments, finally receive industrywide recognition and for you to be of the age where you can contribute?
I put so much effort into it. When I put my mom into something, I can see in her eyes if she's in love with it or not. I can feel it. That's daughter and female intuition. I have that telepathy and energy with her that I'm grateful for. But being on this journey is so amazing because the level of trust that needs to be there being in this career? So the fact that she trusts me and I can make this process easier for her? Less stress, less chaos, more family? That is the best reward for me.
After she won her Emmy [for her "Abbott Elementary" role], we could have been anywhere — turning up or whatever — but that's not really who we are as people. We went back to my mom's hotel suite, and we talked about life and being a family. I just felt like, "Wow, I just want to expand this amazing family." I want to be able to build that empire. I want to do it rooted in love. I want to be able to do it rooted in family. My brother and I knew that she deserved these moments, so it's like y'all were late. We already knew that she was capable, we already knew what she could offer. I've always been enamored by the woman that she is. It's nothing new to me. She's always been brilliant.
Popular in the Community