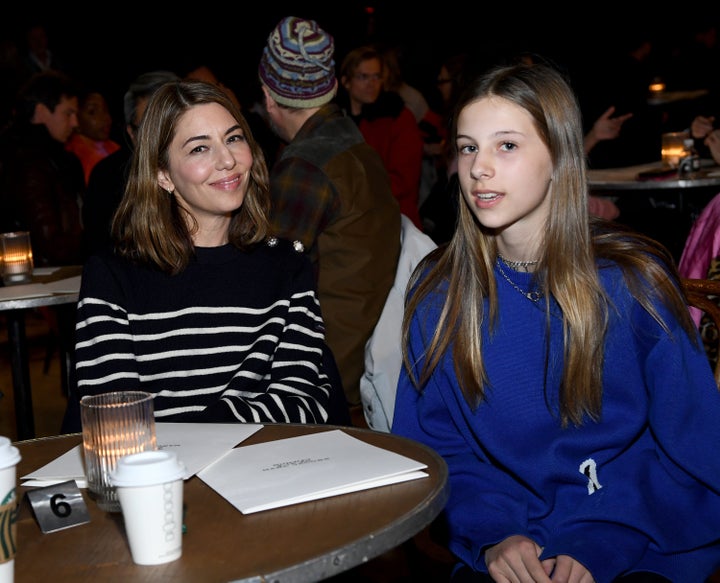 Romy Mars is proving that she's inherited the filmmaking gene by creating a masterpiece of a TikTok.
The 16-year-old daughter of Sofia Coppola and granddaughter of Francis Ford Coppola posted a charmingly teenage TikTok to a public account this week in open defiance of her famous parents, who she says are punishing her.
And it seems that Sofia Coppola and her husband, Phoenix singer Thomas Mars, had a pretty valid reason for doing so.
"I'm grounded because I tried to charter a helicopter from New York to Maryland on my dad's credit card because I wanted to have dinner with my camp friend," Romy reveals in a now-deleted TikTok that was later shared on Twitter.
She later explains that making and publishing a public TikTok is a pure act of disobedience.
"I thought I would do this since I'm already grounded, because my parents' biggest rule is like I'm not allowed to have any public social accounts."
"Here's why," she adds before holding up her dad's Grammy.
"They don't want me to be a nepotism kid."
The teen then insists that "TikTok is not gonna make me famous" and proceeds to make a highly chaotic cooking tutorial for pasta with vodka sauce. In the rest of the TikTok, Romy ponders whether something is garlic or an onion (it appears to be a shallot) and then very randomly puts her babysitter's boyfriend, Ari, on camera. She also refers to her babysitter and Ari as her "replacement parents" "because my parents are never home."
"What do you think of the helicopter fiasco?" Romy asks Ari, pronouncing the word so it sounds like "fiasca."
"Oh, I like fiasca, because it's like, the feminine of fiasco," Ari says casually while petting a dog.
"Oh, it's women's history month, so," Romy agrees.
She then sends Ari off to fetch her more ingredients for her cooking tutorial and concludes her video by promising to publish a "part two."
Romy's assertion that TikTok would not make her famous seems to have proven incorrect. When the video made its way to Twitter, users thought it was worthy of an Oscar.
Sofia Coppola is unlikely to be pleased with this video. In 2017, she told The Guardian that she strives to keep her children out of the spotlight, which may be due in part to the backlash she received as a teenager for her role in her father's movie "The Godfather III."
"I don't want them ever to be jaded," the director told the outlet. "I never saw the point of taking little kids to movie premieres and stuff. I just want them to have a childhood."
Despite having potential access to helicopters, Romy does seem to be a product of a normal childhood that has morphed into very typical teenage rebellion. So, we guess, good job, Mom?
Popular in the Community