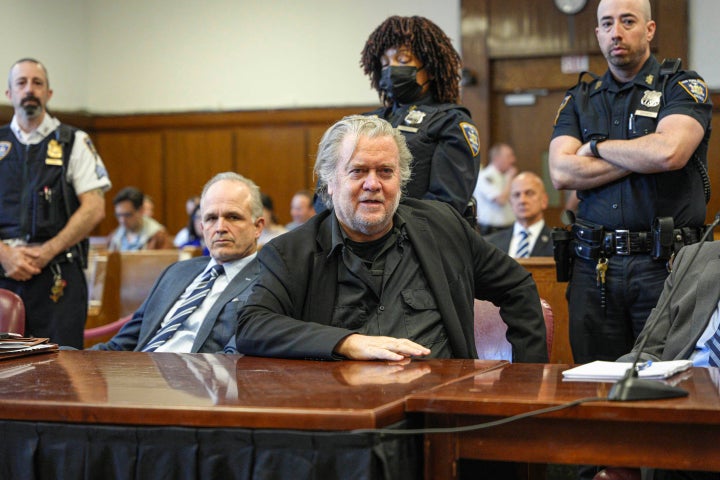 Steve Bannon has received a May 2024 trial date for his role in a fundraiser to build a wall on the U.S. southern border.
During a short court hearing Thursday, a New York judge said the trial would go ahead on May 27 of next year. As Bannon was exiting the courthouse, he told reporters, "See you back here in May."
Prosecutors allege that Bannon, who served as former President Donald Trump's chief strategist, and others defrauded donors when they set up a fundraiser in late 2018 under an organization called We Build the Wall.
The fundraiser, which brought in more than $25 million for a U.S.-Mexico border barrier, was "based on false promises," according to the office of Manhattan District Attorney Alvin Bragg, which also accused Bannon of "laundering the proceeds of that scheme in order to advance and conceal the fraud."
In September 2022, Bannon turned himself in to authorities. According to the Manhattan DA's office, Bannon and others had said that none of the donations would go toward the salary of Brian Kolfage, who co-founded We Build the Wall. However, more than $250,000 went to Kolfage in 2019, the DA's office said.
Prosecutors have also alleged that Kolfage spent donated funds on a car, jewelry and cosmetic surgery, among other things.
"It is a crime to turn a profit by lying to donors, and in New York, you will be held accountable," Bragg said in 2022 news release. "Stephen Bannon acted as the architect of a multi-million dollar scheme to defraud thousands of donors across the country – including hundreds of Manhattan residents."
During his presidency, Trump pardoned Bannon for his role in the scheme, but that didn't excuse him from state-level charges.
Support HuffPost
The Stakes Have Never Been Higher
Popular in the Community