On Friday, Warner Bros. Discovery CEO David Zaslav announced that the company's streaming division, including HBO Max (soon known as Max), made $50 million in profits during the first quarter of 2023. In addition, the company picked up about 1.5 million new streaming subscribers since the end of 2022, Zaslav said on a call reporting the company's quarterly earnings.
In Apple's quarterly earnings announcement Thursday, company executives reported $20.9 billion in revenue for its services division, which they said was an all-time high for the company. The services division includes Apple TV+, the company's streaming service, which features acclaimed shows like "Severance" and "Ted Lasso," and movies like "CODA," which won the Oscar for Best Picture last year.
That same day, Paramount released its earnings report, highlighting the 4.1 million new subscribers to Paramount+, the company's streaming service, since the end of 2022. While the overall company is operating at a loss, the earnings report touted a 50% increase in subscription revenue over the past year, which includes Paramount+.
Film and TV writers write the shows and movies that draw viewers to these streaming services. The growing gap between the entertainment companies and their CEOs' massive paychecks and those of the writers is at the heart of why the 11,500 film and TV writers in the Writers Guild of America, West and East, have been on strike since Tuesday. (HuffPost's unionized staff are also members of the WGAE.)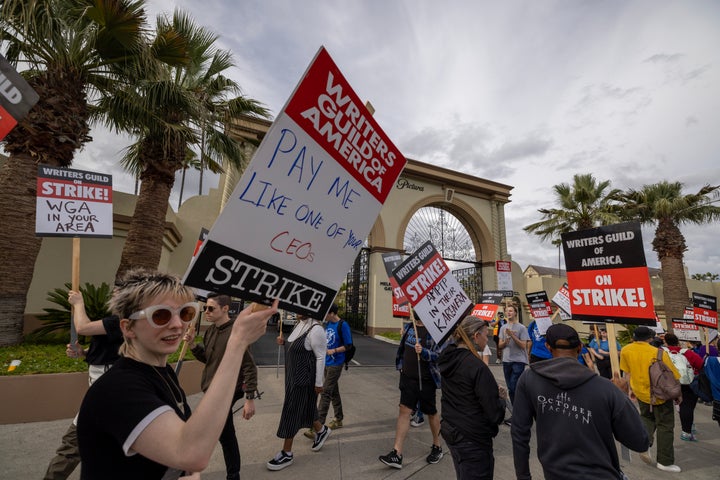 As writers on the picket line told HuffPost, while there are more TV shows and movies than ever due to the streaming boom, writers have not been paid their fair share of their shows' and movies' success. Fair pay and more equitable working conditions are central issues in the strike. Writers are concerned that without major changes, film and TV writing could turn into gig work rather than a way to make a stable living.
"What we do is so fundamental to the way they make their money that for them to say, like, 'We're not going to allow you a path to a sustainable career and a sustainable livelihood,' it's not just insulting, it's reckless," said comedy writer Josh Gondelman, a member of the WGAE's council.
"That's about the same level as what 10,000 writers are asking him to pay all of us collectively," Conover said.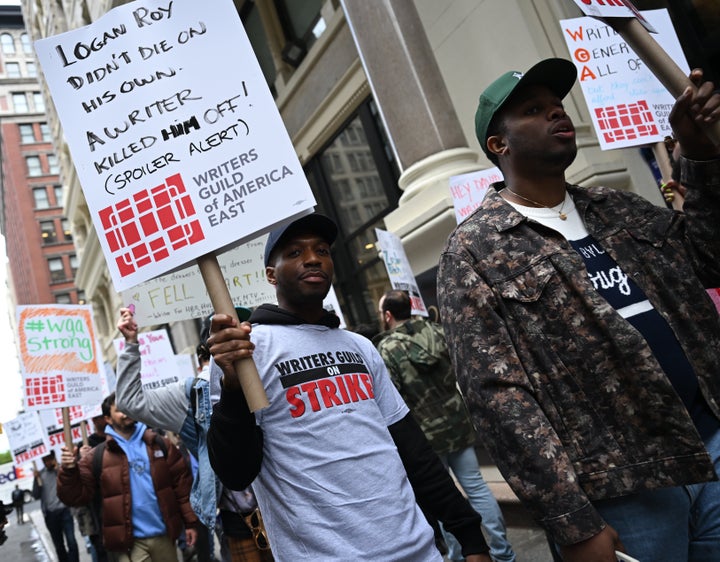 Friday marks the fourth day of the strike, with writers on both coasts planning more picket lines in front of the offices of major entertainment companies, as well as at studios and film and TV sets.
Popular in the Community