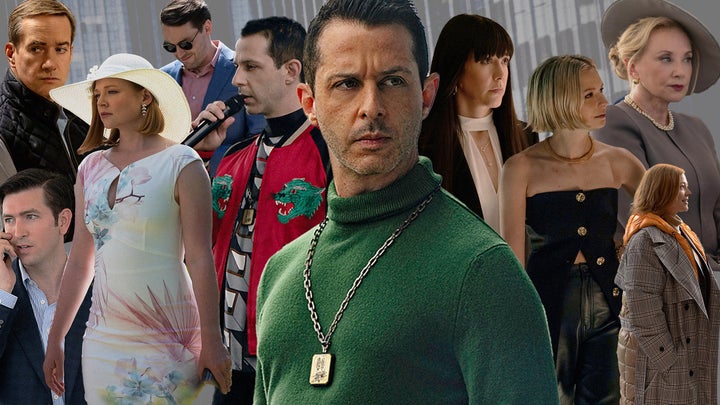 The glitz and glamour of entertainment is nothing without the people who dress today's biggest stars. For "Who's Behind the Clothes," HuffPost spotlights stylists and costume designers who have delivered some of our favorite celebrities' or characters' most memorable looks.
"Dopey" Lanvin sneakers. Startup founders dressed like "fucking Björk." Buddha in Tom Fords. Funeral-ready wedding attire. Ludicrously capacious bags.
These are some of the trademark style moments and allusions that have helped Jesse Armstrong's "Succession" evolve into an examination of wealth, fashion and luxury. Ostensibly inspired by the real-life Murdoch family, the HBO drama follows the Roy siblings as they vie to take over Waystar Royco, a media conglomerate founded by patriarch Logan Roy.
"I don't have Facebook. People send me things I can't even open because I'm not a member, I guess, or whatever it is. I've never done a TikTok. This is all alien to me," said "Succession" costume designer Michelle Matland. "On the other hand, people tell me that this has been like a passion for some and a real fascination for others. I think that's great, and I love it. I don't understand it, but I am thrilled to be a part of it even from the outside."
Before Vogue and legacy media outlets credited Matland with mastering "stealth-wealth" and "quiet luxury," the latter of which has become anything but silent, the costume designer was a student in the class of 1984 at Bennington College, a university that produced incredible writers such as Donna Tartt, Bret Easton Ellis and Jonathan Lethem. Matland attended with the intention of pursuing political science or becoming a dancer, but she didn't do either.
"I ended up just hanging out with my friends, who are all actors," Matland said. "And so I did the costumes for lack of being a good talent at anything else."
Upon graduating from Bennington, she earned an internship of sorts through a program at Juilliard, earning "$7 a week to count buttons." There, she met numerous costume designers, namely "Saturday Night Live" designer Melina Root and five-time Academy Award nominee Ann Roth. From humble beginnings as Roth's production assistant and a shopper for Jim Henson Productions, Matland later worked alongside Root at "30 Rock" for 23 years.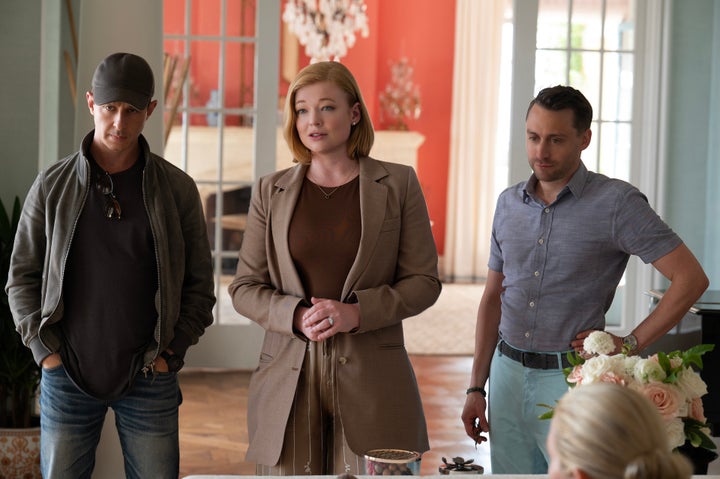 What was the allure of "Succession" for you? Did you expect the fashion to be such a talking point now during its final season?
The allure was that a wonderful creative producer named Jonathan Filley — and I'm working with him again right now — offered me this incredible opportunity. Other than him being a fabulous person and knowing that anything he was attached to meant it was going to be fun, the allure was that the crew on that project resounded as a huge, huge group of talent, to be honest, and an opportunity to work with an incredible cast. I didn't know anything about the show, so it wasn't specifically the storyline. It was just an opportunity to work with incredible people, and that always makes the project brilliant. It doesn't matter what the storyline is if it's a great cast and crew. It turned out that the storyline itself was equally remarkable and special. It was some of the best years I can think of in costume and detailing, for me.
Now, I'm just going to get this out of the way: the Burberry bag moment. When you read the script and when Tom said "ludicrously capacious," was that the bag that immediately came to mind? Tell me about the thought process and rationale.
The key to that puzzle for me and for the people around me, because it was collaborative between Jesse [Armstrong], the team, what would make Tom respond to something. I bought maybe 20 bags, and props brought in on their own. We didn't want to dilute the line. On the other hand, we had to hit it as hard as we could. Because otherwise, why would Tom respond so viscerally? But we also have to remember that Tom's life and evolution on the show have been that man walking into the room, and he's taken his own level of abuse. So he was just handing it back out. It could have been left alone, but Tom couldn't, because he has a mean streak from history. He's got scars of his own, so the bag had to tell that story of his own bruises that he created for himself, you know what I mean? The bag had to have its own kind of icon moment.
Of the 20 "ludicrously capacious bags," what were some of the top five that made the final cut before Burberry beat them out?
I was very prone to going Gucci because I just think that's so ridiculous. I mean, the idea that a wallet in there's like $3,000, because it's got a teeny G on it or something. I go and touch them all the time because I just think it's so funny. But if you look at Yves Saint Laurent, of course, the YSL logo is brilliant and the colors are fabulous. But it seemed like [Greg's date] couldn't afford it. So it had to be a middle-class girl's version of a Gucci, YSL, whatever. Those were too rarefied for a girl who wears little white socks and a pair of boots. That's way too far out of her reach. We had to pull back to the sort of Tory Burch version, Burberry version, that kind of middle-of-the-road, where a babe walking through Macy's would look at it and say, "Oh, look at that! I wish I could have that!" And maybe she spent her entire week's salary on it other than getting a slice of pizza. It had to be within the realm of things that she could obtain and she would understand. The others, even though, for me, they were hilariously funny and I just wanted them desperately, it wouldn't be in her scope of thinking. That was where we went. And I think we kind of hit on it fairly well. It was a team effort. We all put in our two cents.
That's so telling. You've alluded to a great point. Tom came in and he had to evolve, so he's adopted their way and their style — and Greg has as well. That's only because Tom has basically bullied him into it. He's like, "You better sink or swim."
To say one thing on that: Isn't life a feeding frenzy? Big fish, little fish. There's always a smaller guppy out there. Tom eats Greg; Greg will eat something else. This is a hierarchy of cruelty. It starts with Logan and it works its way down to whatever extent you want to turn that into its own story.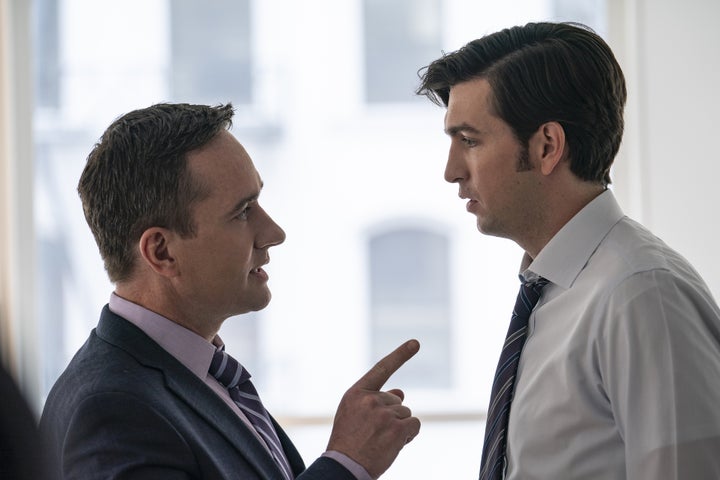 Exactly. There's been a lot of discussion throughout this series about "stealth-wealth" and "quiet luxury." Was that what you were intentionally going for when you were designing for the series? Did you have to do any studying or preparation, looking at dynastic families like the Murdochs?
To begin with, I don't know that when we started this series six years ago, or whenever it was, there was such a thing as stealth-wealth. If there was, I didn't know it. There was no such thing as that kind of luxe that I was aware of. By the time I started this show, we had to begin at the beginning. We did a lot of research. We followed wealth, these wealthy folk, these industry people; of course, we followed the Murdochs. I still follow them. Now I'm even more interested than I was before because I didn't know that they existed. I had heard of the Trumps, but I didn't realize that that's a different kind of wealth than what we're talking about.
We would go down to Wall Street, and we would stand outside the buildings. When they came in in the morning and we would watch the limos, cars or Ubers come up, we would see the difference between the lowly secretary to the woman in the boardroom. We would clock the difference between how they looked, the suit length, skirt length, jacket length, handbag, who carried a purse, who didn't, who was wearing a backpack — all of those little details ended up telling us the story of the hierarchy of the elite and the worker bee. That was the beginning of our research.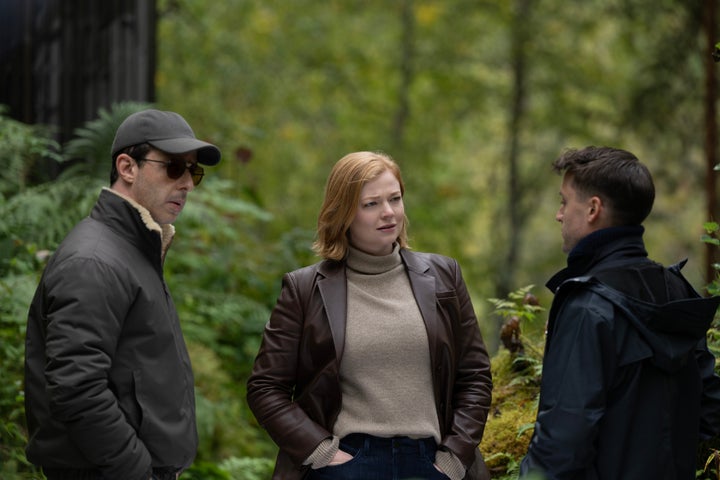 As for stealth-wealth, I don't think it came into the world as a term. I mean, I don't know; that's a great thing. I will research that. But I don't think it came into the world, in my knowledge anyway, until a couple of years or weeks ago, maybe. When we designed the show — me and my team — we were not looking at costumes; we were looking at telling a story about a family. Whether it's Nan's family, which is so different from the Roys, the corporate world, the underlings, the Gregs to the Toms to the Logans, we were just trying to express a voice for each of those characters. I can't take credit for "stealth-wealth." I think maybe "stealth-wealth" is part of how these people address themselves, or maybe it's how the public addresses them. That's probably what it is. Because I don't think the Roys or the Logans of the world think about their appearance in that way.
That brings up a really excellent question because you talked about women walking into the office, and I think one of the women on the show who has been highly critiqued with regards to the way she dresses is Shiv. What do you think about all the criticisms regarding Shiv's styling? What do you think about this sort of speculation as to whether she has her own personal stylist?
Well, I think that Shiv, probably just because of timing and her business factor, probably does have someone who sends clothing to the apartment or to the office. She probably has a personal tailor, who comes and meets her at 11 o'clock at night whenever she needs to have a new frock or whatever. I think she has a very specific idea of who she is. Obviously, that's evolved over the years, but I think I don't know enough about the media dialogue that's going on. Do they think she has a stylist? Or do they not think she has a stylist?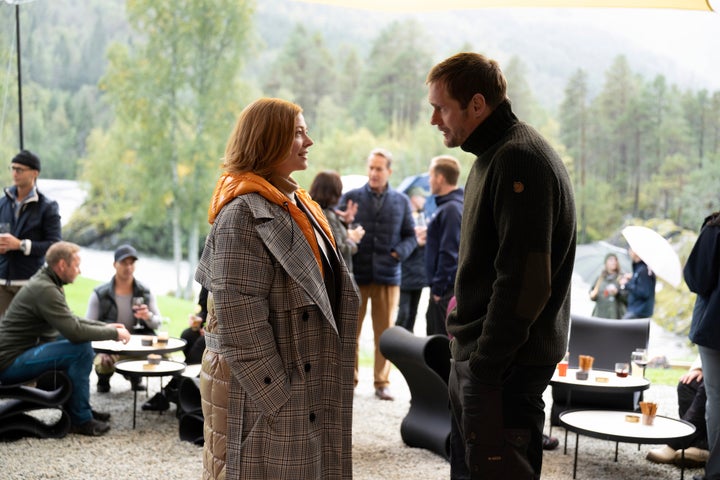 From what I've seen, people think that she doesn't have a stylist because they don't like the way that she pairs things together, apparently. I'm of the camp that I think Shiv does not have one and it's by choice, because she deeply likes control. Similar to what you said, she knows herself and she doesn't want anyone tampering with that.
Over the years, obviously, she's gone from this Democratic Party girl, anti-family, anti-Roy, anti-money. She becomes the corporate sister-daughter, she dives into the power suit and high-waisted pants or Katharine Hepburn moment. Then we see her become this woman who's starting to really know herself and starting to try and identify her own feminine being and trying to find her own place in the boardroom as a woman, as an entity, as a sister and a daughter — but as her own personal self. I think she's struggling with that, even now through her costumes. There's such tumult in her life. It's a very difficult time for her. I think we see her exposed in a way that's even more discombobulated than we have seen her in the past in terms of her clothing. She's in a little bit of distress, and her clothing reflects that just on a microlevel.
What was the situation with Shiv's jacket in the last episode? The half-tartan ensemble? Then, at her mother's wedding, she was wearing a big hat and a white floral dress, which I know some people suspect was because she has a kind of fraught relationship with her mother and wearing white was intentional to spite Lady Caroline.
Well, let's start with the wedding. It was absolutely a decision for her to wear white to her mother's wedding to show her disgruntlement, and her mother did not wear white to her wedding. Both of these women are at odds with the position that they are in here. Caroline, Harriet [Walter], did not want this wedding. She did it because this man wanted to marry her. It was a situation; she appeased him. She likes him well enough. This is fine. But she didn't wear a white gown or a white dress or a white anything.That was Harriet's statement.
Her daughter's statement was, "I can't believe you're doing this. I'll wear white." Now, as for the hat, Tuscany is the hottest place on the earth in the summer. Shiv, Sarah [Snook] is extremely fair, and it was practical. Although, obviously, at these great English and European weddings, everybody wears that hat. We were lucky enough to be able to use that as an affectation, perhaps, but it wasn't thought through that she was necessarily taking up space. It was a practical use to keep her from what would have been a third-degree sunburn. But it also did what you say on a functional level to help storytelling, for sure. Sometimes things will work out that way, but they are not necessarily planned to the, you know, minutiae of it.
As for the jacket, there's something funny to be said that these folks did not know that they were leaving on this world tour to Norway. It happened. Talk about whether somebody styles her or not, she had to have sent somebody to the storage space or out to the store to get her some sort of winter coat. There was something kind of funny about her not looking exactly like Shiv and it being a little inappropriate. Also on the "coolish" side, because she's dealing with these young entrepreneurs and she's trying to be young and hip herself and all of that. It's multifaceted, but ,yes, we thought there would be some humor in that. Sometimes it's just a little joking unto itself.
We've seen a lot of Monaco, Tom Ford, Max Mara, Cartier and more on the series. Tell me why you gravitated toward those brands? Broadly speaking, where do you think the Roys buy their own clothes?
It's a good question. As far as the Roys, I think Logan has a closet that he's curated over the years. I don't think he goes out and buys himself a new suit or a new cardigan sweater. That's why we see a lot of repetition in the looks, even if they're not the exact same one; maybe it's a Ralph Lauren, maybe it's Brioni, maybe it's a Canali. For him, it's "Here is what I wear." He goes in the closet and it's sort of like 10 of these and 15 of those. For the other family members, because they have evolved so much, they probably throw out last year's closet full of stuff that's no longer their palette, right? They just keep moving on and on.
I used to follow wealth down Madison Avenue. Wherever they went in, I went in, and I would just kind of haunt them.They didn't know I was there, but I would see what they were touching, what the woman was buying for the husband, what the husband was buying for his wife. My favorite was going into Bergdorf's and following a mother and her little kids, watching them go into the shoe department and buy eight pairs of $1,000 shoes. I wondered, number one, where are they wearing them? But how are they paying for them? We know daddy's off at the office or something, but it was fascinating just just to follow them.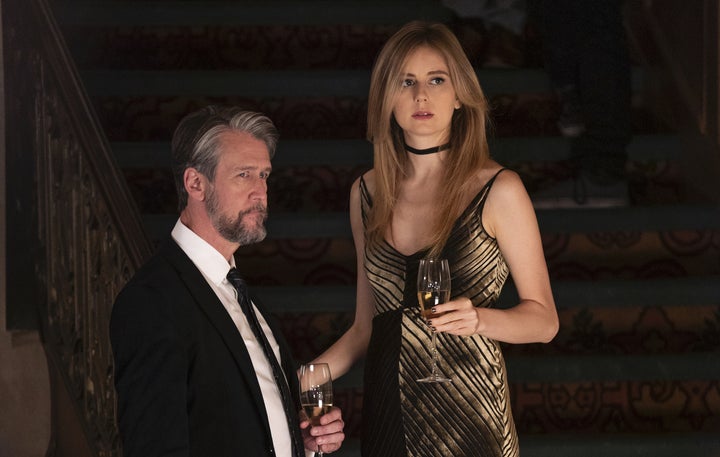 I would go into Bergdorf's at night and go into the pajamas section and see these women just having loads of things sent to their hotel room. I thought, "Wow, OK, what did they buy? What designers are they buying? What is the lineage to that? What are the things that go with that? What are the accessories that they're buying?" I took a lot to heart that these folks, who are the real authentic percenters, what was the stuff that they wanted? What was it that they chose over something else? Is Armani out? Is Ralph out? Who's replaced that, and who are the young designers coming up through the ranks?
We tried to come up with a storyline of clothing lines. I learned a lot about the industry. I'm not knowledgeable about names or labels, but I do know that to people who buy these things and who have the money, these names do mean something. It's because of the texture, the quality of the fabrication, the difference in a color blue — all of those little details that make it something that's worth that extra $700 for a sneaker or a pair of socks. I have learned that what makes it different really is the fabrication, the way the seams are finished, the buttonholes. All of those little nuances make for something that is exemplary to something that's great to something that's just good to something that's fair. It's not the name so much. It's how you look at it, and you can see from far away that it's three-ply cashmere, not something you pick up in Bloomingdale's or Macy's. It becomes a visual, tactile experience. That has been a real learning curve to me. Now, I can't afford to own any of those things and I don't wear them, but I do like to be near them. And I see the difference.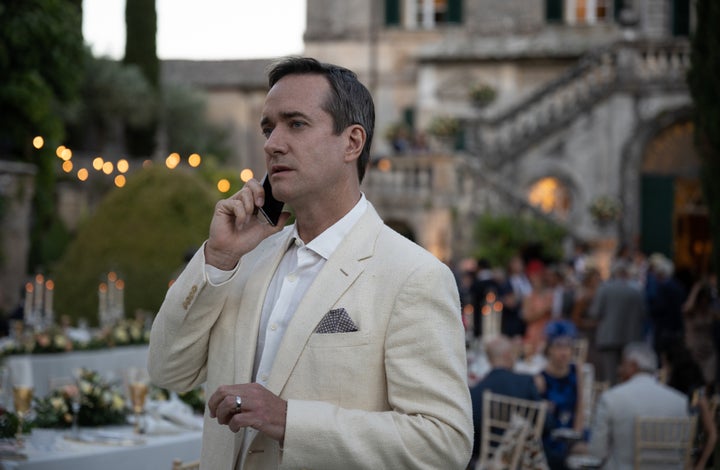 Of the stragglers and hangers-on, such as Greg, Tom, Connor and Willa, which character has had the best style evolution and why?
I mean, obviously, Tom has had a great evolution, from being someone who emulates, who's a wannabe even more so than Greg. Because Greg didn't know anything; he didn't even have exposure to it. I think that Tom was fully aware of the difference, but he had no idea how to obtain it, so he just kept trying desperately. That's what makes it so painful to watch when he wants to buy the $25,000 watch for Logan's birthday. We see him evolve, come into his own and become part of Logan's inner circle. We see him, in his clothing, turn into a prince. I think for Willa, I think it's even more exciting to see her go from being this kind of waif creature who doesn't even know what they're talking about to the point of being willing to marry this gentleman [Connor]. Whether she loves him or she doesn't love him, she's decided this is the best thing I'm going to do for myself — and buy into that home, saying, "OK, I'm going to be the lady of the manor," and doing the best she can under those circumstances to become the right hand of what could be a presidential candidate. Even though he's never going to make it, which she knows better than many of the people in the room, she has enough self-awareness to recognize, "Let's just do this." We see her clothing go from that sort of wild-child to her version of a Republican gal. She does it as best she can, that she's willing to do.
What do you hope that audiences gain from the costume design and from your work on "Succession"? What do you hope they understand about it? To me, I always say fashion is a vehicle for storytelling; you need to perceive it as a part of the plot as opposed to this exterior.
I think you put it pretty well. For me, people say, "Who are the designers?" Well, that doesn't really mean anything to me. Like I said, I'm not really part of that world. I don't get Vogue magazine. When I look at it, I don't know what I'm looking at. It's sort of another world to me. My job and the people that I work with, our job is to help tell the story that's on the written page. We start with the script — in this case, written by a brilliant man — then we take it to the actor, we collaborate and we come up with "Who is this person? What would they wear and why?" It's not about the clothes. It's about giving them something to play with as another vehicle to find the character. The journey is my vehicle to help them. It's my part of the puzzle that gives me the greatest pleasure to just help tell that story. If we help in any way, and we help the actors find their character and go to set, then the job is done and I go home.
Popular in the Community