Susan Sarandon was arrested and handcuffed Monday while fighting for higher minimum wages.
The Oscar-winning actor protested at the New York state capitol building alongside members of the advocacy group One Fair Wage. She and former New York lieutenant gubernatorial candidate Ana Archila were among seven protesters who were processed and issued court appearance tickets, per WNYT.
"Susan Sarandon, Ana Maria Archila & tipped worker moms & their children got arrested at the NY State Capitol, demanding that #OneFairWage gets passed in Albany before Mother's Day," the group wrote on Instagram.
"WE DEMAND THE FULL MINIMUM WAGE PLUS TIPS," One Fair Wage continued. "STOP LEAVING US OUT."
The protesters called for legislation that would raise the minimum wage for service workers ― who are being exempted from the state's impending increase ― to $17 per hour.
Representatives for the "Thelma & Louise" star did not immediately respond to HuffPost's request for comment.
A few days before her arrest, she joined Writers Guild of America protesters in New York City as they called for fair wages and better working conditions. (HuffPost's unionized employees are part of WGAE.)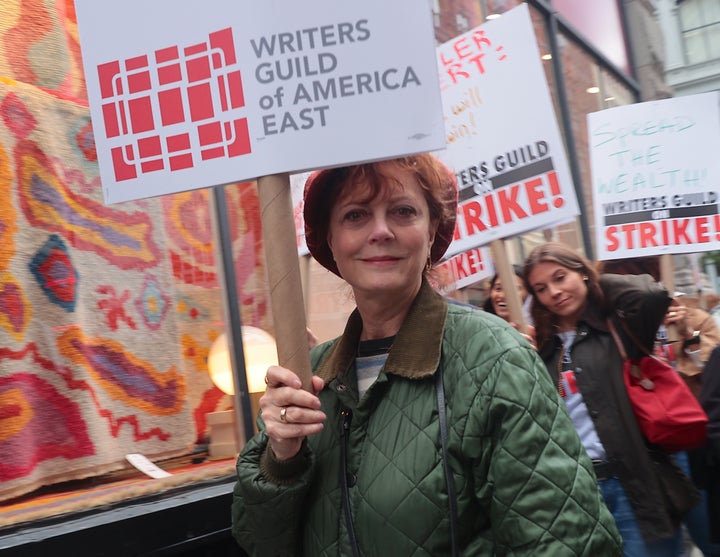 "I do feel I have an additional sense of responsibility because I am adjacent to information and sources and am able to spread information that people aren't getting," Sarandon told Salon in 2021. "I can be a voice for people who need a voice. I accept that responsibility."
Actors Rosie Perez and others praised Sarandon for her protest in Albany this week. Activist Steven Donziger tweeted about Sarandon's arrest, calling it "sickening that we must battle for a living wage in the wealthiest nation on earth." Perez shared the tweet, writing: "Mad respect."
Popular in the Community