The new wave of backlash at the retail giant follows its announcement that because some people have been threatening store employees over the merchandise, Target is "removing items that have been at the center of the most significant confrontational behavior."
Target didn't disclose what those Pride Month items were, but adult swimsuits marketed to transgender women as "tuck-friendly" and offering "extra crotch coverage" have caused a conservative firestorm on social media. Much of the outrage has revolved around the false claim that Target is selling these swimsuits in children's sizes.
The company also confirmed to The Associated Press that some Southern stores had moved their entire Pride merchandise displays to the back of the stores in light of confrontations with customers.
In a tweet, California Gov. Gavin Newsom (D) called out Target CEO Brian Cornell directly and said corporate decisions like this are a slippery slope.
"There is a systematic attack on the gay community happening across the country," Newsom said. "Wake up America. This doesn't stop here. You're black? You're Asian? You're Jewish? You're a woman? You're next."
Rep. Becca Balint, a Democrat who's the first openly LGBTQ person to represent Vermont in Congress, echoed Newsom's disappointment, tweeting: "If companies like @Target give in to the whims of a hateful few, they may need a lesson or two on the history of pride and what it means to the LGBTQ+ community."
The company was also heavily criticized by human rights organizations.
"Target should put the products back on the shelves and ensure their Pride displays are visible on the floors, not pushed into the proverbial closet. That's what the bullies want. Target must be better," Human Rights Campaign President Kelley Robinson said in a statement Wednesday.
"Extremist groups and individuals work to divide us and ultimately don't just want rainbow products to disappear, they want us to disappear," she continued. "For the past decade, the LGBTQ+ community has celebrated Pride with Target—it's time that Target stands with us and doubles-down on their commitment to us."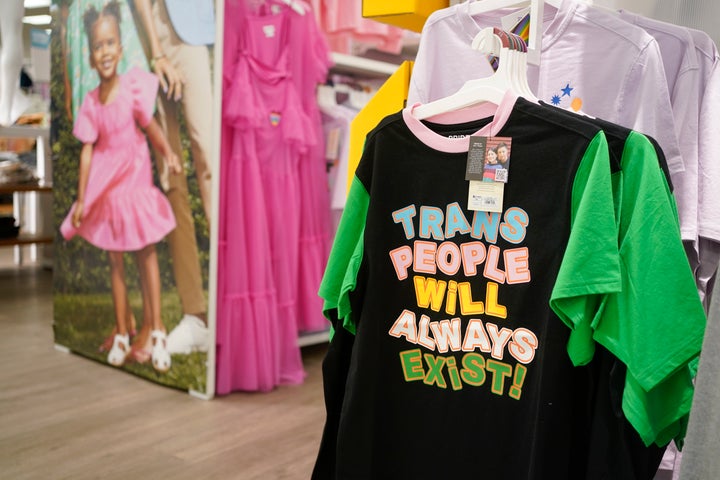 GLAAD pointed out that, according to its research, 3 in 4 non-LGBTQ people are comfortable seeing LGBTQ people in ads, and that when a brand publicly supports LGBTQ rights, Americans are overall twice as likely to support that brand.
"Anti-LGBTQ violence and hate should not be winning in America, but it will continue to until corporate leaders step up as heroes for their LGBTQ employees and consumers and do not cave to fringe activists calling for censorship," Sarah Kate Ellis, the president and CEO of GLAAD, said in a statement Wednesday.
Target did not immediately respond when HuffPost asked what it thought of the new criticism, nor did it respond when asked why it couldn't simply beef up security or take other measures to protect staff.
Popular in the Community