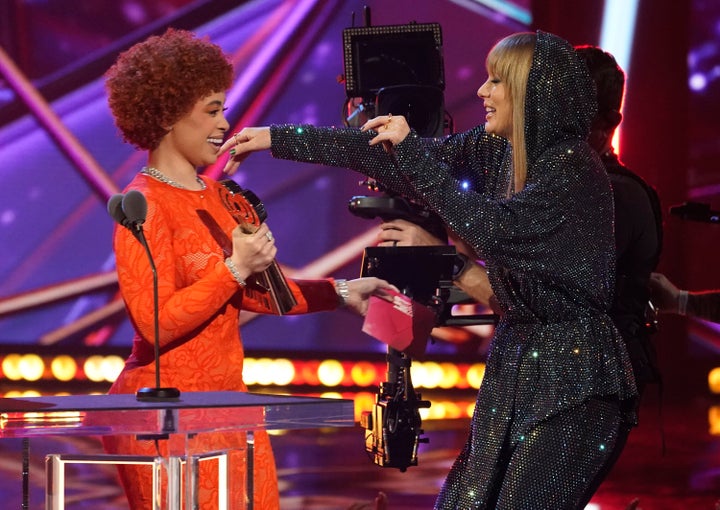 Taylor Swift announced Wednesday that rapper Ice Spice will be featured on a new version of "Karma," one of the songs from her latest album, "Midnights." The announcement comes in the midst of fans criticizing Swift for reportedly dating singer Matty Healy of the band The 1975, whose history of offensive comments and actions includes laughing along with racist jokes about Ice Spice.
In January, Healy appeared on an episode of the podcast "The Adam Friedland Show" in which Friedland and his co-host Nick Mullen made racist remarks about Ice Spice, referring to her as "Inuit Spice Girl" and "this chubby Chinese lady." Healy laughed along as the two co-hosts continued to mock Chinese and Hawaiian accents.
The podcast was pulled from Spotify and Apple. In April, Healy apologized to Ice Spice during one of his concerts in Auckland, New Zealand.
"I just feel a bit bad, and I'm kind of a bit sorry if I've offended you," Healy said, according to Rolling Stone. "Ice Spice, I'm sorry. It's not because I'm annoyed that me joking got misconstrued. It's because I don't want Ice Spice to think I'm a dick. I love you, Ice Spice. I'm so sorry."
Ice Spice never responded to Healy, but on Wednesday, the rapper tweeted about her collaboration with Swift, calling her the "sweetest person ever."
In early April, the Sun reported that Swift and Healy were dating, and Healy was later seen supporting Swift during several stops of her current stadium tour.
Swift told a crowd in Massachusetts last week that she's "never been this happy in my life, in all aspects of my, life ever. And I just want to thank you for being a part of that."
Popular in the Community