Then she announced her new collaboration with Bronx rapper Ice Spice on a version of her song "Karma" — and that was the nail in the coffin. This reeks of damage control and an exploitative PR strategy.
Swift has drawn major backlash for reportedly dating Matty Healy, frontman of British pop rock group The 1975. He was someone I really knew nothing about ― that is, until the couple was seen out and about and I started learning more about how problematic he is.
When I went to the Eras concert in Philadelphia a mere 11 days ago, I was already feeling gross about the two dating. I booed Healy when opener Phoebe Bridgers proudly announced him on the guitar during her set. A Swiftie in front of me had the nerve to look back at me like I was the problematic one.
Healy being featured at the concert and given a platform felt off to me. I wondered, why are these two white women parading around this man who has made antisemitic, Islamophobic and misogynistic statements, even about Swift herself? (He once said dating her would be "emasculating.")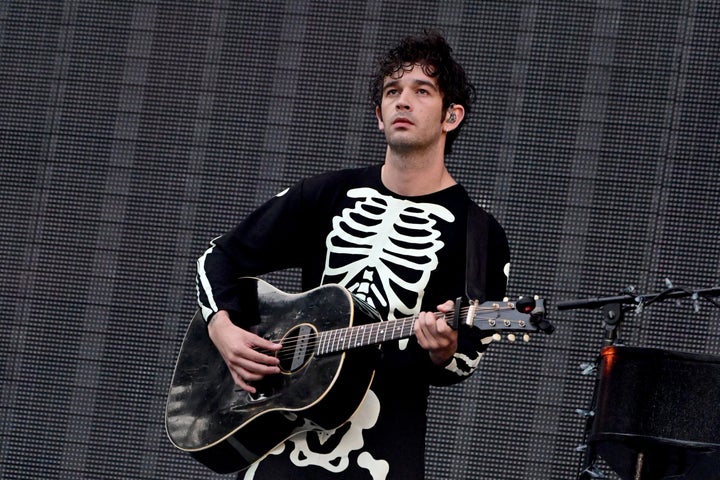 The day after the concert, BuzzFeed dropped an article about Healy saying on a podcast that he masturbates to Black women being "brutalized." Healy had also laughed along as the podcast hosts made racist comments about Ice Spice ― joking about her being "one of the Inuit Spice Girls," a "chubby Chinese lady," and "a fucking Inuit." Healy did apologize for offending Ice Spice, but failed to comment on anything else he said on the podcast.
After a few days of silence from Swift, I officially put her on pause. I stopped listening to her music and I gave all of my friends whiplash by announcing that I was done with her. Then Swift doubled down on ignoring Healy's glaring flaws, saying at a concert that she has "never been happier." Neither Swift nor Healy has confirmed the dating rumors, but the two musicians have been spotted together multiple times in Nashville and New York City.
On Wednesday, she announced the remix with Ice Spice, and I was flabbergasted. Swift is essentially using the woman who her supposed boyfriend mocked to say, "See? If Ice Spice doesn't think I'm bad and still wants to work with me, then it's all OK. Right?"
I had a lot of questions: Did Ice Spice know Swift was dating Healy when they recorded? Would Ice drag Healy in a verse? What about the suspicious timing of the release amid all the backlash?
No fault to Ice for agreeing to a collaboration with a mainstream artist and boosting her profile, either. Plus, as laymen, we don't know how record labels or individual artists broach these conversations. Though it is worth noting that this is a stark difference from her past collaborators Nicki Minaj, Pink Pantheress and Lil Tjay. (Swift said later, after this story was published, that Ice Spice had reached out to her to collaborate.)
But this collaboration also gives Swift's predominantly white female fandom an excuse to ignore all of her indiscretions and to continue to idolize her — despite the fact that a racist, deeply problematic man is still reportedly her boyfriend. Swift was no doubt pleased when Ice Spice retweeted the collaboration news and called her the "sweetest person ever."
It's also a testament to wealthy white womanhood. Of course, the blame for Healy's words and actions lies with Healy himself. But the partner you choose is a direct reflection of your values, and Swift has deluded herself into believing that a few rainbow-coded performances make her an ally of all marginalized people. Her performances are just that: performances. They do not absolve Swift of her complicity in dating a man who props up discriminatory, borderline white supremacist values.
Data shows that while the pink pussy hat-wearing white women may show up at protests and demonstrations, they often continue to vote in line with their white male husbands and partners. (Lest we forget how many white women voted for Donald Trump.)
Swift's whiteness and privilege shields her from the brunt of Healy's vitriol, as his prior remarks about her are far more tame in comparison to that of marginalized folks. "But I can fix him!" she and others may be thinking. No, you can't, not when you're skirting accountability.
But back to Swift's fans. As TV writer Francesca Ramsey pointed out in this TikTok, Swift is an "evil genius" who has built a parasocial relationship with her fans throughout her career. Swift has baked Swifties cookies at her house, engaged with them on social media, and her mother has picked fans out of the audience to meet her at concerts. In return, they'll defend her at all costs — even if that means defending bad behavior and white womanhood.
Fans have tried to put Swift's feet to the fire before, and she even showed in her "Miss Americana" documentary that her father and management team were afraid of her speaking out about former President Donald Trump and standing up for the LGBTQ community.
She branded herself as a woman who has her own voice and speaks up for what's right. So where's your voice now, Taylor? Why aren't you speaking up for your fans of color who are impacted by Healy's behavior?
What I'm saying is not novel. Women of color, particularly Black women, have been pointing this out for years: White women actively uphold white supremacy by staying silent when they could be vocal.
Swift and her fans are proving the very point she wrote in "Anti-Hero": It's true, we really are the problem.
Popular in the Community