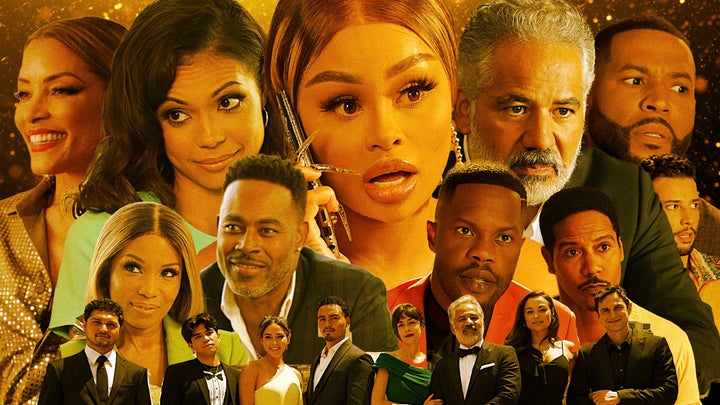 In the 1980s, there was "Dallas" and "Dynasty." Today, it's HBO's "Succession" and Fox's short-lived series "Monarch." Americans are gravitating toward a specific genre of television centered on affluent families who feud and battle to retain any semblance of power and wealth. Be it a soap or a drama, the allure of a dysfunctional family dynasty could be attributed to the writing, suspense or a fervent need for escapism in our current socioeconomic climate.
TV series featuring Black and brown families have sought to put their own spin on what a family dynasty looks like. Lee Daniels' musical drama "Empire" and Oprah Winfrey's "Greenleaf," a soapy mystery series about a Black megachurch, were some of the first Black TV dramas to embark on this particular genre. While both long-running series were widely watched and praised, since their finales in 2020, few minority-led series have been able to replicate that success.
In the past few years, series such as ABC's "Promised Land," Fox's "Our Kind of People," OWN's "The Kings of Napa" and BET+'s "The Family Business" and "The Black Hamptons" have made their debuts. Each series features a Black or Latino family trying to retain their wealth and climb the social ladder despite the deceit, drama and debauchery that may divert them. The shows take a unique approach to the family dynasty dynamic, incorporating cultural and generational nuances.
Unlike predominantly white casts, fictional families of color, such as the vineyard-owning Sandovals in "Promised Land" and the Kings in "The Kings of Napa," often reminded their successors — their children — of the generational sacrifices and systemic barriers that they had to overcome in order to excel and grasp the American dream. In dramatic and honest fashion, there is a sense of urgency and higher stakes involved in the maintenance of their status. However, what is unclear is whether selling capitalism in color on television actually provides escapism or if these series just uphold false notions about wealth, respectability, elitism and the power of that American dream.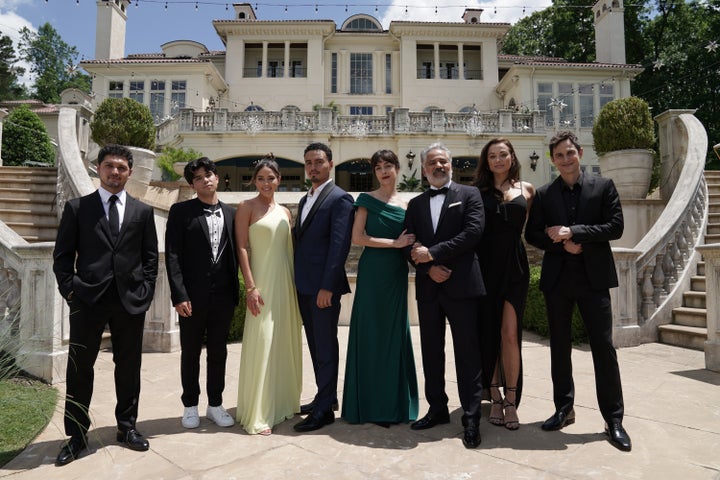 Matt Lopez, a third-generation American of Cuban ancestry, is the creator of the short-lived ABC drama "Promised Land." The series, which starred heavy-hitters including John Ortiz, Cecilia Suárez and Bellamy Young, premiered in January 2022 but was canceled that May. Set in Sonoma, California, the show focuses on Joe Sandoval (John Ortiz), the patriarch of a blended household and a laborer turned vineyard owner. Sandoval is grooming his three children to take over the vineyard management — but not without some obstacles.
"Promised Land" is a true rags-to-riches story; Lopez was inspired to create it after a trip to Home Depot.
"There were a bunch of obreros, day laborers, basically waiting for somebody to come by in a pickup truck and offer them a day's wage so they could feed their families," Lopez said. "I realized the only difference between me and those men was the passage of a couple of generations. I just had this idea of telling an immigrant story at two different places along the timeline, right when the immigrants arrive and then after they've been here for a generation. Like, how did these poor immigrants from Mexico become the matriarch and patriarch of this family empire?"
Lopez said that one thing they sought to do is depict the American dream in "all its beauty and ugliness." In the series' opening scene, audiences see immigrants crossing over a man-made U.S.-Mexico border wall, heading to the "land of milk and honey" with a "promise of a better tomorrow," Lopez said.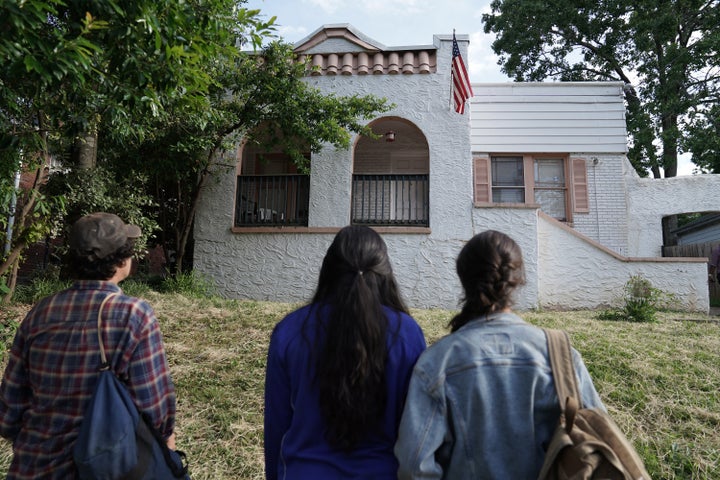 Lopez received praise from viewers and workers on set, who applauded him for depicting the stories that rarely get shown on television — and showing a successful Latino family that had no ties to a cartel.
Data shows that stereotypical "roles such as criminals or cartel members that speak English with a heavy accent (49%), restaurant workers (48%), or gang members (42%)" are still prevalent in today's portrayals of Latino characters, according to a survey conducted by OnePoll. Authenticity was paramount in the production of "Promised Land," down to hiring a Mexican dialect coach and translator, as well as veering away from stereotypes.
Throughout the season, audiences see Joe Sandoval grapple with disclosing his true identity and citizenship status while firing the very undocumented workers whose lives look just like his did 30 years ago. While "Promised Land" grapples with queerphobia and mixed-status families, it also shows a father who shunned his identity and heritage not only for the sake of safety but also to appeal to whiteness.
"What you killed yourself to achieve is this level of alienation, because the American dream can be alienating," Lopez said. "It can alienate you from yourself, and that's really Joe's journey in the first season."
In one episode, Joe gives a powerful speech to shareholders of his company, finally revealing his true identity.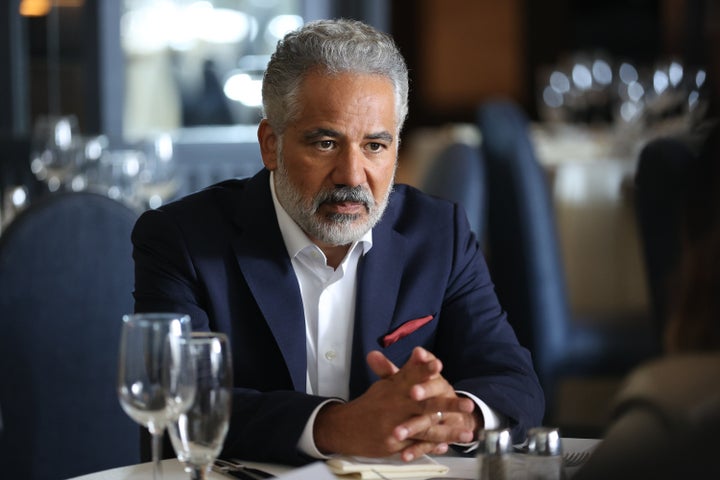 "I was scared that if the truth got out, I'd lose everything I'd built. I lost sight of the fact that the most important thing I built no man could take away. I am not sorry for coming here, for working hard, for building the company," Joe said when he announced his true identity as Carlos Rincon, who came over the wall to the United States. "I am not sorry for paying taxes, for giving hundreds of people jobs or for making some of you very rich. For chasing the dream? You'll never hear me apologize for that. So, to the people who will say I don't belong here, that I'm 'illegal,' if wanting a better life for me and my children makes me 'illegal,' I'll wear that with pride."
Sandoval then goes on to say that the opposition should dare to deport him, a multimillion-dollar wine tycoon with a robust legal team and a man who has the phone number of a U.S. senator on speed dial. But the reality is that access and power are not afforded to thousands of undocumented migrants across the nation.
"I'm sure you'll go after them instead," he said. "One hundred fifty years ago, it was the Irish, then the Germans, the Italians and the Jews. Right now, it happens to be my people, who I used to reject. But not anymore."
He ends by saying, "You can't deport a dream."
Despite the series' plot, Lopez said that he believes the American dream is still attainable. The attorney-turned-screenwriter admits, again, that it is a hard and elusive journey. However, for many viewers who reached out to him, they resonated with the Sandovals' narrative because each generation in their family appears to be improving. Though "Promised Land" is a dramatized, exaggerated depiction of wealth, Lopez said the journeys and resilience of communities of color embody the dream in reality.
"What you killed yourself to achieve is this level of alienation, because the American dream can be alienating. It can alienate you from yourself, and that's really Joe's journey in the first season."
ABC's "Promised Land" ran for one season on the network, and partially on Hulu, but it is now available for streaming on Prime Video. Similarly, OWN's "Kings of Napa" lasted only one season. The TV series follows the Kings, another vineyard-owning family, who are all vying for power and control of the House of Kings — a premier, world-renowned vineyard in Napa Valley — after the father's sudden death. The series premiered in 2022 but hasn't been renewed for a second season.
Emory associate professor Beretta Smith-Shomade said that often audiences are attracted to these sometimes destructive families because they desire relief, humor and reprieve from their own lives. (In short, we love mess.) With more than 25 years of experience in academia, Smith-Shomade's research lies at the intersection of television and how Black people are portrayed in various shows.
Smith-Shomade said that what made "Empire" and "Greenleaf" more successful than more recent series about Black wealthy families is that they were still narrative-based rather than predicated on theatrics and sensationalist tactics.
"They didn't lean into the ratchet. You got all kinds of crazy going on, but it was told in the context of life and stories. It's still narrative-based. These other ones that are also supposed to be narrative really are leaning into reality TV and that kind of construction," said Smith-Shomade, recalling the over-the-top fights and dialogue that these series tend to mimic.
Smith-Shomade noted that there's always a human tendency to want to emulate the "best, brightest and baddest" on screen. She said that such stories can be both aspirational and cautionary tales.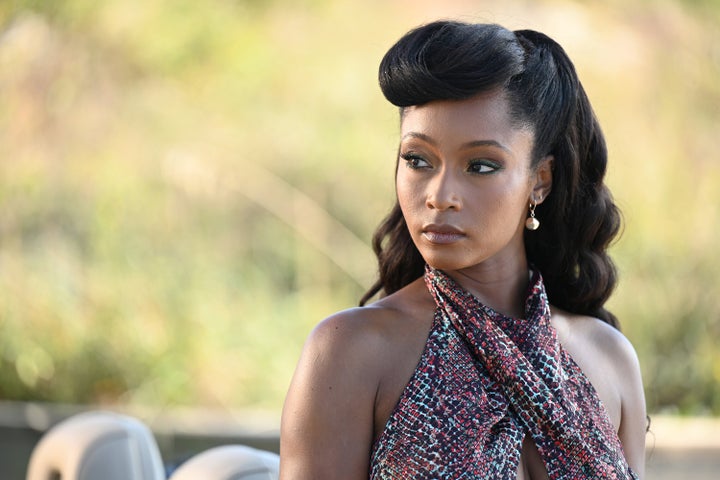 Enter "Our Kind of People," created by Karin Gist. It follows single mother and hairdresser Angela Vaughn (Yaya DaCosta), who moves to Oak Bluffs, Massachusetts, to carry out her late mother's wishes. However, she's met with pushback from Leah Franklin-Dupont (Nadine Ellis), the ringleader of the elite Black enclave on Martha's Vineyard.
The series, which was canceled after one season, is centered on messy drama and is often underscored with narratives of classism, dysfunctional family dynamics and money- and power-hungry dealmakers. Angela and her daughter, Nikki (Alana Bright), are seen as outcasts trying to climb the social ranks in the very cliquey community. Angela is hoping her hair care business, Eve's Crown, can enter a big incubator program, and she knows she needs to schmooze with the Franklin-Dupont family to get on their radar.
"Getting in with the Franklins can help Eve's Crown," Angela said. "I just need to show her I'm a serious businesswoman, not some ratchet-ass chick from Boston."
Time and again, Angela is rebuffed by HBIC Leah both because she's new to town but also because Angela's mother was a maid with a not-so-secret history with the Franklin family: Teddy Franklin (Joe Morton) is actually Leah and Angela's father. In a later scene in the premiere, Leah confronts her father in an epic daddy-daughter showdown reminiscent of some of the most explosive moments on "Scandal." Soon after, Leah takes a page from her father and airs out Angela's family history in front of others at an event for the Graceties, a local women's club.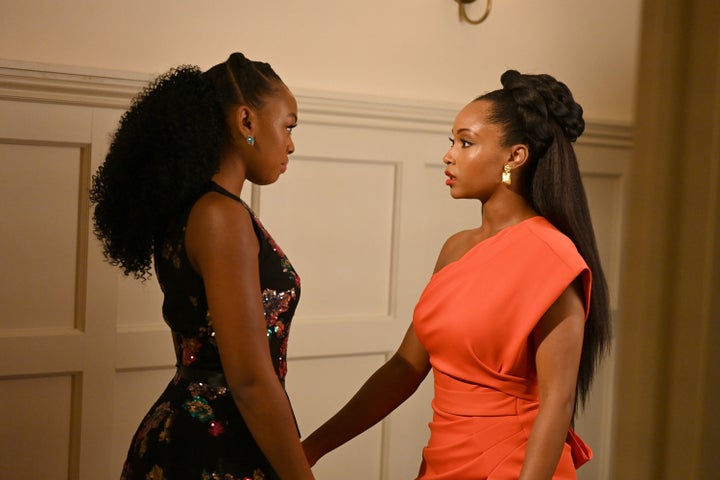 Smith-Shomade said that a common thread in Black series is structuring them similarly to reality television for the sake of profitability and shock value.
"All Black reality television is the premise of the rich and the ratchet," Smith-Shomade said. "No matter if you're on the pole or if you're a housewife of Atlanta, there's this kind of implicit understanding that wealth is the goal."
Growing up, "Black Hamptons" author Carl Weber regularly visited Sag Harbor, New York, another affluent Black neighborhood. Weber hopes BET+'s "The Black Hamptons," an adaptation of his book, could become "our 'Dallas,' our 'Dynasty,'" he said. Co-executive producer Trey Haley directed all of the episodes.
The series follows two Black families at odds — the Brittons, who represent old money, and the Johnsons, who have acquired newfound wealth — in Sag Harbor. They argue over the haves and have-nots and the legacy of keeping their beach Black while frowning upon "marrying down." The inspiration of the series was based on Weber's upbringing and spending summers in the Hamptons, where he was introduced to organizations such as Jack & Jill.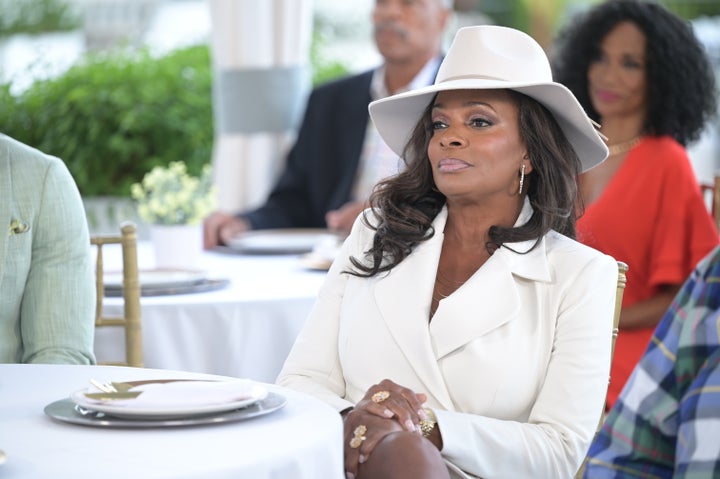 "I wanted to make people aware of the fact that there are affluent African American neighborhoods, all over the country," Weber said. "Sag Harbor is a very special place because we own our beach."
"The Black Hamptons" thrives on tropes paramount to the soap opera genre — illicit affairs, power struggles and battles of virility — for better or worse. But the shock and awe of those tropes lacked substantive writing. For example, the head matriarch of the Britton household, Carolyn (Vanessa Bell Calloway), finds her son Martin (Mike Merrill) dating the town pariah: Karrin (Blac Chyna), sister-in-law to tech guru Anthony Johnson (Lamman Rucker), whose around-the-way-girl Brooklyn aesthetic doesn't align with her values.
When a business associate who's become a family friend spots Martin out on the town with Karrin, he approaches him the following day asking, "Don't you think she's … a little ghetto parading around town? My brother, I know ghetto when I see it. No matter how it's packaged." When Martin introduces Karrin to the family, Carolyn immediately responds with, "Is she lost?" In a display of power, Carolyn attempts to read Karrin down, which ultimately lacks in delivery.
"I've never ever met you, so I don't want to be rude," she says before delving into a choppy, almost robotic monologue. "However, I mean, who knows, under that cheap off-the-rack dress, you might actually be someone. But if you were, you would know that you don't sleep with a man and then sit at the breakfast table with his mother in the same cheap clothes you had on the night before. So with that said, I assume you're not from around here."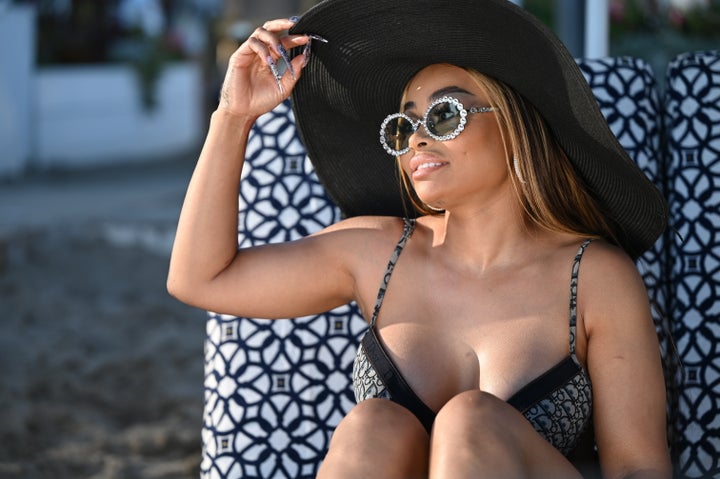 Throughout the four-episode miniseries, sex and sensuality are used as tools for manipulation, as tends to be the case with series where power and intimate familial structures collide. Carolyn, the same mother who judged Karrin, ends up enlisting her former daughter-in-law — who she forced to divorce her son, Malcom, a closeted queer man — to seduce the patriarch of the rival family. Over a glass of wine, she instructs Vanessa (Daya Vaidya) that she wants her to make Anthony "so in love that he can't think straight."
Is it practical or necessary in order for Carolyn to "preserve" the Britton "birthright" and "legacy" in the town? Is it a well-constructed or coherent plot? Or is it just chaos for the sake of it?
"It seemed like they tried to jump crazy to attract the kind of audience that would be reality TV watchers, TikTok watchers, etc.," Smith-Shomade said. "They're trying to get it off and popping very quickly, but their story is not holding together."
She is looking for more entertaining, well-written stories about facets of everyday life, citing "P-Valley" and "Queen Sugar" as examples. The reality, Smith-Shomade said, is that countless television shows depict Black folks in the context of criminalization, so the response is often to create content in the opposite direction. When series focused on upper-class Black life are released, even with their issues, it possibly offsets the other negative content for audiences.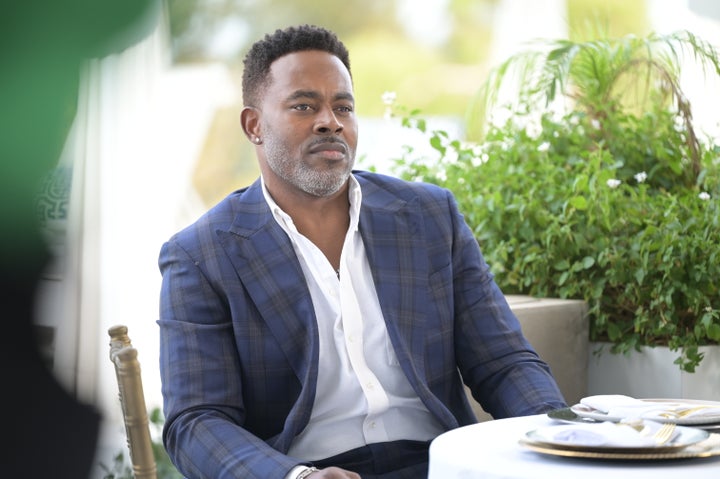 "It'd be great to have a whole bunch of 'P-Valleys' and other things that are just much more good storytelling. We should, but that's not the nature of the business," she said. "Those series reflect that kind of chaotic, 'We gotta hustle' mentality to show that we have arrived and we have achieved something, when we know the reality of this country is that most people are not upper-middle class."
Co-showrunner Nikaya "N.D." Brown Jones said that the notion that "The Black Hamptons" is unrealistic reminded her of critiques during "The Cosby Show" era.
"I remember growing up and hearing the same narrative about 'The Cosby Show' or 'A Different World,' and people saying that that wasn't realistic: a Black doctor and a Black lawyer being together," Brown Jones said. "I remember wanting to go to FAMU because of watching 'A Different World,' and I wound up doing it. Whether it's your reality today or whether it just becomes your vision for tomorrow, that's a goal for us as well."
In the series, audiences see characters briefly grapple with policing in their neighborhood, respectability politics and classism, and, of course, illicit relationships. The Brittons and Johnsons represent a larger generational divide, but members of the Britton household begin to wonder whether the mission of "keeping the Black Hamptons Black" and succumbing to the family matriarch's expectations are worth ceding one's humanity.
"All Black reality television is the premise of the rich and the ratchet. No matter if you're on the pole or if you're a housewife of Atlanta, there's this kind of implicit understanding that wealth is the goal."
"I'm not going to surrender to your psychological warfare," Martin tells his mother in a heated argument over Karrin. On the next date with Karrin, Carolyn cuts off his financial assets because, in comparison to his closeted brother Malcom, Martin cannot grasp "the importance of keeping up appearances."
Manipulating him by the purse strings and once again doubling down on respectability politics, Carolyn squashes the aspirations of her children, heirs to the Britton name, to uphold the family legacy.
In the car with his brother, Martin asks, "So what are we supposed to do? Just sit around and be miserable for the rest of our lives?"
In search of the American dream, characters like Martin and Joe Sandoval of "Promised Land" quickly become ensnared in systems and tropes greater than themselves. The paradox of the American dream is that the freedom it promises tethers marginalized people to something — be it money or respectability — and offers little, if any, liberation.
The narratives on television don't offer much nuance to approaching this ideal and instead rely on soap opera-y antics. After working so hard to reach the top of the proverbial totem pole, these characters and their families look in the mirror to find a shell of themselves. Yes, Black and brown families are seen attaining wealth and power on screen. But the question is: At what cost?
Popular in the Community