AUSTIN, Texas — The Texas Senate State Affairs Committee voted 6 to 2 Monday to advance two bills cracking down on drag performances, a victory for right-wing legislators waging a war against public displays of queer culture.
One bill would redefine "sexually oriented performances" to include drag shows, banning them in front of minors under threat of fines up to $10,000. The other would cut state funding for libraries if they host a book reading at which a "person being dressed as the opposite gender is a primary component of the entertainment."
"All of us can agree that children should not be exposed to sexually explicit material," said state Sen. Bryan Hughes (R). "Drag shows are sexually explicit and expose children to issues of sexuality and identity that should be reserved to adults."
The State Affairs Committee advanced the legislation despite hearing from dozens of opponents, who said the proposed laws would restrict free speech, undermine a valid art form and discriminate against LGBTQ Texans.
"We should be ashamed that these bills are even being debated here in Texas," said Callie Butcher, the president of the Dallas LGBT Bar Association, an organization for "queer and allied" legal professionals.
"The answer to this supposed issue is simple: If you don't want your child to go to a drag show, don't take them."
The pervasiveness and popularity of gender-bending dress in popular culture — from men playing women's roles in Shakespeare to movies like "Mrs. Doubtfire" and shows like "RuPaul's Drag Race" — also mean that the bill restricting public drag shows could impact the live entertainment industry far more broadly than the legislation's authors expect.
As currently written, Senate Bill 12 would likely bar acts like rock band Mötley Crüe or professional wrestling events from all-ages venues, according to Pat Buchta, the CEO of the Austin Texas Musicians nonprofit.
"This bill seems less about protecting children and more about discrimination against the LGBT community," Buchta said.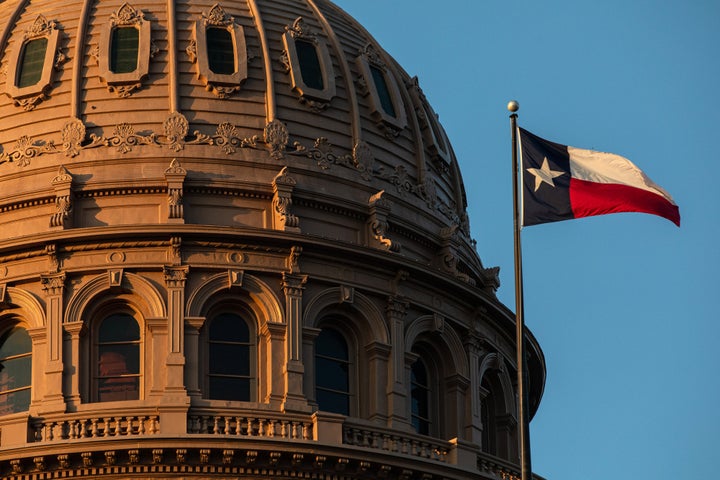 The few people who spoke in support of the bills at a hearing Thursday viewed them as a protective measure for children.
"Leave sexually oriented entertainment to adults," said Ed Fox, the director of Christian education at Good Shepherd Baptist Church in Grand Prairie. "We're not asking to ban it; we're asking to leave the children out of it."
"There are amazing events like 'drag queen story times' that are happening in the daytime in safe places for kids, where it's literally just somebody in a funny costume reading a story to kids and encouraging them to be themselves and to feel comfortable in their own skin," David Walker, a Texas resident who opposes the bills, told HuffPost. "It's a very important message that I also think has a very revolutionary potential that a lot of people don't want to reckon with."
A representative for Austin's public library system who spoke at the hearing agreed, saying that the city had held at least two drag story time events at the request of parents.
"These events were age-appropriate. The families that chose to attend them had a good time," he said. "Anyone should be able to find something for them at their library."
"I've seen more children and more skin at my local Hooters [restaurant] than any drag show," said Muneeb Aslam, a graduate student at the University of Texas. "This legislative priority is laughable."
The Texas bills are part of a national conservative effort to crack down on drag shows by passing laws through about a dozen state legislatures.
Popular in the Community