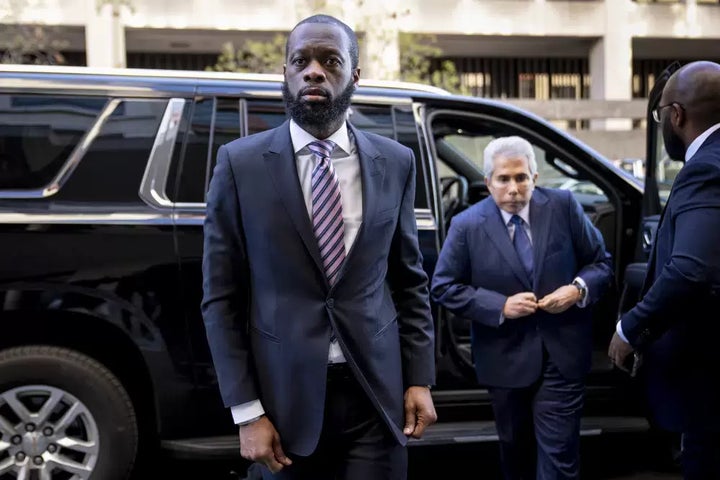 WASHINGTON (AP) — A founding member of the 1990s hip-hop group the Fugees was enmeshed in political conspiracies involving millions of dollars in foreign money under two different U.S. presidents, federal prosecutors said as his trial got underway with opening statements Thursday.
Prakazrel "Pras" Michel is accused of funneling money from a fugitive Malaysian financer through straw donors to Barack Obama's 2012 reelection campaign. Five years later, prosecutors say he tried squelch an investigation into the financer and persuade then-President Donald Trump's administration to return to China a "vocal critic of the government."
"This is a case about foreign money, foreign influence and concealment," said prosecutor Nicole Rae Lockhart. Michel pocketed over $100 million in the saga involving "political intrigue, backroom dealing, ... burner phones and lies," she said.
Michel's lawyers have previously said he is innocent and "extremely disappointed" in the charges, but the defense decided to wait to give its opening statement in the trial that's expected to last weeks.
The Department of Justice says Michel conspired with Low Taek Jho, usually known as Jho Low. The fugitive financer is accused of masterminding a money laundering and bribery scheme that pilfered billions from the Malaysian state investment fund known as 1MDB.
Looted money paid for jewelry and luxury art and helped finance Hollywood films like "The Wolf of Wall Street."
Low was once known for his business and social ties to American celebrities like Kim Kardashian and Leonardo DiCaprio, a possible witness in the case. During the 2012 presidential campaign, prosecutors allege Low directed more than $20 million to Michel, who concealed its origin by giving the money to straw donors to give to the Obama campaign. He later tried to lean on the donors to keep them from talking to investigators, Lockhart said.
In 2017, prosecutors say, the Grammy-winning rapper worked with a Republican "fixer" to try and shut down a U.S. investigation into Low and embezzlement from the Malaysian fund. He's also accused of pushing the Trump administration to send a Chinese person who had fled to the U.S. back to China.
"It almost worked," Lockhart said. "The defendant wanted money and was willing to break any laws necessary to get paid."
The Justice Department last year announced charges against Low and two former Goldman Sachs bankers in the money laundering and bribery scheme that pilfered money from the fund, which was created to spur economic development projects in Malaysia. Low is a fugitive but has maintained his innocence.
Popular in the Community