Tom Brady has announced his return to sports — but not the one fans might have expected.
The recently retired football quarterback stunned his social media followers Thursday with an Instagram video about his acquisition of a major stake in a WNBA team. The native Californian, who played 23 seasons in the NFL, is going to be spending a lot more time in Nevada.
"I got really special news to share today," Brady said in the video. "I'm excited to announce I'm going to become part of the Las Vegas Aces organization. It was a matter of time before I was back in the building with some of the greatest athletes in the world."
Brady first met those athletes in May after sitting courtside at one of their games and immediately "knew he wanted to be a part of the organization," according to a press release from the team. But his passion for women's sports apparently started decades earlier.
"I grew up with three older sisters," Brady said in the Instagram video. "They were all incredible athletes in their own right. They were role models to me. It's where my love of women's sports began."
He continued: "I tagged along. I was the annoying little brother to all their games. And they were the best athletes in our house, and they're still a great inspiration to me."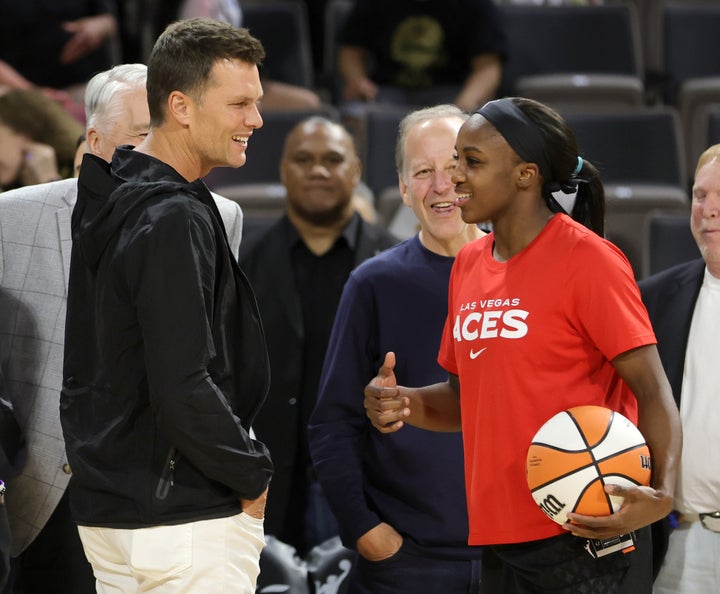 In a recent Vanity Fair interview, Bündchen denied the idea their split was spurred by Brady's unretirement, calling it "the craziest thing I've ever heard."
Bündchen also told the magazine that she and their daughter practice jujitsu, describing the martial art as empowering — a quality that Brady also sees in his new team.
"I admire all the work the Aces players … do to grow the sport and to empower the future generations of female athletes, one I have in my own family," he said. "I'm ready to contribute in any way possible as a member of such a great organization. What an honor."
The former quarterback's stake in a women's basketball team is only the beginning, however, as Fox Sports has previously said that Brady would join its broadcasters upon his retirement. As it stands, he's presumably focused on the Aces — and excited.
"I can't wait to watch these amazing, talented players bring another championship to Las Vegas," Brady said in the Instagram video, before concluding with an abbreviated (and explicit) cheer: "LFG."
Support HuffPost
The Stakes Have Never Been Higher
Popular in the Community