Three Femen activists disrupted Christmas worship services at the Vatican to protest what they believe is the oppression of women perpetuated by the Roman Catholic Church.
Inna Shevchenko, a Ukrainian activist who leads Femen, an anti-patriarchy organization known for staging topless protests to attract media attention, told HuffPost that this action was a way to stand in solidarity with the viral #MeToo social media movement against the sexual assault and harassment of women.
"As feminists, FEMEN considers organized religions with their institutions and leadership to be one of the historical oppressors of women," she wrote in an email. "The action [at the] Vatican is, if you want, an act of revenge: a historical victim (a woman) rises up against her historical oppressor."
Vatican police detained one topless activist Monday as she tried to steal a statue of the baby Jesus from the Nativity scene in St. Peter's Square, Reuters reported. The activist was identified on Femen's website as the Ukrainian "sextremist" Alisa Vinogradova. The activist had the words "God is woman" painted on her body in English. The incident occurred two hours before Pope Francis delivered his Christmas message.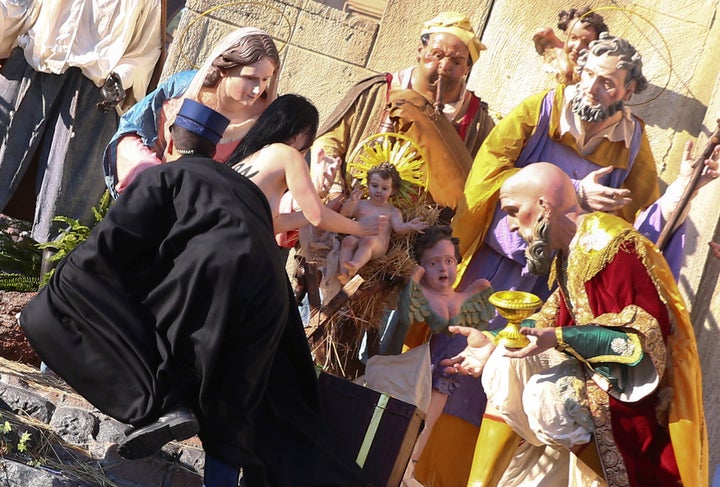 Two other Femen activists broke into the Vatican's Nativity scene on Christmas Eve, according to HuffPost France. They had the phrases "#MeToo" and "Assaulted by church" written on their bodies.
Shevchenko compared the Femen activists to a "modern and free Virgin Mary." Although Mary is the major female figure in Catholicism, Shevchenko believes she is portrayed as silent and passive. It's that same sort of passiveness, she said, that is expected of women who experience sexual assault.
"Despite her significant role, Mary represents chastity, maternity and passiveness-all that is expected from women in patriarchal society. Moreover she is the woman with nor voice, neither sexuality," Shevchenko told HuffPost. "The passiveness and silence of Mary is still often expected from women across the world as they get assaulted and attacked. As the #metoo campaign has shown, many women kept silence about their horrible experiences for years often under pressure, out of fear and insecurity. Nevertheless they have spoken, they broke the silence and shook the established system of dominance."
"Similarly, our Mary, who is expected to be passive and quiet, now breaks the silence and points out ... the assaults of women by the Church."
Among the grievances Femen has against the Catholic church are its "hostile" position against the LGBTQ community, its treatment of priests accused of pedophilia and its historic opposition to abortion.
Shevchenko also noted that Femen wants to criticize the patriarchal nature of organized religions.
"We decry the notion of the Father God as well as male leadership in religious institutions (as women are still officially banned from preaching)," she wrote. "We oppose religious scripture which often [portrays] women as inferior and weak creatures, their bodies as dirty and shameful, their souls as guilty."
In contrast, the "Marys" who participated in the activism at the Vatican this year are in full control of their bodies and are, in fact, using them as political tools, she said.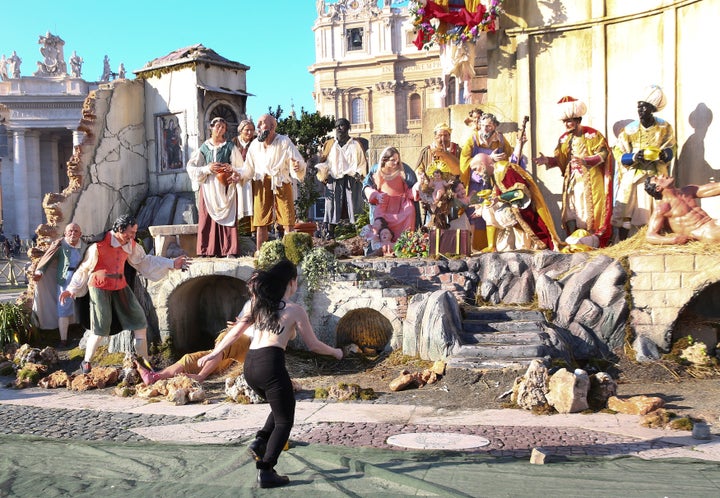 Femen, founded in Ukraine in 2008, is an atheist organization that believes in the separation of church and state. One of its stated goals is to work against religious institutions' influence in the "civic, sex and reproductive lives of modern women."
Femen's tactics and firmly anti-religious stance have earned criticism from some fellow feminists, including Muslim women who accuse the group of promoting Islamophobic rhetoric.
Related
Before You Go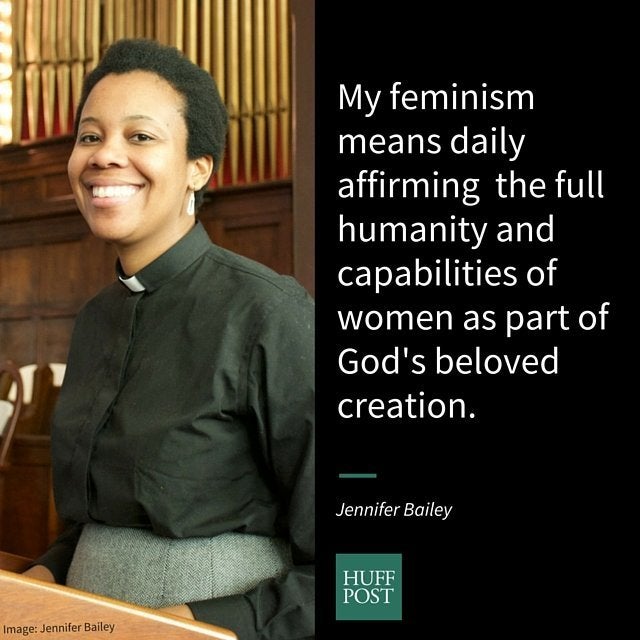 Christian Women On Feminism
Popular in the Community