A Canadian activist is facing a criminal charge after storming the stage at this week's Juno Awards and interrupting a speech by Avril Lavigne — but she's standing firmly behind the stunt in her latest remarks.
Casey "Ever" Hatherly was topless at Monday's ceremony in Edmonton when she climbed next to the singer-songwriter, who was introducing musician AP Dhillon at the time. The Vancouver resident had phrases like "land back" and "stop logging old growth now" written on her torso and arms, with pasties covering her nipples. She was eventually removed by security and arrested.
On Wednesday, Hatherly appeared in an Edmonton court on a charge of mischief before speaking to the press outside. The activist said she belongs to an environmental advocacy group called On to Ottawa and that she was protesting development on natural land in Ontario province.
The Juno Awards, now in their 53rd year, are the Canadian equivalent of the Grammys.
In her remarks to journalists, Hatherly remained unapologetic.
"I know that I have an incredible amount of privilege, and it is my absolute privilege to stand up and fight for something that I believe in," she said. "The best way that I can do that is by playing the cards that I'm dealt. I have white privilege, I have perfect titties and a huge ass, so I got the attention that On to Ottawa needs."
At the ceremony, Lavigne seemed to be caught off guard by Hatherly's sudden appearance on the stage but maintained her composure.
"Get the fuck off," the eight-time Grammy nominee told Hatherly, laughing. "Get the fuck off, bitch."
Lavigne went on to joke about the incident later in the show as she accepted a "fan choice" award, as well as on social media.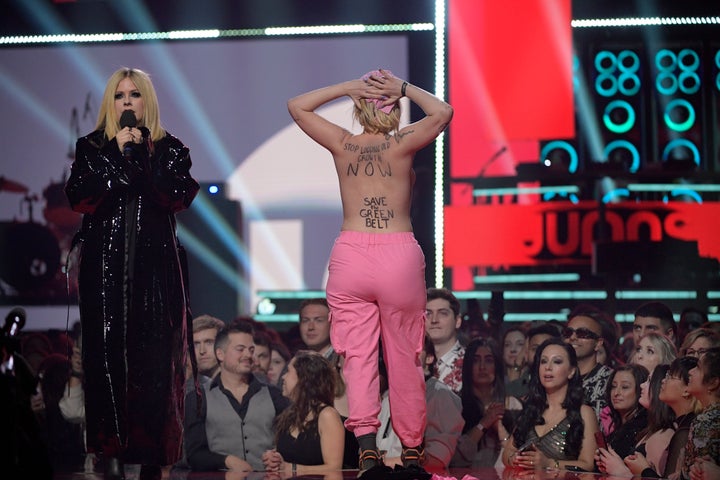 Popular in the Community