An Interview with Ruth Owades, CEO, Serial Entrepreneur and Corporate Director.
This interview is part of a series on Trailblazing Women role models (Entrepreneurs and Leaders) from around the world and first appeared on Global Invest Her. You have to see what you can be.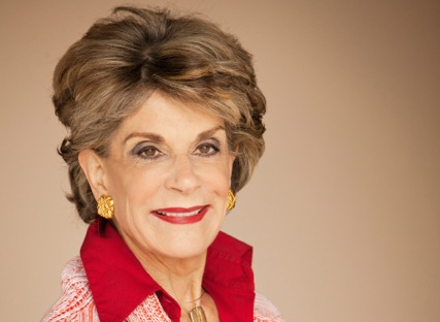 "Make sure you get as much advice as you can from other people who have succeeded (and some who have failed)."
Ms. Owades is a serial entrepreneur, CEO and Corporate Director. Two of the companies she founded are subjects of Harvard Business School case studies which are taught around the world.
Business Week hailed Ms. Owades as a "Best Entrepreneur," honoring her for "changing the way we buy flowers." As CEO and Chairman of Calyx & Corolla, the first fresh flower catalog and web site, Ms. Owades reinvented the floral distribution chain. Eliminating the many traditional middlemen, she developed strategic alliances with FedEx and top growers, making next-day, direct-from-the-grower delivery possible, and making Calyx & Corolla the foremost flower retailer in the country. Ten years after founding the company, she sold Calyx & Corolla to an investor group.
Ms. Owades' first company, Gardener's Eden, established the now popular U.S. niche market of upscale gardening tools, furniture and accessories. The company was purchased by Williams-Sonoma three years after launch and Ms. Owades served for five years as CEO of the Gardener's Eden division.
She is currently a director of Northern Trust Western Region, the diaTribe Foundation, and Newsy.com: Multisource Video News. Owades served as a director of Armstrong World Industries, Deckers Outdoor Corporation, J. Jill Group, and Providian Financial. She has also served on the Board of Dean's Advisors for Harvard Business School and the Scripps College Board of Trustees.
A frequent speaker on entrepreneurship, branding, strategic alliances and corporate governance, Ms. Owades has been a guest speaker at Google, IBM, Harvard Business School, Stanford Graduate School of Business, London Business School, Oxford University and California Institute of Technology.
You can find out more about Ruth, a true trailblazer, on Linkedin.
Who is your role model as an entrepreneur?
The great thing for today's women entrepreneurs is that there are now more female role models. There were not too many around when I was starting out. I was most influenced by Chuck Williams the founder of Williams-Sonoma, the premier cookware retailer in the U.S. His catalog was beautiful, and when I set up Gardener's Eden, I picked out Chuck's catalog from all the existing ones and said 'I want to be the Williams-Sonoma of Gardening'. They had beautiful design, unique products and compelling content. When they approached me to buy my company, I was thrilled!
During my five years as CEO of the Gardener's Eden division of Williams-Sonoma, Chuck Williams and I became friends. I got to know him well as we travelled together to various trade shows. He is very knowledgeable and has an innate sense of taste. He is quiet in his ways, low key and a good communicator. I admired how he could get so much done and be such a good leader. He made a lasting impression. He started very small, with one store and a catalog, and built a great brand. When he was bought out, he stayed on, remaining in charge of merchandising. I learned a lot about business and products from him. He intuitively knew what would sell. He had an image of the ideal customer in his head, and when we travelled throughout the world, it was a valuable experience to be with him, with his picture of Mrs. Jones in his mind. He really broadened my horizons. I was so eager to learn from him and so blessed to have had the opportunity to do so. When I started my second company Calyx & Corolla, he was on my Board.

What is your greatest achievement to date?
Starting and building two successful companies and being a role model for young women today.

What has been your biggest challenge as a Women Entrepreneur?
Credibility -- having men believe that we as women are capable of building and leading inventive, creative, successful ventures. That stands out as having been my greatest challenge. It's linked to what I said earlier about not having any female role models. I attended Harvard Business School and the credibility it brought me was the most important thing early on. I was the only woman manager at my first job, and my boss would introduce me by saying, 'This is Ruth Owades and she has a Harvard MBA.' It was his way of justifying why I was at the meeting. He felt he needed to explain my presence. We've come a long way since then, but we are not on a level playing field yet!
When I tell young women this, they are surprised. They tend to believe that all these problems have been solved. I often hear from them 5-7 years after an initial conversation and they say, 'OK Ruth, now I get it!' Hopefully that will not be the case in the future.

What in your opinion, is the key to your companies' success?
The initial key is seeing a niche that hasn't been served. It may not yet be obvious to potential customers that this is a niche product/service that they need. The entrepreneur needs to see it and educate the customer base that this is something they should try/engage in. For example, with Calyx & Corolla I had a vision that there was a way to get fresher flowers, at a better price, overnight, throughout the country. My challenge, aside from the execution, was explaining to the consumer that it was possible to have fresher flowers and that they would be easier to purchase.
As an entrepreneur, you should never underestimate the difficultly of changing consumer habits.
We are complacent by nature, and think that what we have already is fine. Even though consumers were complaining that the flowers they bought were expensive and not long lasting, it took clever communication to get them to stop and listen to another option. I knew that flowers were not the most important thing in a person's life, so how would I get people to start thinking about them in a new way? We started with a top notch catalog and then moved to digital commerce. Every representation of our flowers looked so desirable and beautiful -- anyone visiting the website wanted to make a purchase. We projected an image of expertise and elegance.
I also knew the power of the media. We had a big presence in the media (print, radio, magazines, blogs) and I spent much of my time promoting our company. People think that if you have 1 or 2 articles, you will get great visibility. That's not true -- you need so much exposure. When you have a critical mass of press coverage, then suddenly everyone becomes aware of your presence. The key is to feed journalists by making an interesting story available and almost writing it for them -- it makes their life easier and it's a win-win -- it really does work!

If you could do one thing differently, what would that be?
Be born male! I'm really serious! It still makes such a difference today.
Warren Buffet often says that part of the reason he is so successful is that he is only competing with half the population. It's easier to succeed if you're born white and male. It's people like us, women entrepreneurs and leaders, whose efforts are changing that.

What would you say to others to encourage them to become entrepreneurs?
I'm a strong believer that not everyone is destined to be or should try to become an entrepreneur. There are many wonderful careers out there that need different skills. It's incredibly hard work in many different areas. I think the first thing to ask yourself is if being an entrepreneur is something you are ready for and really want to do. Do you have a concept you want to execute?
Secondly, you have to really think through the concept and understand what it's going to take. It is an education to sit down and write a business plan, then study and interpret the data. The third thing is to make sure you get as much advice as you can from other people who have succeeded (and some who have failed).
The fourth bit of advice is to embrace problems. One of the keys to being an entrepreneur is being able to take a negative and turn it into a positive. True entrepreneurs thrive on challenges -- that gets the creative juices flowing, often turning problems into change agents. It's important to think creatively and be tenacious, not to be beaten down by an obstacle.
Lastly I encourage entrepreneurs not to model themselves on other people -- you have to be you. Trying to imitate someone else doesn't accomplish anything. We all have our strengths and weaknesses.
A lot of VC's say they'll invest in people who look like Steve Jobs, Bill Gates, Mark Zuckerberg. I think: 1) That excludes all women, and 2) Why invest in them just because they look exactly like what has succeeded before?
How would you describe your leadership style?
Inclusive. It's important for the entrepreneurial leader to have a really clear vision, which can be communicated to her entire team. I mentor entrepreneurs now, and I emphasize the importance of good communication - with the team, with investors, Wall Street, vendors, suppliers, everyone! You can have the best ideas, but if you can't communicate them to those you depend on, it's useless.
If you are starting a business, how do you get from 0-100mph? It's really hard and there are many obstacles along the way, some expected and some surprises. Being an entrepreneur takes so much tenacity and determination. So much is linked to the entrepreneur's ability to keep the vision, explain the vision and be the leader.
I am honored and feel a responsibility when I realize my team is so inspired by me. It's both heart-warming and scary. It's an enormous responsibility -- a good leader is always aware of her responsibility.

What advice would you give your younger self?
Take Risks: Many of us are afraid to strike out and try something really risky, try new things. I did them anyway, with a lot of encouragement from others.
Accept that it's ok to fail: It would have been so much easier if I had understood earlier that failure was ok. There is nothing wrong with trying your best and if it doesn't work out, starting again. Failure has become more accepted now because it means you have tried something difficult.
A lot of young women think 'If I fail, people will see it'. The key question to be asked in our younger years is, 'So what if I fail? We as women, tend to put so much pressure on ourselves. And then, when we do succeed, we feel we shouldn't talk about it, because it's 'not nice to brag'. So I say, admit failure! Be proud of your success!

What would you like to achieve in the next five years?
I would like to see the playing field for women even out. I spend a portion of my time mentoring entrepreneurs and it's important for me to give back in that way. I'd like to help improve the position of women in business and to increase our presence in the boardroom.

3 key words to describe yourself:
Tenacious - not being willing to take no for an answer is very important. You have to believe in yourself. When I started my second company (which was uncommon back then), so many people asked me 'why are you doing this? You are really successful, why not rest on your laurels?' At the time, it was unusual to create two successful startups, Steve Jobs was just starting NEXT after having been ousted from Apple. There were very few people who were willing to go at it a second time or third time. But I wanted to try.
A Good Listener: the best leaders are good communicators and good listeners. If you don't hear what your customers and the whole ecosystem is saying, you will not be a good leader.
Positive: even when times are tough, I've always been able to say and think something positive.
For other interviews with Trailblazing Women leaders on Huffington Post Read More Here
Calling all HuffPost superfans!
Sign up for membership to become a founding member and help shape HuffPost's next chapter