Video Produced by Khaled Sayed and Narration by Brad Bailey
On the surface, Fayetteville looks like most other midsize Southern cities- dotted with strip malls, churches, gas stations, and religious billboards. Bentonville, not too far away, is the headquarters for Walmart, which lends to a business and corporate-like culture in certain areas. It's also a college town, hosting one of the six campuses of the University of Arkansas system. These two entities make the town a liberalized oasis in a red state, but it still tends to have a large conservative element.
As my driver took me from the airport we went through windy two-lane roads to get to downtown, and I told her there was a protest in town the next day for transgender rights. She went into a quick discussion about how we shouldn't change bathroom laws just to accommodate transgenders― numbers weren't enough, she said, to justify changing laws to suit a "minority." After I mentioned to her that "tyranny from the majority" is seen as a fundamental right for some people, she agreed that it was important to have a civil discourse on the issue.
When I met transgender activist Teri Wright she was in the midst of planning the protest for the next day. She was confident, and the organizers of the campus gay group, PRIDE, had come together to draft letters to sway local and state officials and to hash out the protest details.
Teri is originally from the local area,and although Arkansas is a conservative state, she and her wife Katie decided to stay there and make their lives on their farm. She's also a veteran, and served her country overseas. When we sat down to talk, she told me of her personal struggle to discover her identity, a process that took years. When she finally summoned to courage to transition from male to female a few years ago, with the support of Katie, she started making plans.
Teri and Katie had made the grueling 10 hour round trip to Dallas to meet with a surgeon. Then, on January 19, all of that turned upside down. She received an email from the University of Arkansas health care system informing her that they were suspending "gender dysphoria coverage".
In May of last year, the Office of Civil Rights for the Department of Health and Human Services banned discrimination on the basis of gender identity for insurance coverage under the Affordable Care Act. Then on the last day of 2016, a federal judge from the District Court for the Northern District of Texas issued an injunction on this order, allowing for employers to opt out of health care coverage for issues relating to gender identity. A a result, the University of Arkansas, sent an email system wide detailing their plans to not cover the procedure.
On the the morning of the rally, the participants gathered at the edge of downtown. They marched down Dickson Street, the hub of city, and received significant attention from local people shopping and having brunch. Many cars honked in solidarity with only a couple of instances of passerbys in cars hurling a quick epithet. It was a peaceful yet vocal event, and Teri was thrilled with the turnout. In cities like Fayetteville, the impact of events like this march is to raise awareness to local individuals that these issues aren't just for far away New York or Chicago.
This is especially important in the wake of recent laws that have crept up on the local and state level. Just last month, the Arkansas Supreme Court struck down a local ordinance protecting LGBT residents from discrimination on the basis of sexual orientation or gender identity. Recently, another law, House Bill 1894 is finding its way through the legislature, which would prohibit Arkansans from altering their birth certificates to amend their gender. Finally, Arkansas Physical Privacy and Safety Act, is a version of the controversial bathroom law, restricting access to individuals whose gender matches the sign on the entrance to the facility.
Teri's situation illustrates the challenges many transgender individuals face nationwide, especially in red states far away from the liberal coasts. After having finally arrived a mental and physical level of comfort to to undergo this surgery- a process that took years- she is now forced with the choice of staying at home to fight for coverage, or leaving her native Arkansas and traveling away from her wife just to find a place that will assist her. Many transgender individuals, particularly those of color, have even fewer options, and when coupled with violence and stigma in certain parts of the country, the obstacles appear daunting.
As I was leaving Arkansas, I thought about an older woman who I met briefly in the protest. She told me that she had participated in protests during the 1960's, when Arkansas was ground zero for racial desegregation battles across the country. She also said that, after over 50 years of civil rights challenges and some successes, that she thought she was "done having to protest". She held up a sign, however, that perfectly encapsulates the feeling of her and many others that day: "Love Wins."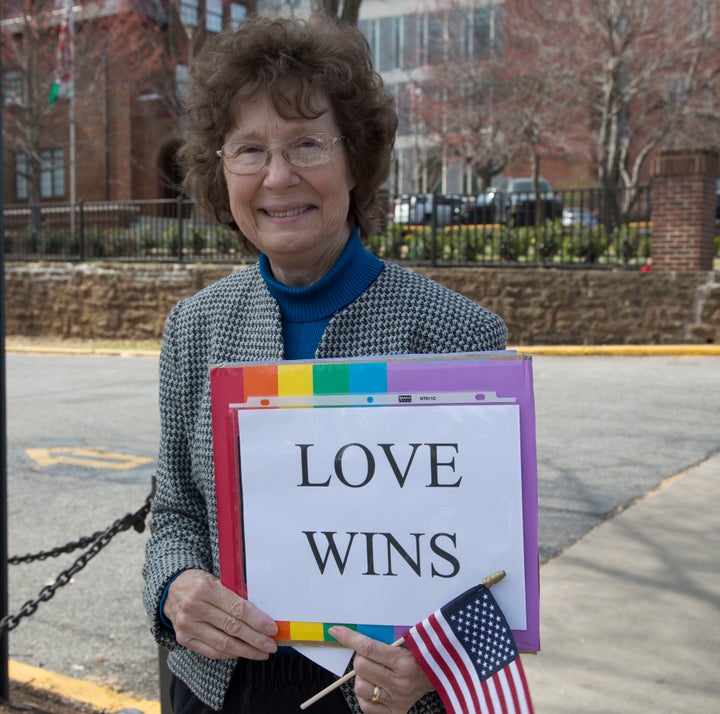 Khaled Sayed also contributing to this report
Popular in the Community