FORT PIERCE, Fla. (AP) — A Florida judge who issued a court ruling last year that critics said was unduly favorable to Donald Trump is set to preside Tuesday over the first pretrial conference in his landmark criminal case concerning the mishandling of classified documents.
Prosecutors and defense lawyers are scheduled to appear before U.S. District Judge Aileen Cannon to discuss the rules and procedures that will govern how classified evidence is used in the case. It's a routine subject for any prosecution that concerns classified information, but it's notable because it will be Cannon's first time hearing arguments in the case since the former president's indictment last month.
At issue during Tuesday's arguments is a 1980 law known as the Classified Information Procedures Act. That statute governs how classified information is handled by the parties in a criminal prosecution. It's meant to balance a defendant's right to access evidence that prosecutors intend to use in a case against the government's interest in safeguarding sensitive and secret information.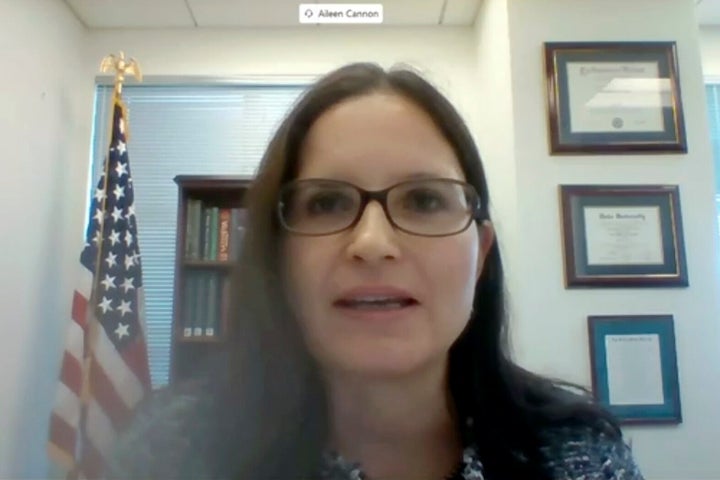 Ahead of the pretrial conference, special counsel Jack Smith's team asked Cannon on Monday to enter a protective order that would, in part, restrict the ability of defense lawyers to share with Trump and his codefendant and aide, Walt Nauta, classified information in the case. In seeking the order, prosecutors wrote that defense lawyers have told them "that they intend to object to certain provisions of the proposed protective order, but did not specify any such provisions."
Trump and Nauta have pleaded not guilty to a 38-count indictment that accuses them of conspiring to hide classified documents from Justice Department investigators that were taken from the White House to Mar-a-Lago at the end of Trump's time in office in January 2021.
Neither Trump nor Nauta is expected to attend Tuesday's hearing.
Another unresolved issue that could come up Tuesday is the trial date. Prosecutors have proposed that the trial begin Dec. 11, while lawyers for Trump, who is pursuing the 2024 Republican presidential nomination, have suggested that it be postponed until after the election.
Cannon also presided over a lawsuit that the Trump team filed last year over the August 2022 FBI search of Mar-a-Lago. Cannon drew criticism and second-guessing from legal experts for granting Trump's request for a special master to conduct an independent review of the classified documents removed by the FBI from Mar-a-Lago.
Tucker reported from Washington.
Support HuffPost
The Stakes Have Never Been Higher
Popular in the Community