Hannity asked the former president to explain two posts that sparked uproar last week as a possible indictment against Trump could soon be announced by Bragg's office. On Thursday, Trump posted a photo of himself wielding a baseball bat beside a photo of Bragg with his hands up. The post was later removed. In another post, Trump suggested a potential indictment against him by Bragg could result in "death & destruction."
In a rambling answer, Trump seemed to suggest that he didn't know about the photo, which was reportedly part of a linked article, when he shared it. He also seemed to be under the impression that people thought the image actually showed him threatening Bragg with a baseball bat, clarifying at length that "these were two separate pictures."
"They took that picture from the White House and they put it up and then they put a picture of Alvin Bragg up," he said, after going off on a tangent about the company that made the baseball bat.
Regarding the "death & destruction" post, which is still up, Trump tried to cast it as a message of concern rather than a threat.
"I didn't say 'do something bad.' I say I am afraid that people will do something because people are very angry about it," he said.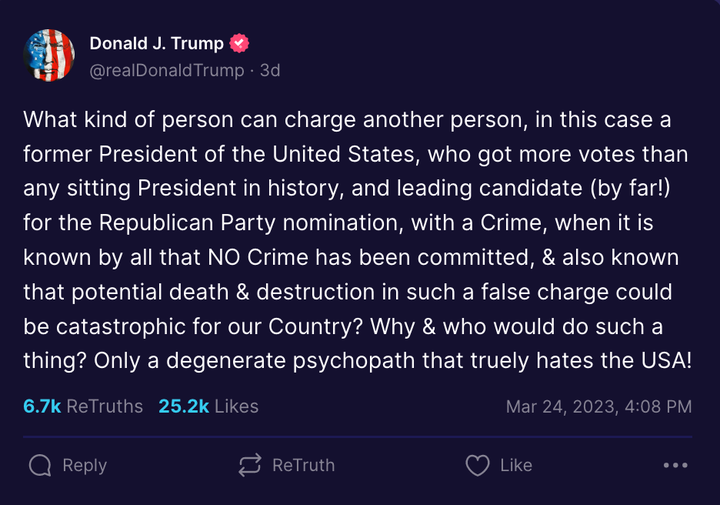 Earlier this month, Trump indicated that he expected to be arrested last Tuesday as part of Bragg's investigation in New York, which reportedly would center on a 2016 hush money payment to adult film actor Stormy Daniels in exchange for her silence about an alleged affair with Trump.
Trump's intense rhetoric since then has at times been reminiscent of the language he used prior to the Jan. 6, 2021, insurrection, with many onlookers sounding the alarm it could lead to more violence.
House Minority Leader Hakeem Jeffries (D-N.Y.), for example, said on Friday that Trump clearly "has not learned his lesson" from the riot at the U.S. Capitol and warned that "if he keeps it up, he's going to get someone killed."
CORRECTION: A prior version of this story incorrectly identified the state Rep. Hakeem Jeffries represents.
Support HuffPost
The Stakes Have Never Been Higher
Popular in the Community