ISTANBUL, July 9 (Reuters) - Turkey's main opposition leader told a huge protest rally on Sunday that the country was living under dictatorship and pledged to keep challenging the crackdown launched by the authorities after last year's failed military coup.
Addressing hundreds of thousands of people waving Turkish flags and banners demanding justice, Kemal Kilicdaroglu said his 25-day march from Ankara to Istanbul - culminating in Sunday's rally in Istanbul - was the first stage of a long campaign.
"We will be breaking down the walls of fear," he told the crowd who gathered to welcome him at the end of his 425 km (265 mile) trek from the Turkish capital.
Kilicdaroglu's protest march drew only modest support in its early days, but as more people joined him it grew into the biggest protest yet against the year-long, post-coup crackdown launched by President Tayyip Erdogan's ruling AK Party. "The last day of our Justice March is a new beginning, a new step," said Kilicdaroglu, a bespectacled, 68-year-old veteran politician. "Rights, law, justice," the crowd chanted back.
He called on the government to lift a state of emergency enforced after the abortive July 2016 coup, release scores of journalists from prison and restore the independence of Turkey's courts.
Kilicdaroglu, head of the secularist Republican People's Party (CHP), launched his protest last month after the jailing of a fellow parliamentarian for 25 years on spying charges.
Enis Berberoglu was the first CHP lawmaker to be imprisoned in the purge. About 50,000 people have been arrested and 150,000 state workers including teachers, judges and soldiers, have been suspended.
"The era we live in is a dictatorship," Kilicdaroglu said.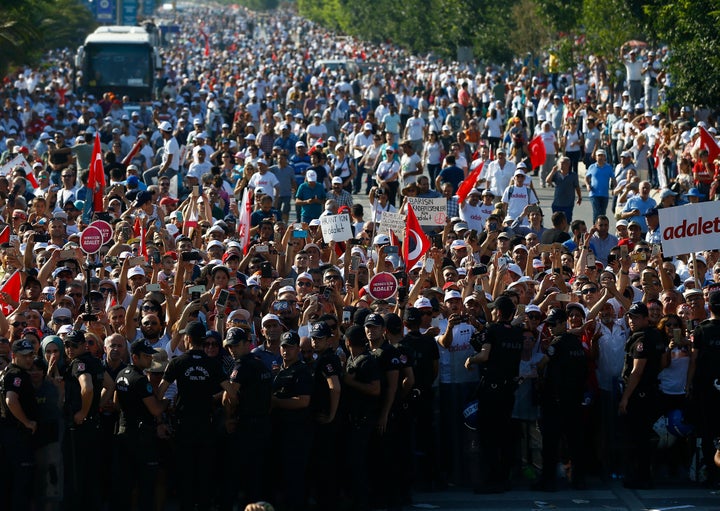 "AGAINST ONE-MAN RULE"
Rights groups and government critics say Turkey has been drifting toward authoritarianism for years, a process they say accelerated since the coup bid and a referendum in April which granted Erdogan stronger powers.
The government says the crackdown and constitutional changes are necessary to address challenges and security threats.
Erdogan criticized Kilicdaroglu when he launched his protest, saying justice should be sought in parliament, not on the street. He likened the protesters to those who carried out the attempted coup, saying they could face charges.
But Kilicdaroglu said the opposition had no alternative because Turkey's courts had been politicized, "the powers of parliament have been seized" and the media had been muzzled.
"There is only a single place for our demand for justice and that is the streets," he said.
People in the crowd said they were heartened by the turnout.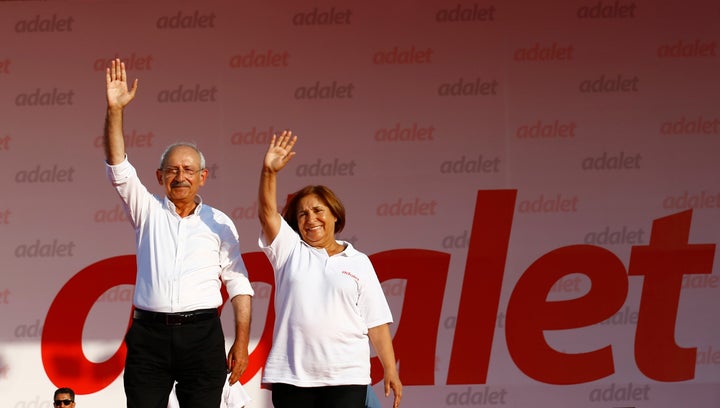 "This is now our future at stake," said Beyhan, a 50-year-old civil servant who declined to give her full name. "Seeing this crowd has made my hopes blossom."
"We are here for justice and democracy. We are here because we are against one-man rule," she said. "There is no democracy, there is no freedom, even thinking is a crime."
Samet Burak Sari, 21, a student at Marmara University, said he spent four weeks in prison because he described Erdogan as a terrorist on Twitter. He was released but his trial continues.
He said Sunday's Istanbul rally was the third time the opposition had come together in large numbers - firstly in the 2013 protests in Istanbul's Gezi Park, then in April over the referendum which narrowly approved Erdogan's new powers.
"Through this march again, people with varying opinions have come together for the third time. Things like this keep the public opposition alive," he said.
(Writing by Dominic Evans)
Support HuffPost
The Stakes Have Never Been Higher
Related
Popular in the Community