HOUSTON (AP) — Nobody was guarding UConn's best player. So Adama Sanogo spun the ball to get his fingers just right, set his feet behind the 3-point line and splashed in the shot. Then, less than a minute later, he did it again.
It was as much basketball clinic as highlight video — and all of it perfectly fitting for the Huskies, who are methodically steamrolling through a March Madness bracket that has been a free-for-all everywhere else.
UConn doled out another drama-free beatdown Saturday, getting 21 points and 10 rebounds from Sanogo to dispatch Miami 72-59 and move one win from the school's fifth national title.
"There's a lot of teams that want to play Monday," Sanogo said. "It means a lot to us."
Jordan Hawkins overcame his stomach bug and scored 13 for the Huskies, who came into this most unexpected Final Four as the only team with any experience on college basketball's final weekend and with the best seeding of the four teams in Houston — at No. 4.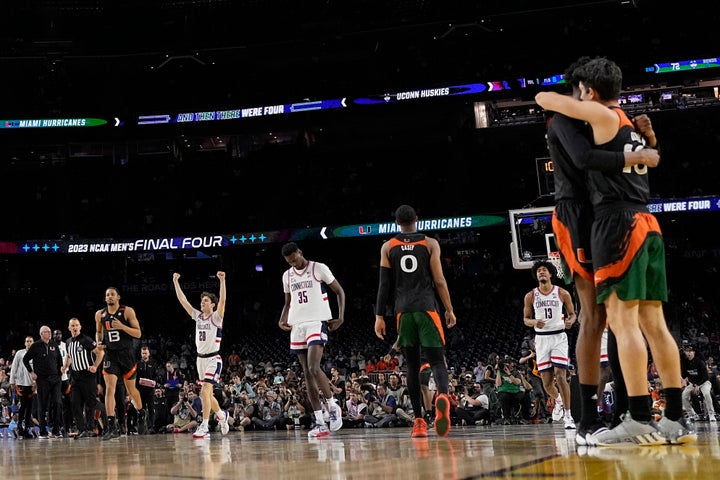 Against fifth-seeded Miami, they were the best team on the court from beginning to end. Starting with three straight 3s — one jumper from Hawkins and two of those set shots from Sanogo — UConn took a quick 9-0 lead and never trailed.
"This is something that I worked on all summer, especially shooting," Sanogo said.
"They're one of the best teams in the country," UConn coach Dan Hurley said of the Aztecs. "And I think it's fitting that both of us kind of earned our way into this title game."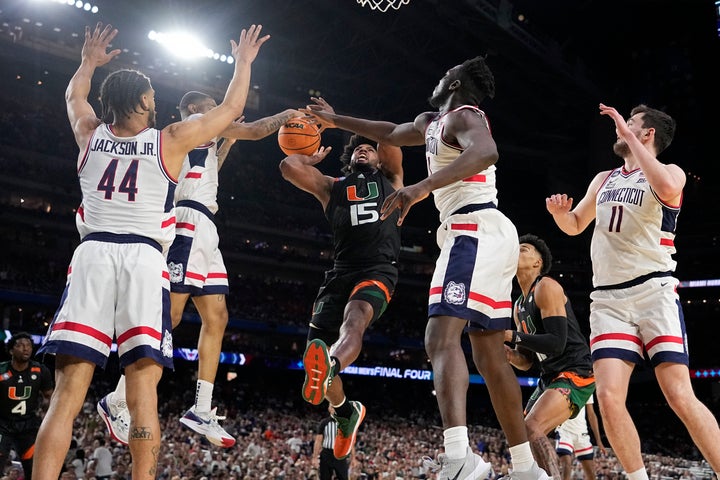 But while the early game was an all-timer, the nightcap was simply more of the same from the Huskies (30-8).
The 13-point win was UConn's closest since the brackets came out. The Huskies are the sixth team since the tournament expanded to 64 teams in 1985 to reach the title game with five straight double-digit victories. It's an impressive list of behemoths with a knack for closing: Four of the first five went on to win the championship.
Some thought Miami (29-8), with the nation's fifth-ranked offense and four players who have scored 20 points at least three times this season, might be the team to slow this Huskies juggernaut. Not to be.
Isaiah Wong led the 'Canes with 15 points on 4-for-10 shooting. Harassed constantly by Sanogo, 7-foot-2 Donovan Clingan and the rest of Connecticut's long-armed, rangy perimeter players, Miami, which came in with the nation's fifth-best offense, shot 25% in the first half and 33.3% for the game.
"Obviously what we tried to do not only didn't work, I couldn't even recognize it," Miami coach Jim Larranaga said. "Offensively we were out of sync, but defensively we were too."
Not that UConn was all boring. The Huskies enjoyed their own sort of buzzer-beater in the form of a 3 from Alex Karaban that sent the Huskies jogging into the locker room with a 13-point lead at halftime.
They built it to 20 before the first TV timeout of the second half. By then, Jim Nantz, calling his last Final Four, could start saving his voice for Monday.
Miami did get it under double digits a few times, but this never got interesting.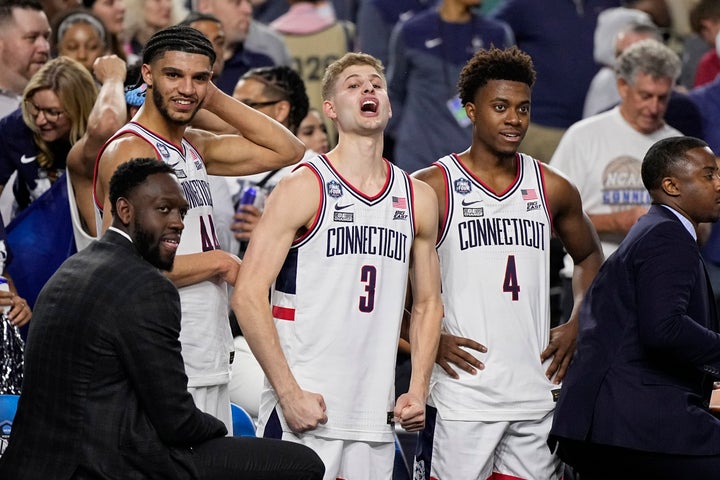 Not helping: Hurricanes guard Nijel Pack missed about five minutes after managers had trouble locating a substitute for a busted shoe. Pack finished with eight points, and Jordan Miller, who hit all 20 shots he took from the floor and the line in Miami's Elite Eight win, went 4 for 10 for 11 points. Only one Miami player made more than half his shots.
"I'm a defensive guy first and foremost," Hurley said. "I just love the way we guarded them. They're one of the best offenses in the country, and we really disrupted them."
UConn had five blocks, including two from Sanogo, and 19 assists, led by eight from Tristen Newton — both signs of the sort of all-around effort the Huskies have been putting in since the start of February, when they began the bounce back from a six-loss-in-eight-games stretch that halted their momentum.
That cold stretch is a big reason they were seeded only fourth for March. Now, it's April and the number UConn is thinking about is "5" — as in, a fifth title that will come if it can keep this up for one more game.
"Maybe it was a little bit delusional," Huskies guard Andre Jackson Jr. said, "but we always knew we were the best team in our mind."
AP March Madness coverage: https://apnews.com/hub/march-madness and bracket: https://apnews.com/hub/ncaa-mens-bracket and https://apnews.com/hub/ap-top-25-college-basketball-poll and https://twitter.com/AP_Top25
Support HuffPost
The Stakes Have Never Been Higher
Popular in the Community