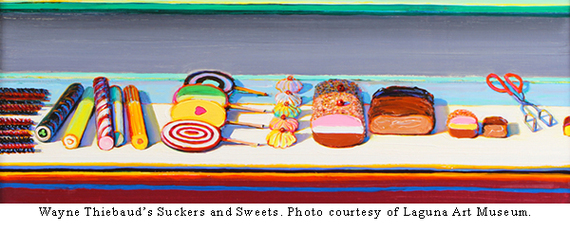 Let me ask you, my friends, what would happen if I presented you with a rich variety of the most delicious eye-catching pies, candies, and many other desserts? And, I would swear that you can gobble them up without worrying about calories. Too good to be true? OK, enough teasing...
Of course, I'm talking about the art of one of the most revered Californian artists, nonagenarian Wayne Thiebaud. Funny, but I simply cannot think of him as 93 years old, because his most recent works reveal him to be a jovial 93 years young fellow. There are two concurrent museum exhibitions in Southern California devoted to six decades of his illustrious career.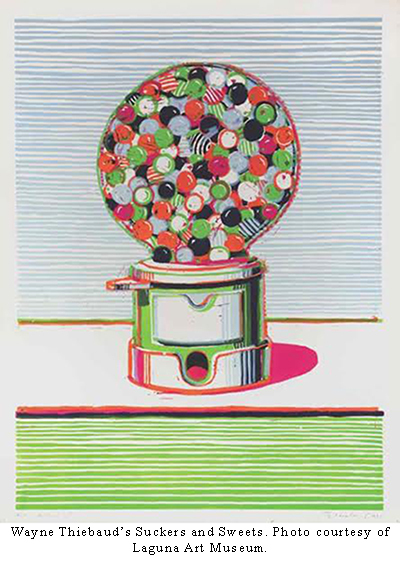 The Weisman Museum of Art at Pepperdine University, Malibu, presents 85 prints and drawings created by Thiebaud between 1948 and 2004. His is not just a long career, but, a very prolific one. Therefore, there was plenty of material to choose from. Interestingly enough, in the last twenty years, this is actually the third exhibition of his art organized by the Weisman Museum, and this is clear evidence of the museum's devotion to and affection for Wayne Thiebaud's oeuvre. The Laguna Art Museum has another in-depth exhibition dedicated to the art of Wayne Thiebaud, and there is a special personal touch to it. Though the artist lived most of his life in Sacramento, he spent much of his youth in Southern California, and obviously has a particular fondness for Laguna Beach. His current museum exhibition there, "American Memories," is comprised of about 60 paintings, drawings, and prints - all of them selected by the artist himself, and most of them from his own studio.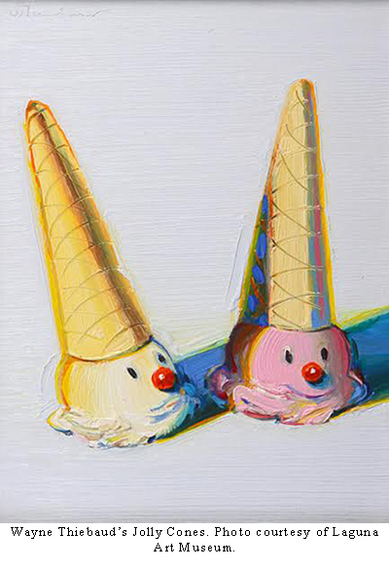 Looking at his iconic still lifes - all these brightly colored yummy cupcakes and slices of pies, sitting on store shelves, ready to be devoured - it's impossible not to think about American consumerism. But, these slightly cartoonish images are impregnated with a delicious sense of irony. We know that all these calories are not good for our health, but, Thiebaud's trademark luscious palette and rich brushwork make you want to gobble up all these goodies, no matter what.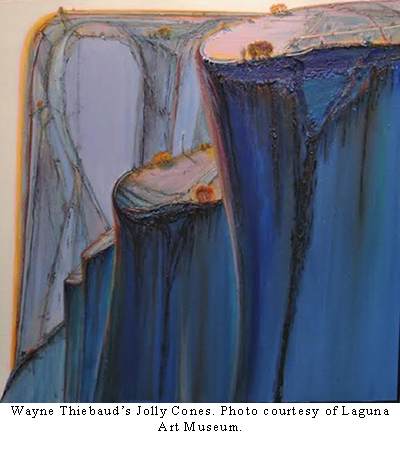 The other favorite theme of Thiebaud art is landscape, with a particular focus on California's geography, especially our dramatic coastline. It's intriguing to watch how some of his landscapes shift from representational to more abstract depictions of terrain. There is a definite dialogue between these Thiebaud landscapes and Richard Diebenkorn's famous Ocean Park series.
The only subject matter that somehow was not successfully conquered by the artist is portraiture. His characters stare at you without revealing anything particularly interesting about themselves. I don't want to be nasty, but, these portraits come across as "empty" calories - especially when displayed next to his irresistible, high caloric still lifes.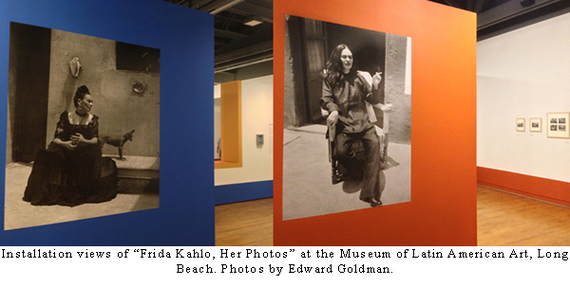 Now, a few words about another not-to-be-missed exhibition, which just opened last weekend at the Museum of Latin American Art in Long Beach. It's titled "Frida Kahlo, Her Photos," and is comprised of two hundred photographs from Kahlo's personal archive, which has more than six thousand personal photographs and items belonging to her and her husband, Diego Rivera. For more than 50 years, this treasure trove of material was sealed and hidden from public view - but, not anymore.
First, we see Frida as a young girl with her family, and then we see her blossoming into a gorgeous woman. We see her friends, and her lovers. And we see horrifying images of Frida recuperating in the hospital, after a tragic accident.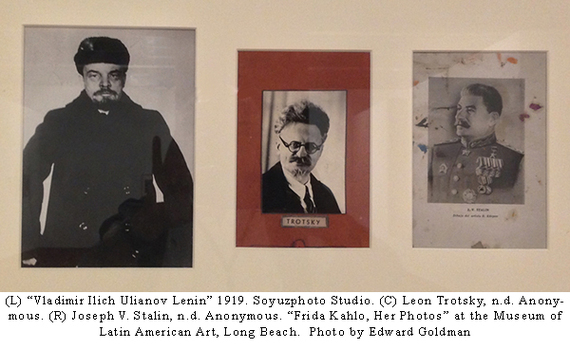 And, of course, we see many photos of Diego Rivera, including some from his trip to Soviet Russia in 1927, to celebrate the 10th anniversary of the 1917 October Revolution.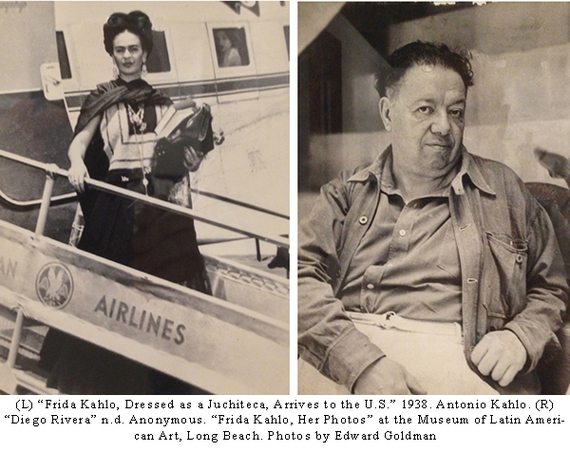 Even if you are not a big fan of Frida Kahlo as an artist, let me assure you that this exhibition will give you the palpable sensation of the most tumultuous decades of the twentieth century: Love, Revolution, Betrayal, Sex, Death - you name it - it's all there in these photos.
If you want to learn more about Edward's Fine Art of Art Collecting Classes, please visit his website here. You can also read The New York Times article about his classes here.
Edward Goldman is an art critic and the host of Art Talk, a program on art and culture for NPR affiliate KCRW 89.9 FM. To listen to the complete show and hear Edward's charming Russian accent, click here.
Calling all HuffPost superfans!
Sign up for membership to become a founding member and help shape HuffPost's next chapter