I'll never forget arriving at Los Angeles International Airport after a dream vacation to Hawaii ― not because returning to the continental U.S. was so memorable, but because my family had to spend the night in the terminal.
Due to a series of unexpected delays, we would only have about seven hours between our late-night arrival at the airport and morning departure. So, reaching out to local friends or paying for hotel rooms and taxis seemed like a waste of time and money. However, the utter exhaustion and terrible back pain we all felt the next day did have us questioning our choice.
Sleeping at the airport is not an uncommon situation. Whether your evening flight was canceled or you made a decision to save money, many circumstances can lead to this uncomfortable experience.
Occasionally, airlines are responsible for issuing hotel vouchers or otherwise arranging accommodation for passengers stranded because of flight issues, but it can depend on the reason for the disruption, the terms of service and where you are in the world.
"If a delay or missed connection is due to weather or other 'acts of God,' then you are on your own," said Mark Wolters, the creator of the popular YouTube travel channel Wolters World.
Although sleeping at the airport isn't ideal, there are ways to at least improve the experience. Speaking to HuffPost, Wolters and other seasoned travelers shared their advice for making it more bearable.
Wear Comfortable Clothing
"Sleeping at the airport is never going to be a luxurious experience, but you can wear comfortable clothing to make it easier," said Phil Dengler, a co-founder of travel information site The Vacationer. "Bring a pair of your most comfortable sweatpants and slippers."
If you know you'll have to spend the night at the terminal, make sure to pack a change of clothes and something comfy to sleep in. Putting an extra outfit in your carry-on is always the best practice, as air travel is full of unexpected disruptions. Even just a spare pair of underwear can make a difference.
"If it is cold out, consider bringing extra warm layers like a sweater and a sweatshirt," Dengler added. "You should even consider having gloves and a hat on hand since some airports can get very cold at night."
Check For Nicer Seating
There's nothing worse than being stuck at the airport overnight and staring at those gate seats with fixed armrests that make lying down impossible. While some people just decide to spread out onto the floor, others are understandably less inclined to sleep on such firm and germ-laden surfaces. Still, more alternatives may be available.
"Don't assume all seating is the same or there are no comfortable options," Wolters said. "If you are going to be stuck overnight, it is worth it to search the airport for possible better seating and laying-down options. If the airport has a children's play area, they tend to have benches for parents to sit at without armrests in between them. That means you can actually lie down and get some rest."
Airports renovated more recently also tend to offer sleep-friendly spaces.
"It can be beneficial to do research ahead of time to see if the airport offers any facilities when it comes to sleeping," said travel blogger Sean Lau. "Nowadays, some airports have designed sleeping pods where travelers can doze off for a few hours. You might be able to find designed areas for sleeping where the atmosphere is more suitable for catching a quick snooze."
Choose An Area With Less Traffic
"Look for gates that are not busy, away from the crowds, and make yourself comfortable," advised Jessica van Dop DeJesus, the founder and editor of food and travel blog The Dining Traveler.
Less busy gates tend to be quieter, which is useful if you need to sleep during the day or if your next-day flight isn't until later in the morning. It's also better from a germ perspective.
"Find a spot at the end of the terminal," Wolters advised. "The ends of the terminal tend to have a lot less foot traffic and therefore have less dirt and grime on the floor and seats. This can make for a slightly less gross time sleeping."
However, be mindful of safety if you're sleeping in the airport by yourself. You may feel more comfortable in a remote spot with a group, but solo flyers might want to avoid fully isolated areas to prevent theft or other potential issues. This is especially important if you're in an unfamiliar destination.
"Instead, seek out an area with other people," Dengler said. "If possible, sleep near a security office or close to cameras."
Protect Your Belongings
"I recommend using a luggage lock for all of your carry-on bags," Dengler said. "This protects you in the event someone attempts to open your bag while you are sleeping.You should also make sure your bag's zipper is facing you or the ground instead of out."
Try to make sure you're sleeping with part of your body on or touching your bags.
"Put your backpack or carry-on under your head, or hook a strap onto your arm or leg to prevent theft," advised travel expert and author La Carmina.
At the same time, ensure that you protect your belongings from yourself as well.
"Having to sleep in the airport means using your bag as a pillow," Wolters said. "Make sure you don't have your electronics right where your head is laying, as they can be broken. And you never know how much you drool when you sleep until you are sleeping in public on an airport floor."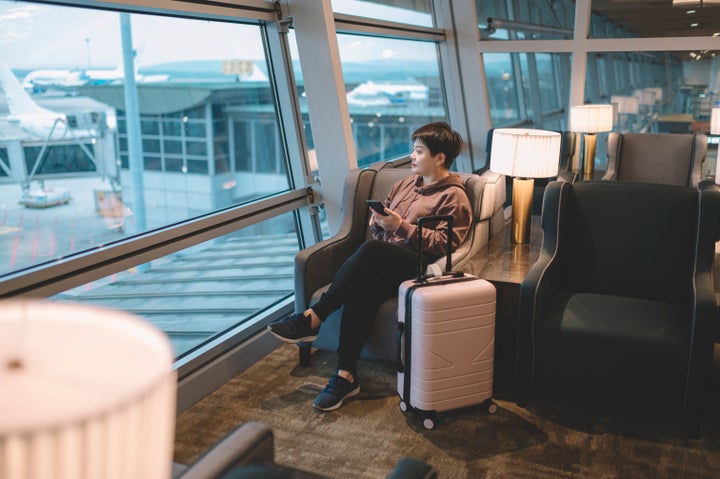 Assess The Lounge Options
"Look to see if the airport has a 24/7 lounge," said Melanie Lieberman, the managing editor for global features at travel site The Points Guy. "You might have lounge access through a credit card in your wallet, or you might be able to pay for a single entry. But spending time at the lounge ... [is going to] be more comfortable than trying to curl up at the gate."
Indeed, lounges offer nicer seating options, complimentary drinks and snacks, Wi-Fi and other helpful amenities.
"There are apps like LoungeBuddy that can help you find lounges that you can also pay for," said travel blogger Esther Susag. "The price is entirely worth it, especially if you have to stay overnight. They have food, showers and areas to relax and charge your devices."
Many lounges have private sections where you can catch some shut-eye, or they might offer designated sleeping areas. They also provide more security and hospitality, as well as a quieter environment, than the rest of the terminal.
"Once, the staff even put a blanket over me as I was dozing off!" La Carmina recalled.
If the airport lacks 24-hour lounges, you should still consider making use of one during its open hours.
"If you know you are going to have to sleep at the airport early in the day, go to an airport lounge until they kick you out," Wolters recommended. "They can be a good way to spend a few hours at the airport, out of the way of the hustle and bustle. And it is a lot more comfortable sitting in the lounge until it closes and then sleep on the terminal floor than camping out at the terminal for 12 hours."
Pack The Essentials
"Ideally, if you know in advance that you will be spending a night in an airport, I'd recommend packing some sleeping essentials like a small travel pillow, blanket or night mask," said travel blogger Rocky Trifari. "If your circumstances change unexpectedly, then I would suggest repurposing a puffer jacket or shirt by rolling it up and using it as a pillow."
Trifari also recommended using a big clothing item from your carry-on as a blanket and a smaller garment as an eye mask if you don't have the genuine articles.
"Always have your medicines in your carry-on bag," Wolters said, noting that airport staff "will not go find your [checked] bag for you."
And "a pack of wet wipes is good for many reasons," he added.
Earplugs or noise-canceling headphones can also help you sleep better at the airport. Pack a couple of snacks and a refillable water bottle as well.
"Don't expect many breakfast options when you wake up," Wolters said. "Pick up some snacks for the morning in case they have you on an early morning flight to make up for your missed connection. Airports are infamous for having little to no breakfast options outside of a Starbucks with a 50-person line."

Consider An Airport Hotel
"I'd recommend seeing if you can book a room at an airport hotel," Lieberman said. "This is a great use of points and miles, if you have a stash of those and need to book a last-minute stay."
If you can't swing an overnight room or if your layover is during the daytime, Lieberman recommended inquiring to see whether any nearby hotels offer day-use or hourly rates so that you have a place to rest and shower.
"Use apps like HotelTonight to find last-minute affordable rates," van Dop DeJesus advised. "This is another reminder to always buy travel insurance or have a credit card that provides it so it can cover hotels in case you're stuck."
And the choice isn't always between an off-site hotel room and the hard terminal floor.
"Check to see if there are any on-site hotels," Susag said. "Sometimes spending a little extra money for comfort is worth it, especially in the case of having to sleep at the airport. This way, you don't have to worry about watching your bags or being disrupted by fellow travelers."
Talk To The Airline
Even if the airline won't cover the cost of a hotel, it might be a good source of help and information.
"Talk to your airline representatives at the airport about accommodation at or near the hotel, even if they do not provide it," Wolters said. "Ask them if they have pillows, blankets, cots, anything that will make your night in the airport a bit better."
He noted that airlines sometimes offer food vouchers, which you can use for snacks or a meal. Make sure to check the fine print to see which vendors accept the vouchers and if there is a time limit.
Adjust Your Mindset
The level of misery that you feel in a less-than-ideal situation often comes down to calibrating your expectations.
"No matter what, sleeping at the airport is going to be uncomfortable and not too much fun," Wolters said. "Having the right attitude going into the experience can make it a bit more bearable. So accept that it is not going to be a great time, and get over it. If you dwell on it, it will make your night sleeping in the terminal even worse."
Don't Forget To Set An Alarm
"Just make sure if you do plan to fall asleep that you remember to set an alarm, and try to position yourself as close to your gate as possible," Trifari said.
Given the conditions, you might expect a somewhat sleepless night tossing and turning with only short periods of rest, but don't assume that will definitely be the case.
"I know someone who nodded off and missed her flight because she didn't hear the final boarding call," La Carmina said.