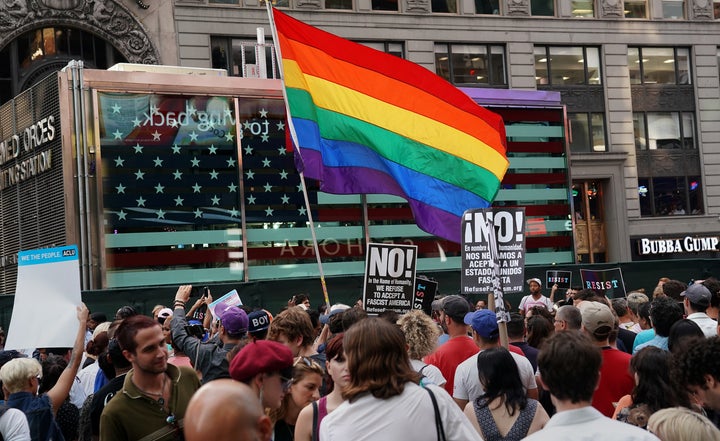 I woke up Wednesday morning much like every other morning, to the first call for the Trans Lifeline ringing my phone. I answered like I answer every call, "Trans Lifeline how can I help." This call changed my day immensely as this caller was in distress over a series of tweets from 45 about banning trans service members. I was in a haze; I didn't yet know what they were referring to, but I took care of the caller as I always do. I then got a message from another advocate asking me what's going on. I went to my laptop and saw social media once again blowing up because of tweets from Trump stating he is banning transgender service members. It was deja vu. It was all coming back to me. I was honorably discharged under Don't Ask Don't Tell in the early 2000s for being a lesbian. The feelings of my investigation came back, making it hard to breathe, and the weight of the world was placed on my shoulders once again.
"For so many years, we have told trans people that they are not even good enough to die. Yet these brave people have served anyway."
I started my fight to repeal DADT in 2004 and fought until its repeal in 2011. I was fighting to get back in uniform, and each year that passed diminished my hopes of ever serving with my Marines again. Then it hit me. Like a ton of bricks. The repeal did not include me, as I am a trans man. So I kept fighting for trans inclusion. I thought that fight ended on July 1, 2017, the deadline given to implement inclusion of transgender service members. We have had some setbacks but nothing as devastating as our Commander in Chief saying he didn't want us at all ― as an individual who never had a chance to experience the pride of wearing a freshly pressed uniform, who couldn't take pride in shining my boots or earning a new rank and being pinned with it on my collar, I felt and continue to feel incredible pain in light of the decision of this administration who continues to marginalize a community who fights so hard every day just to survive.
This thought of "cost" for transition is his latest and greatest lie about the trans community. The actual cost of discharging and replacing as many as 15,000 troops is the one this nation cannot afford. The cost of not having essential personnel billets filled is one that is a detriment to military readiness in this time of "fighting ISIS." Yet again the trans community is being used as political fodder for an agenda no one is quite sure about. What I do know is it is killing those I love.
I can't say I am surprised honestly. Transgender people have fought for our country since the beginning of the armed services even though they were forced to live in secrecy or give up their dreams of being who they are. For so many years, we have told trans people that they are not even good enough to die. Yet these brave people have served anyway, promising their lives to the government. When Obama passed the executive order, he finally promised trans service people a future of inclusion in return. Are we going to take away that promise? The research is in ― trans people serving openly doesn't compromise our military. What does compromise our military is when our service members can't trust the government to hold up its end of the bargain. The stakes are high. We cannot afford to turn our back on those who have made tremendous sacrifices. I fought for 15+ years to repeal DADT and work towards trans inclusion. We have fought for our country, and now it's time that our country fights for us.
Popular in the Community