On what would have been the 50th anniversary of the Supreme Court's landmark Roe v. Wade decision, the White House took executive action to protect medication abortion in the face of growing reproductive health restrictions at the state level.
Vice President Kamala Harris announced President Joe Biden's decision to sign a presidential memorandum on Sunday during a speech in Florida. Harris was in the state capital of Tallahassee to speak about the next steps in fighting for reproductive rights and to commemorate what would have been the golden anniversary of the high court's decision that made abortion a right at the national level.
"Last year, so-called leaders at the statehouse here in Tallahassee passed a radical abortion ban with no exceptions, even for the survivors of crimes like rape and child molestation and human trafficking," Harris said. "Here in Florida, health care providers face prison for up to five years for simply doing their job. And now, the state has also targeted medication abortion, and even threatened Florida pharmacists with criminal charges if they provide medications prescribed by medical professionals."
"And Florida's not alone. Twenty-two states have announced they will not follow new federal rules that allow women to get medication prescribed by their doctor from a certified pharmacy. Imagine," she continued. "So today, we are fighting back."
The memorandum directs the Health and Human Services secretary, in consultation with the attorney general and the Homeland Security secretary, to consider new guidance to protect patients, health care providers and pharmacies trying to legally access, prescribe or provide mifepristone — a drug that has been approved by the Food and Drug Administration for decades to safely and effectively induce abortion. Mifepristone can be used alone or in combination with misoprostol, another pill used in medication abortions.
Medication abortion is still legal at the federal level. Earlier this month, the FDA decided to allow providers the continued use of telehealth in order to prescribe mifepristone, and created a new option for certified pharmacies to provide it to patients. But some state-level Republican officials are working to prevent abortion seekers from legally obtaining mifepristone and to discourage pharmacies from becoming certified by the FDA to dispense the drug.
Biden's memorandum also directs the HHS secretary to ensure that patients are protected from harassment, threats or violence while trying to access legal reproductive care, including medication abortion.
On Sunday, abortion rights supporters across the country participated in the first organized Women's March since the fall of Roe. The march returned to several cities around the nation, while the largest of the events was held in Washington, D.C. The Women's March came just two days after the annual anti-abortion March for Life returned to Washington for the first time since the Supreme Court overturned Roe.
"America is the land of the free and the home of the brave," Harris said Sunday. "But let us ask: Can we truly be free if a woman cannot make decisions about her own body? Can we truly be free if a doctor cannot care for her patients? Can we truly be free if families cannot make intimate decisions about the course of their own lives?"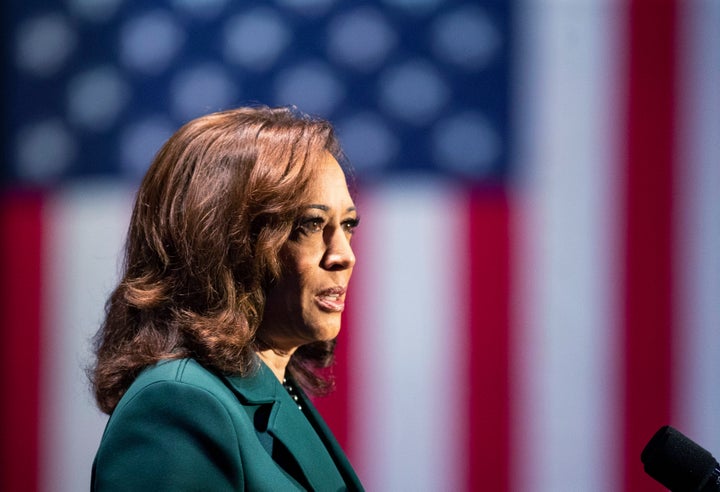 Dr. Sujatha Prabhakaran, an abortion physician with Planned Parenthood of Southwest and Central Florida, spoke in Tallahassee of the difficult decisions that health care providers now have to make in states that have strict abortion bans.
"Since the Dobbs decision, my colleagues and I have felt heartache over and over again. We must tell patients that we can't give them the care we are trained and qualified to provide. They understand that we want to help and they don't blame us, but they know that they no longer have control over their own bodies," she said before introducing the vice president.
"And for those of us who have been marginalized for so long — people who can become pregnant, people with Black or brown skin, people with lower incomes or who don't speak the dominant language, or having differing abilities — the loss of our reproductive freedom has told us we are less important, less valuable and less safe."
Popular in the Community