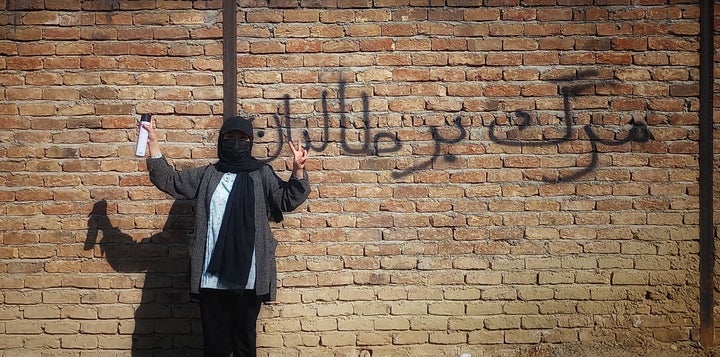 It only cost Zahra a few dollars to buy bottles of black and red spray paint. But if she were caught painting slogans in the streets of Kabul, messages that criticize the Taliban and advocate for women's rights, the price would be high indeed.
In one video Zahra posted on social media, she scrawls "Education, employment, freedom" on a wall as a friend shouts at her to move quickly: "Hurry, hurry, Zahra, hurry up!"
In these videos, Zahra disguises herself with a cap and a face covering. She puts on a different jacket as she nears the area where she's going to paint her message. She's mindful of using different routes to get around the Afghan capital. Zahra said she is scared, but that she fears the Taliban for the same reason she fears "a forest full of wild animals in the dark."
Zahra, who asked to be identified only by her first name to protect her safety, has spray-painted these messages across the city on at least two occasions: in December, when the Taliban first announced that it would no longer allow women to attend universities, and earlier this month, when the group made good on its promise.
"[The] wall symbolizes women's resistance against Taliban," Zahra told HuffPost. "It is my podium when the Taliban silences our voices in the streets."
Zahra was supposed to start her final term of university soon. She was on track to complete her senior thesis and graduate in the summer.
"My dreams were crushed," Zahra said. "I always pictured myself the day when I am confidently presenting my thesis to the committee; the graduation day where I am walking across the platform in a gorgeous gown and towering heels with beautiful makeup on, receiving my diploma from my professor and celebrating my achievement."
When the Taliban took over Afghanistan in 2021, the group banned women from attending secondary education. Women were allowed to attend university, but they had to adhere to strict rules such as attending classes separately from male students, wearing full-body covering and only pursuing certain subjects. This past December, the Taliban said women would have to stop attending universities altogether. They claimed the ban would be temporary, and that they were trying to find a solution and create an environment for female students that they say would be compliant with Islamic law.
But Taliban officials have made no "firm commitments" about reopening schools and universities to the country's women and girls, Tomas Niklasson, the European Union's special envoy for Afghanistan, reportedly said earlier this month.
"Afghanistan under the Taliban remains the most repressive country in the world regarding women's rights."
Zahra said she thinks the Taliban are issuing "empty promises" like they did when they were in power in the 1990s.
"I don't trust the Taliban," she said. "They are gradually removing us from all walks of life."
Despite their desire for global recognition, Taliban leaders have defied international calls, including from renowned Islamic institutions, to lift the bans on women's employment and education, claiming that the world should not interfere in Afghanistan's internal affairs.
"Afghanistan under the Taliban remains the most repressive country in the world regarding women's rights," Roza Otunbayeva, a top United Nations official and former president of Kyrgyzstan, told the U.N. Security Council last week.
Afghanistan is the only country in the world where female students aren't allowed to seek education after the sixth grade.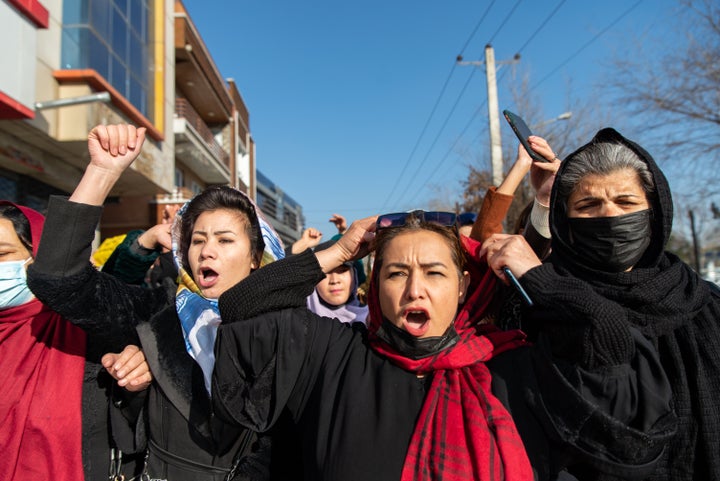 'All Or No One'
The Taliban's ban on women attending universities sparked nationwide protests and international condemnation. Female students took to the streets in Afghan cities, chanting slogans such as "All or no one" and "Education for all." Some male students walked out of their classes in solidarity, and some university lecturers across the country have temporarily stopped working or quit.
Women have played a pivotal role in demonstrations against the Taliban, whose enforcers have used physical violence, such as beating and detention, to break up protests and discourage further demonstrations.
"Taliban are afraid of student movements, and of women even more," said Zahra, who has helped organize some protests.
Zahra has written anti-Taliban slogans on Kabul's walls, including "Death to Taliban." She once wrote "Fuck you Taliban" on the wall of a bathroom at Kabul University, according to a video she sent to HuffPost. But her more recent wall-writing missions have featured a slogan now widely adopted among students ― "Everyone or no one," which calls for male students to stand in solidarity with female students and stop going to classes. She has also painted a Persian expression that translates to "Empty the universities."
"Universities are meaningless without students, so if all male students stop showing up to class, the Taliban will have to reconsider their position," Zahra said.
She was also part of a group that wrote an open letter to male students that was published just before the start of the spring semester and widely shared on social media. The letter urged male students and faculty members to boycott universities, as they'd promised to do in December.
Above: Zahra spray-paints "All or no one" on a brick wall in Kabul.
"We remember your promise and we are waiting for you to make another legendary act on Monday so that the world will see you stand by justice and freedom and not be ashamed in history," the letter reads. "Millions of girls from all around Afghanistan will look at your stand with tearful eyes tomorrow."
Zahra said some male students are afraid to boycott school because they fear violent backlash from the Taliban. Still, dozens of students have already joined the effort ― and the number is growing every day.
"It is the beginning of a larger movement," she said. "I will fight until I regain my rights as a woman."
On International Women's Day last week, leaders around the world highlighted the plight of Afghanistan's women and showed support for their bravery in fighting for their rights.
"Despite decades of progress, in far too many places around the world, the rights of women and girls are still under attack, holding back entire communities," U.S. President Joe Biden said in a statement. "We see it in Afghanistan, where the Taliban bars women and girls from attending school and pursuing employment."
Foreign ministers of several countries issued a joint statement in which they also said they stand behind the women fighting for equality.
"We unite in acknowledging the extraordinary courage of women and girls in Afghanistan," the statement read. "We support the calls by the people of Afghanistan for women and girls' full access to quality education at schools and universities and women's unrestricted ability to work in all sectors."
But many women in Afghanistan feel these responses are insufficient, and that the international community has done nothing tangible to pressure the Taliban.
"Nothing has been done by global leaders," Zahra said, "except to sit around and wait for the next Taliban decision to condemn."
Popular in the Community