On the occasion of Judy Blume's 80th birthday, Amanda Palmer premieres a powerful video for the song "Judy Blume" and offers a meditation on just how much Blume has shaped our inner and outer worlds.
I felt so stupid when it hit me. I fucking forgot Judy Blume.
We live in interesting times. Women are currently scaring the bejesus out of people by doing something very non-dramatic and mundane: Telling It Like It Is. You wouldn't think that would be so threatening. And yet, women in this culture are insidiously stalked by two questions: "Is it just me?" which is always closely followed by her dark twin sister "Wait am I crazy?" All day and night, everywhere you work, play, drink and have sex, you wonder: Is it just me? Wait am I crazy? You just don't know unless someone else tells you how it is. Lately, all around the world, women are starting to compare notes and realize that wait, no, it isn't just us! No, we aren't crazy! It's a massive relief, to be honest. We thought maybe we were crazy.
When I was a young indie musician being grilled by journalists in dank dressing rooms on a daily basis, I found myself curating a nice, economical (and, I hoped, sufficiently impressive) list of influences. Relatable enough that I could seem worldly and intelligent, but obscure and cool enough that I could ensure my freak cred. So, yeah: The Doors, The Beatles, The Cure, Bertolt Brecht. And the slightly more off-grid artists: Wim Wenders, Nick Cave, The Legendary Pink Dots, Hermann Hesse, the great Korean Buddhist writer Seung Sahn.
In time, I started to list the more, er, embarrassing ones. The Thompson Twins. Wham! If I wanted to really humiliate myself: the soundtrack albums to "Cocktail" and (gulp) "Miami Vice." Rock bottom: the original cast recording of "Cats." (I cannot lie. I know every word.)
It wasn't until I was in my early 30s that I noticed, with a strange sense of betrayal, that my list was nearly 100 percent male-fronted. And I realized something else: I had totally forgotten Judy Blume.
I'd done worse than erase her from the constantly trotted-out influences on my songwriting: It hadn't even occurred to me to take her into account as a contender. I noticed that when Lady Gaga came on the scene, she made the same move; the topics of Madonna and other female pop divas were carefully avoided. She pointed straight at David Bowie and Freddie Mercury. Of course. They're cooler and more credible somehow ... they're men.
"Women are really good at Telling It Like It Is. It's one of our superpowers."
Women are really good at Telling It Like It Is. It's one of our superpowers. When we do it.
Unfortunately, our ability to look around, shrug and Tell It Like It Is is unlearned from the time we are first shushed as children, and girls have it particularly rough. We are told not to take a genuine interest (or pleasure) in our own anatomies. We are taught that our vaginas are smelly and gross, that a period is a "curse," that our bodies will be objectified and rated on a scale from 1 to 10 no matter where we turn, that our own body hair is offensive, that we are, basically, foul and imperfect unless we do a ton of work to make ourselves acceptable mostly through buying a ton of unnecessary shit.
Before the age of 13, I'd read no less than a dozen works of fiction written by Blume, yet her work was such a part of my everyday diet that I might as well have touted the influence of water, or Honey Nut Cheerios. Didn't every single girl in America read Are You There God? It's Me, Margaret and Then Again, Maybe I Won't as a standard right of passage? As it turns out: no.
I was goddamn lucky those books were part of the usual fare on the shelves of my public middle school library. My sudden guilt at age 33 about omitting Blume from my influence list led me to finally Google her, because I had no idea who she actually was. And, I learned, Blume wasn't just a standard library author ― she was one of the most controversial American authors of the century. Her books were (and are still) banned by public schools across America. As I was blissfully reading her books on summer vacations in Massachusetts assuming that teenagers the world over were doing the same, administrators in other states were calling her a witch for writing about teenage sex, menstruation and masturbation in a way that was, you know, kinda nice.
Perhaps the biggest compliment you could give a writer ― or a writer of youth fiction ― is that they're so indelible they vanish into memory, the way a dream slips away upon waking because it's so deeply knitted into the fabric of your subconscious. The experiences of her teenage characters ― Deenie, Davey, Tony, Jill, Margaret ― are so thoroughly enmeshed with my own memories that the line between fact and fiction is deliciously thin. My memories of these characters, though I'd prefer to call them "people" ― of Deenie getting felt up in the dark locker room during the school dance; of Davey listlessly making and stirring a cup of tea that she has no intention of drinking; of Jill watching Linda, the fat girl in her class, being tormented by giggling bullies ― are all as vivid, if not more so, as my own memories of kissing Stephen Lee in our elementary school's auditorium closet atop a pile of gymnastics mats (fourth grade), of being teased by Mike O'Curtin for being too flat-chested (all of sixth and seventh grades), or of discovering that an empty plastic ice pop sheath makes a pretty good dildo when filled with warm water (summer of eighth grade. And believe me, it was a truly great summer.)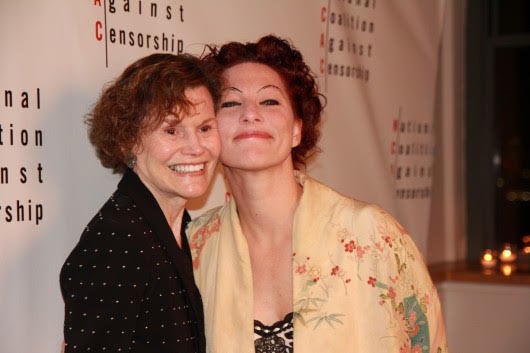 Only in hindsight could I trace back the doors and windows that Blume propped open and permanently unshuttered in the fragile house of my mind that I was constructing. She was the silent architect of my pre-adolescent belief system, breaking the ground and quietly influencing the unshakeable infrastructure onto which all of those impressively cool Cure and Nick Cave posters would later be thumbtacked and Scotch-taped.
In the punk/goth songs I mostly listened to as a teen, men sang about all manner of topics ― love lost, suicidal thoughts, anarchy, faithless women. But in Blume's books, which predated all of that, masturbation existed and wasn't naughty or demonized. Periods and wet dreams and tampons and boobs were funny and messy and embarrassing and, crucially, totally normal. She told it like it was.
"Administrators in other states were calling her a witch for writing about premarital sex between teenagers, about menstruation, and about masturbation in a way that was, you know, kinda nice."
Above all, the very existence of shame-free female stream-of-consciousness writing meant it was a viable and acceptable artistic avenue down which I could roll my own confused teenage art-brain. Feeling alone and slightly crazy were the main specters of my puberty (that's rather common, I'd suspect) and her stories kept me from feeling too alone or too crazy because, clearly, if there were legitimate, printed characters living in library-approved books all sharing these "Wait am I crazy?" experiences I couldn't be ... that crazy. And furthermore, this was a way you could write. You could write about feeling crazy! And the act of doing so, apparently, wasn't considered crazy. That made everything OK.
I wonder now what my mind ― and the female minds of my generation ― would have looked like with no Judy Blume (and to give them their due: Paula Danziger and Ellen Conford, and the other "Tell It Like It Is" writers that I read in Blume's wake). I would have been left to a world with books like Anne of Green Gables and my older sister's collection of the Cheerleaders series. Eek.
I started my own blog in the internet dawn of 2000, when I had few enough readers (the early fans of my first band, The Dresden Dolls) that you could count them on a couple of hands. Looking back, I tore a page straight out of Blume's books ― I wrote bluntly, plainly and messily about my fears, hopes, stresses, insecurities and bodily fluids. Nobody had ever told me I couldn't write this way, and so it never struck me as unusual.
Any form of expression has it's weird, hidden ancestry. Blume's books were the spark of a movement in my evolution as an artist that took me away from shame and toward confession, away from posing and toward self-acceptance and a gentle shamelessness about being human. It would be years before I'd hear the music of Ani DiFranco, Kimya Dawson, Tori Amos or Liz Phair, or hear the comedy of Margaret Cho ― all women who forced me, upon first listen ― to quickly raise the bar of my own truth-telling.
"If the physics of the #MeToo movement teaches us one basic formula, it's this: When women tell the truth, other women tell the truth."
But when I was 10, there was nobody else in my immediate environment ― no teachers, no musicians, no older neighborhood friends, nobody ― explaining things quite so clearly, so compassionately. It was just Judy.
If the physics of the #MeToo movement teaches us one basic formula, it's this: When women tell the truth, other women tell the truth.
As I watch the growing resistance that is slowly breaking down the long-standing, rancid walls of collective silence and shame, it's inspiring to consider who our foremothers are, those female architects who armed us with the plans to begin the long rebuild.
Telling It Like It Is is coming back into style, dear readers, and we should recognize one of the women who stealthily handed my generation a no-bullshit road map to a revolution of truth.
And you know what? All of those people who tried so hard over the last 40 years to ban her books had a very, very good reason to be afraid.
Sorry it took me so long.
Amanda Palmer is a pianist, songwriter, speaker and New York Times best-selling author of The Art of Asking. Her artistic output is funded by over 11,000 patrons on patreon.com/amandapalmer. She will be touring her solo piano show, "An Evening with Amanda Palmer" in the U.K. and Ireland in May 2018;
May 4 – Gateshead, The Sage
May 6 – Birmingham, Town Hall
May 7 – Liverpool, St George's Hall
May 10 – Carmarthen, Lyric Theatre
May 11 – Bath, The Forum (Bath Festival)
May 28 - Dublin, National Concert Hall
More shows to be announced soon!
Patreon presale from 10am GMT, Wed 14th Feb.
Public onsale 10am GMT, Fri 16th Feb
All ticketing details: amandapalmer.net