Senate Majority Leader Chuck Schumer (D-N.Y.) is throwing his weight behind bipartisan legislation that would declassify government records related to so-called U.F.O.s and unidentified anomalous phenomena, he announced this week.
The legislation would amend the National Defense Authorization Act and require the federal government to collect all records related to unidentified phenomena and make them immediately available to the public unless a review board offers legitimate reasons to keep them classified.
The process is modeled after the President John F. Kennedy Assassination Records Collection Act of 1992, which ordered all files related to Kennedy's killing to be released by the National Archives by 2017. Most, but not all, of the files have been released, however, leading to ongoing public scrutiny and a lawsuit by JFK scholars.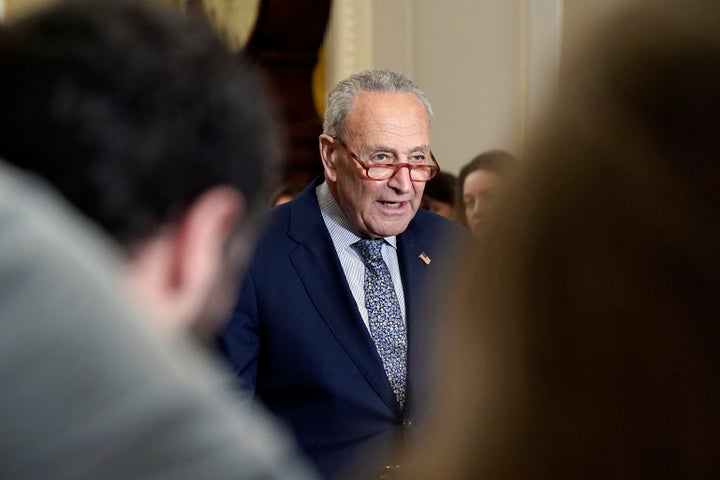 "For decades, many Americans have been fascinated by objects mysterious and unexplained and it's long past time they get some answers," Sen. Schumer said in a statement Friday. "The American public has a right to learn about technologies of unknown origins, non-human intelligence, and unexplainable phenomena. We are not only working to declassify what the government has previously learned about these phenomena but to create a pipeline for future research to be made public."
Schumer is joined by Sen. Mike Rounds (R-S.D.), ranking member of the Subcommittee on Cybersecurity for the Armed Services Committee, in backing the amendment, which Schumer's office said will be on the Senate floor next week. The amendment also has support from Sen. Marco Rubio (R-Fla.), Sen. Kirsten Gillibrand (D-N.Y.), Sen. Todd Young (R-Ind.), and Sen. Martin Heinrich (D-N.M.).
"Our goal is to assure credibility with regard to any investigation or record keeping of materials associated with Unidentified Anomalous Phenomena (UAPs)," said Sen. Rounds. "Relevant documents related to this issue should be preserved. Providing a central collection location and reputable review board to maintain the records adds to the credibility of any future investigations."
The amendment would create an independent UAP Records Review Board which would consider whether the records qualify for full, public disclosure or postponement. After 25 years, however, all records must be made public unless the then-president of the U.S. certifies that continued postponement is necessary due to the direct harm it may cause to national security.
Former President Donald Trump first postponed the full release of the JFK assassination files in 2017 due to alleged security concerns, followed by President Joe Biden when he took office. Biden eventually ordered the release of 13,173 documents late last year and a couple thousand more were released in full or with fewer redactions earlier this year.
"Let's get to the bottom of it. I just want transparency. I just want the truth."
News of the proposed amendment came amid reports that Republicans with the House Oversight Committee expect to hold a hearing on unidentified aerial phenomena potentially later this month.
"Let's get to the bottom of it. I just want transparency. I just want the truth," Rep. Tim Burchett (R-Tenn.) told reporters Friday of the proposed hearing.
Burchett said he has seen nothing but "cover-up on cover-up" from federal agencies on UAP and extraterrestrial sightings, and claimed that he and others are getting "blowback" from some of the agencies over their efforts to disclose such information.
"The whole thing is just bogus and we've got some people in there who have seen it," he said of past reports of recovered flying saucers. "I've talked to pilots that had their careers threatened because they've come forward."
Last month, a whistleblower who served in the U.S. military and in several intelligence roles came forward alleging that the federal government has multiple crafts of "non-human" origin that it is hiding.
Burchett argued that video footage posted on YouTube shows evidence of the aircraft's existence. He pointed to the so-called "Tic Tac" video, named after the craft's similar shape to the mint candy, which shows pilots attempting to chase an aircraft that appears to take on impossible speeds.
"I mean, it's just unbelievable the amount of Gs they can do. And they can't keep up with them," he said of the video.
Support HuffPost
The Stakes Have Never Been Higher
Popular in the Community