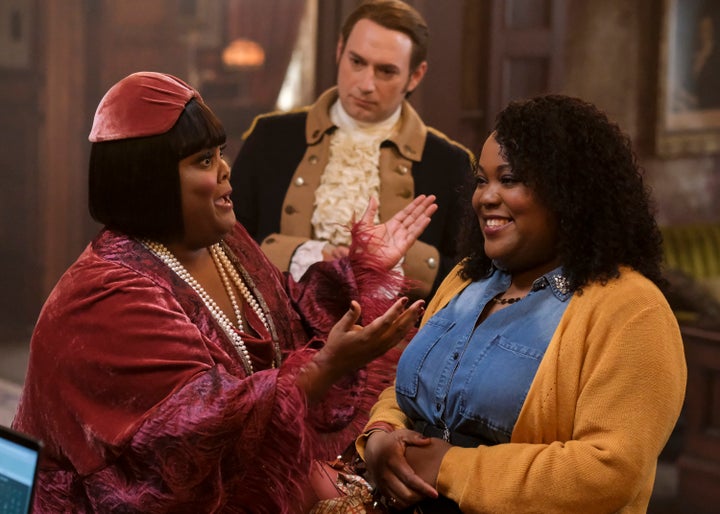 This article includes spoilers for the most recent episode of "Ghosts," "Alberta's Descendant."
If you're a fan of the CBS comedy "Ghosts," you may be reeling from the March 30 episode, "Alberta's Descendant." In it, for the first time, dead 1920s Prohibition-era jazz singer Alberta (Danielle Pinnock) has the chance to see one of her family members at the Woodstone. Her great grand niece, Alicia (Ashley D. Kelley) is a beautiful lawyer who comes to the B&B, her kin's last resting place. During her stay, she realizes she wants to quit practicing law and follow in Alberta's footsteps by becoming a singer.
OK, now, along the way, "creepy" Todd (Rodrigo Fernandez-Stoll) — Alberta's biggest fan who has her face tattooed on his back and keeps one of her toenails he got off eBay in a vial — rolls through. He surprisingly has a romantic spark with Alicia — to which Alberta says "hell no" and does her best to intervene from the other side with the help of the living, Sam (Rose McIver). She also doesn't want Alicia to leave a prestigious career to follow a dream that may never be realized. By the end of the episode, as they shoot the "Who Killed Alberta" podcast (yeah, someone poisoned her moonshine back in the day), we learn that perhaps her sister may have been involved!
No lie, it's one hell of a ride, but with Pinnock at the reins, you know you're in safe hands. The actor, known for supporting roles on shows such as "How To Get Away With Murder" and "Young Sheldon," keeps her Instagram series #HashtaggedBooked full of comedic gold. But she's also fully capable of going beyond the one-liners to show us a more vulnerable and dramatic read of Alberta. And she can hold a tune too.
HuffPost sat down with Pinnock to discuss this episode's shocking revelation, the importance of making Alberta a nuanced, full character, and meeting Lizzo at the Grammys.
OMG, not your own sister behind your murder?!?! The betrayal!
I know! The drama continues [Laughs].
Did you know that the writers were going to do this?
No! We didn't even know Alberta had a sister. So we were like, wait! [Laughs] We get a new script every week, so when I saw that her sister could have killed her, I just was like, "Oh my gosh! What are these next episodes about to be about?" This season, in particular, we've started to figure out the family trees of the other characters, but Alberta is one of the only characters who has yet to have that type of connection. So, I loved that Alberta finally had this descendant come to the mansion because she hadn't seen a family member in almost 100 years. And then to have this gorgeous Black woman Alicia come in, played by Ashley D. Kelley, who I went to Temple University with in real life, I was so happy. Reconnecting with her after all these years was beautiful.
Wait, so you knew Ashley? Her casting was perfection!
Yes! We were in shows together, including "Ragtime." She's one of the best voices I've ever heard — still, to this day. She's on Broadway doing the musical "Shucked." And they asked me on the side before we shot those scenes, "Can she sing?" I'm like, "She is the singer."
The scene of you two singing together gave me chills. It was amazing.
Thank you! Let me say that week of filming was absolute chaos. Between Thanksgiving in Canada — we film in Montreal — and getting the food together, and the fact that we were getting a lot of notes and rewrites the day of, that week of filming was absolute chaos. [Laughs] That Friday after Thanksgiving, we weren't quite sure what we would sing together, and I was like, "Girl, you know what? Let's just meet this weekend and work it out." And thank God I knew Ashley, and she was down. She came over; my husband busted out his keyboard app on his phone and arranged the song for us, and I was like, "Maybe we got it, guys."
How has Alberta as a character evolved from Season 1 to Season 2?
We definitely learn more about Alberta outside of her comedic one-liners. Season 1 was about introducing us to who this brassy Black woman was, but now we're digging a little deeper into her. Not only seeing more of her vulnerability, but we're also getting into her past with some fabulous flashbacks that we'll also have more of later in the season.
I'm very grateful for our showrunners, Joe Port and Joe Wiseman because they've really allowed me to give my point of view on who this woman is, particularly in this descendant episode. I remember in the first draft of the script, I called them and was like, "Yo, um…In all due respect, I don't think Black ladies talk like this." Giving this type of feedback can get a little nerve-wracking because it's also like, "Oh, please don't fire me." [Laughs]
But it was important for me to be open about wanting us to dig deeper into Alberta because, as a plus-size Black woman, I never want to lean into the mammy stereotype. Thankfully, the showrunners would never do that, but it's always a fear. Anytime I read these scripts for the show, I'm like, "Whew, we're in the clear." [Laughs]
For me, this dynamic between Alberta and Alicia was about being an actual mother — definitely not a mammy — especially since Alberta died before she could have her own children. These scenes were about protecting, nurturing and bonding with her kin.
Thank you for saying that, because those are definitely the key moments that the showrunners and I talked about adding in specifically in this episode. Too often, on shows with diverse casts — not ours, cause our showrunners don't do this — treat characters like ornaments on a Christmas tree. Something nice to look at but has no depth. Thankfully, there is so much beauty and layers to Alberta, and there's more to come. She's more than the jokes — she's a fully realized character who I want to be fully human and fully present.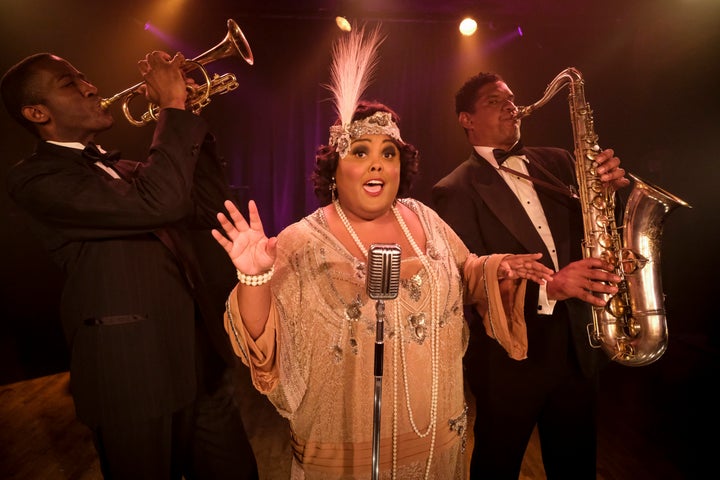 How have you changed as an actor this season?
Last season was my first time being a series regular. I'd only done guest star roles and recurring guest stars before, and that's not enough time as a guest star to learn and figure out your process as an actor. I definitely feel that I've become stronger in Season 2. I lean into the ensemble more. Honestly, in the first season, I had so much imposter syndrome. I was just terrified of making the wrong decision and would tell myself I wasn't good. Because I was a recast [because of the COVID epidemic, the original actress wasn't available anymore], I kept telling myself I was the replacement actor, filling in somebody else's shoes. I'm not supposed to be here.
And then Season 2 hit, and I was like, Oh, I'm still around. Let me have some fun. Let me play. That's a major difference, I have a lot more confidence, and I'm just having a blast playing Alberta. It truly is a role of a lifetime.
"Ghosts" is such a funny and popular show that truly embodies the word "ensemble." Yet, shockingly, the Emmys, SAGs and Globes haven't paid it much award love. Does that bother you?
Listen, what I will say is that our time will come. This is such a great show. And I do believe that. I know we have a lot of eyes on us. But whoever the right eyes are that are part of the voting process, I genuinely believe our time will come. It's not only just the cast that deserves this recognition but our incredible crew, writers, showrunners, producers and the network too. It will happen. We're manifesting it.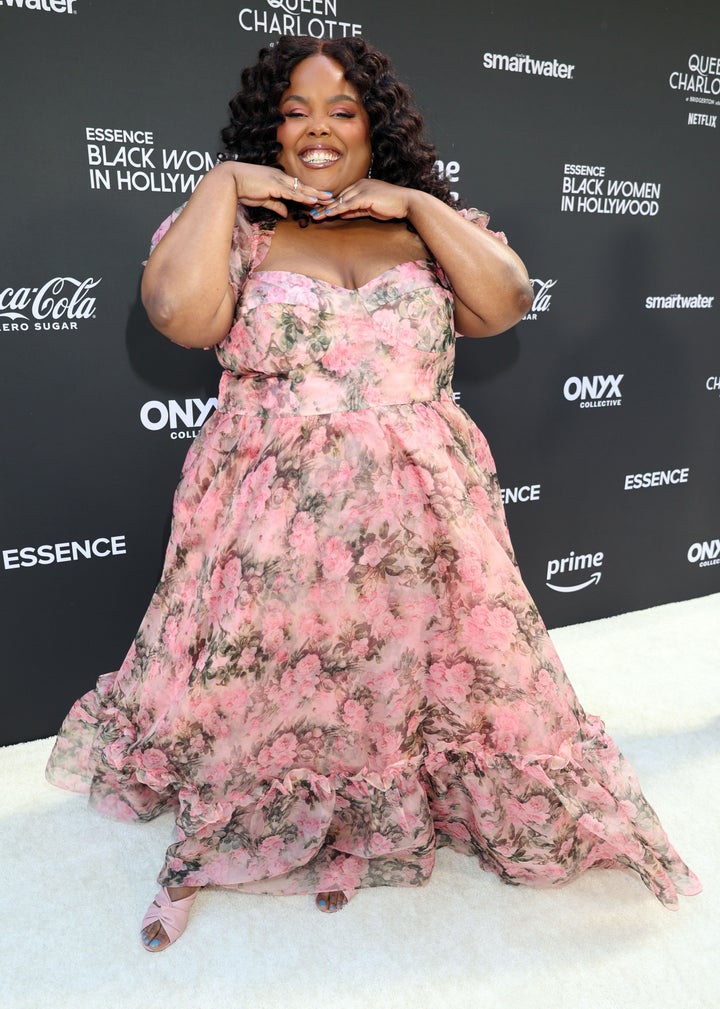 Speaking of awards season, you looked like you were having a blast this year! I saw you on the TV during the Grammys and screamed! Lizzo was right there.
Right there. The kindest human in the world, Adele. The kindest in the world. Beyoncé said hello to me. Lizzo's mama watches "Ghosts," too. I had the time of my life at the Grammys. Do you hear me? In my bougie ASOS dress.
Whether it's you on the small screen or the Essence Black Women in Hollywood red carpet, why is it so important for you to be seen?
It's all a part of visibility and representation. Growing up, the plus-size actors and musicians were Queen Latifah, Missy Elliott and Mo'Nique. And I remember being like, "Wow, one day I want to be in magazines and on the red carpet like them." But figuring out my personal style back then was challenging. I was in three-piece suits looking like Steve Harvey and Maxine Shaw's love child. [Laughs] Thankfully, plus-size fashion has come a long way since then, so now I'm trying to elevate on the red carpet. I'm always trying to look great and feel great. It's important for me to be seen as sexy and all that.
You've also been cast in an upcoming Amazon Christmas movie with Eddie Murphy. What can you tell us about "Candy Cane Lane"?
I can't tell you much, but we had our table read on Zoom in December. I was literally shaking the entire time because I'm a huge Eddie Murphy fan. It's funny because I actually had an audition for "Beverly Hills Cop" [the upcoming sequel] and for "Candy Cane Lane," both movies he's in. I had a callback for "Beverly Hills Cop." It was three lines. I did "Candy Cane Lane" on self-tape, and Tristin D. Lalla, who plays Mark on "Ghosts," was my reader for both auditions. My agent called and said, "No, you didn't get Beverly Hills Cop." But a week later, I was booked for "Candy Cane Lane" and did not have a callback. I booked it off the tape, assuming they watched "Ghosts" and were familiar with my work. When I got to set, nobody knew what it was. They were like, "Ma'am, what's this show on CBS?" I'm like, "Ummm… one of the top-rated comedies on network TV."
Oh, so you trying to be Black famous too?
Absolutely. [Laughs] I was telling my manager that while on this show, there are still more people that need to know who I am. So I'm excited about this opportunity for this movie to reach another audience. I want to be in as many things as possible. I'm trying to follow that Niecy Nash method. Niecy Nash is literally one of my North stars in the industry. I remember seeing her in "Clean House," and I automatically loved her. And then she went from "Reno 911!" to doing dramas and winning awards. She truly is a multi-hyphenate, and that's what I want as well.
Finally, what's next for you?
The third season of "Ghosts" which is going to be amazing. Consistent paychecks gotta love it. [Laughs] I'm also a writer, and I would love to have one of my projects developed. Whether that's "Hashtag Booked" with my best friend LaNisa Frederick or how my husband and I met and got married, and how my sister and I met at my father's funeral, we will sell something. There are so many stories that I have inside of me. I'm just looking for a producer that wants to help me develop them and get them going. I'm also working on my book of essays, which should be coming out next year. It's all very exciting.
Popular in the Community