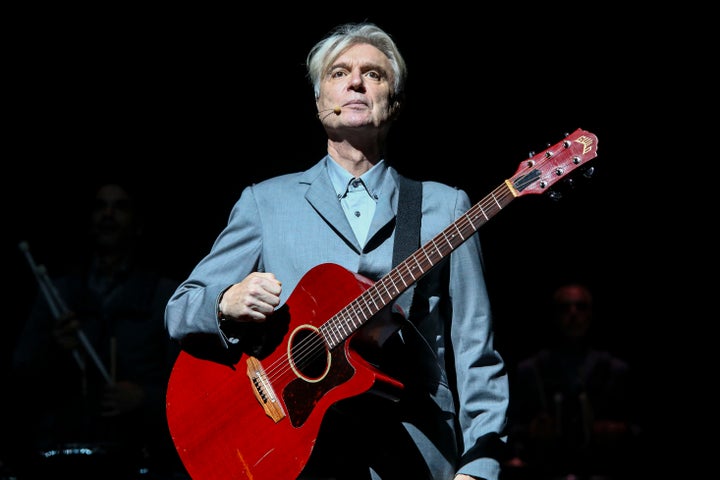 David Byrne, the former frontman of rock group the Talking Heads, reached an agreement with a major Broadway labor union, conceding to their demands that he use live musicians for a forthcoming production.
The American Federation of Musicians' Local 802 announced Friday that it had struck a deal with Byrne's show, "Here Lies Love," eliminating the need for third-party mediation.
The show will employ 12 members of Local 802 — nine orchestra musicians and three actor-musicians who play music as part of their onstage performance.
Byrne had originally proposed using only pre-recorded music, which the union saw as an existential threat to its role in Broadway musicals. Local 802 described Byrne's demand as unprecedented in a niche regional industry where unions remain influential. The union worried that if Byrne achieved his goal, it would jeopardize the future use of musicians in Broadway musicals and the artistic quality they add to the Broadway experience.
"Broadway is a very special place with the best musicians and performances in the world, and we are glad this agreement honors that tradition," Tino Gagliardi, president of Local 802, said in a statement.
Spokespeople for Byrne did not immediately respond to requests for comment about the agreement.
Byrne's concession to the union followed weeks of negative media coverage. The union hired seasoned political communications strategist Eric Koch to wage a no-holds-barred publicity campaign against Byrne. And Gagliardi was previously keen to note to HuffPost that Byrne, a New York City resident, was once a member of Local 802.
Last Tuesday, HuffPost reported that in 1986, Byrne admitted that he chose to shoot a musical-comedy film in Texas because it is a "right-to-work" state where unions have less power. The revelation undermined Byrne's insistence that he wanted to use recorded music in "Here Lies Love" for creative reasons.
"The HuffPost story was a final straw that got Byrne to the table to negotiate," someone familiar with the union's conversations with Byrne told HuffPost.
Local 802's strength on Broadway helps make it one of the most influential musicians unions in the U.S. With more than 5,000 dues-paying members, it is the largest affiliate of the American Federation of Musicians in the country.
Local 802 has a collective bargaining agreement with the Broadway League, the group representing officially designated Broadway theater owners, that specifies how many musicians a musical production at each theater must employ.
Broadway producers are nonetheless free to ask Local 802 for exemptions from the minimum musician requirements on a case-by-case basis. The agreement specifies that any musical staged at the Broadway Theatre, where "Here Lies Love" is due to be staged, must employ 19 union musicians. The final tally of 12 union members for the production represents a compromise between Byrne and the union.
But in its more than a century of existence, Local 802 had never allowed a musical production to be staged entirely without musicians, according to Gagliardi. The union was prepared to fight Byrne in third-party mediation, after which it would have had the opportunity to appeal any judgment to a formal arbitration body.
Support HuffPost
The Stakes Have Never Been Higher
Popular in the Community