David Fajgenbaum has nearly died five times. He's had his last rites administered, and he knows he could relapse at any moment. Still, the 32-year-old doctor doesn't waste energy on self-pity. He can't. He's too busy trying to find a cure for the rare disease that's come so close to killing him.
"I realized that if I didn't dedicate the rest of my life to trying to cure this disease, that no one else was going to do it," Fajgenbaum said. "I didn't have many more shots."
When Fajgenbaum was 25 and in his third year at the Perelman School of Medicine at the University of Pennsylvania, the strapping former football player began experiencing a series of strange symptoms. For about two weeks, he noticed his lymph nodes were enlarged, and he was having night sweats and overwhelming fatigue. He'd get so tired that he'd catch five-minute naps between seeing patients.
At first, Fajgenbaum chalked these curious issues up to being an overworked medical student. He simply couldn't afford to be sick. He was determined to finish med school and cure cancer, the disease that claimed his mother's life when he was in college.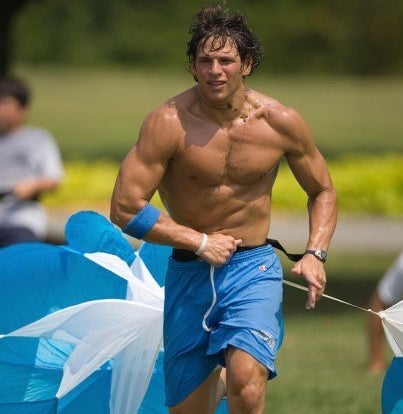 On a Friday afternoon, while he was taking an exam in obstetrics and gynecology, his abdominal pain intensified to a point he could no longer ignore. He finished up the test and checked into the emergency room.
He later learned that his liver, kidneys and bone marrow were failing. But his doctors had no idea why.
"I was really as sick as you can get," Fajgenbaum said.
During the nearly seven weeks he spent in the hospital, he had a retinal hemorrhage, leaving him temporarily blind in his left eye.
He also gained about 70 pounds of fluid.
"There's actually an entire war that's going on inside the body," Fajgenbaum said of his symptoms.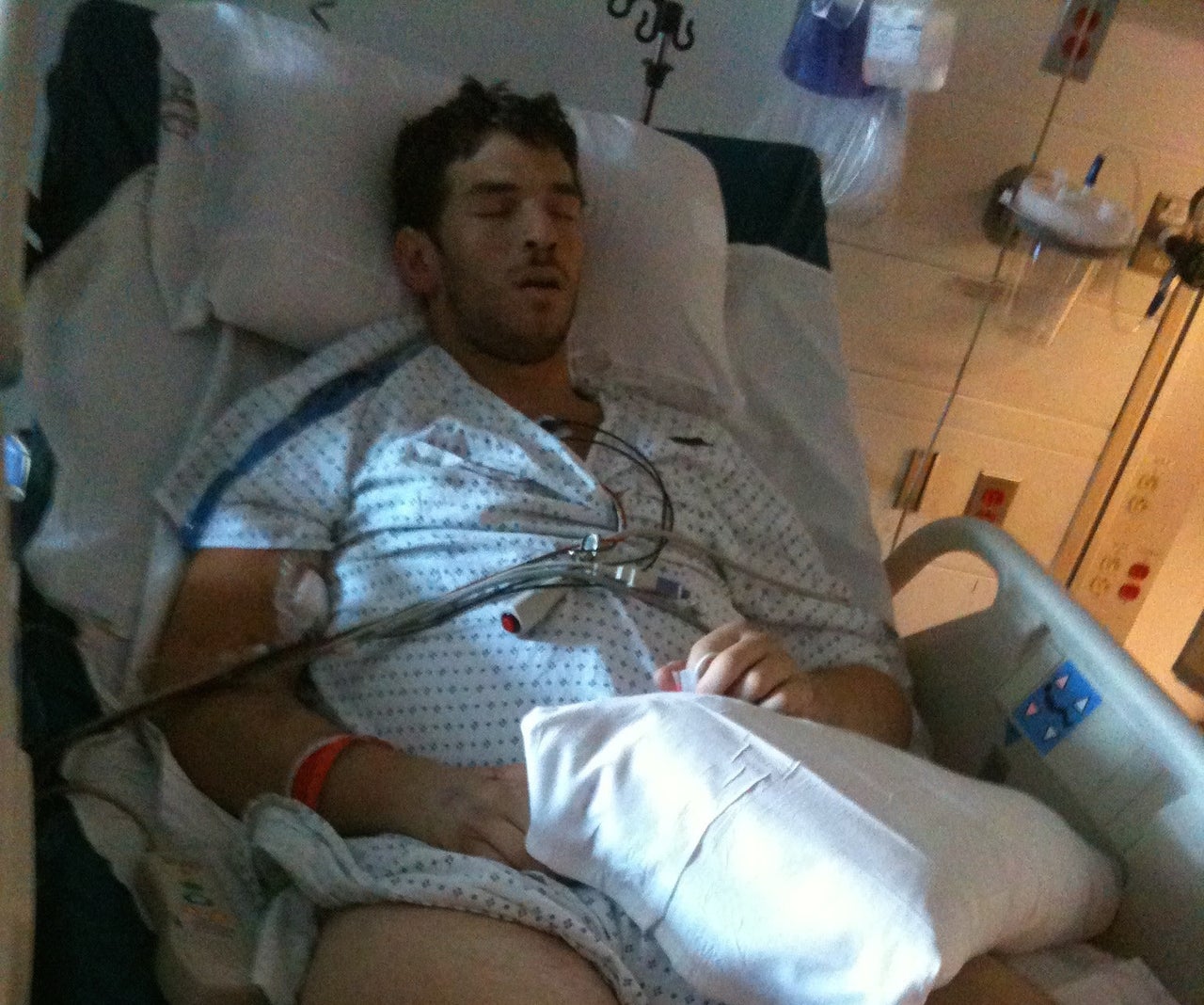 Doctors treated his symptoms with high doses of steroids and discharged him without a diagnosis.
About a month later, while recuperating at his parents' home in North Carolina, the mysterious illness returned with a vengeance. This time, the steroid treatment didn't work, and Fajgenbaum's medical team at Duke University Hospital didn't think he would pull through. His family called in a priest to administer his last rites.
But when doctors put Fajgenbaum on a chemotherapy regimen, his body responded. The treatment turned out to be "just enough" to keep him alive, he said. And then, a biopsy of his lymph nodes returned with a diagnosis: Castleman disease.
"You go from being healthy and well ― to almost dying.""
He only vaguely remembered learning about this illness in medical school, so he went to Wikipedia to find out exactly what he was up against.
Every year, about 5,000 people in the U.S. are diagnosed with this lymphoproliferative disorder, making it about as common as Lou Gehrig's Disease (or ALS). For the majority of patients, symptoms can be mild and surgery can cure the disease. Fajgenbaum wasn't so lucky. There are three subtypes of Castleman, and he has the most deadly form. His symptoms were severe, and there were few known treatment options, let alone a cure.
His chances of surviving were grim.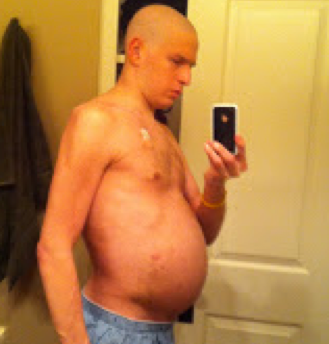 "What's remarkable is how dramatic their presentations can be," Tom Uldrick, senior clinician at the National Cancer Institute, told The Huffington Post of Castleman patients like Fajgenbaum. "You go from being healthy and well ― to almost dying."
Uldrick has counseled Fajgenbaum on treatment options and serves on the advisory board for the organization Fajgenbaum co-founded in 2012, the Castleman Disease Collaborative Network. The group, which operates out of the Hospital of the University of Pennsylvania, works to advance research and treatment for this rare disease. Its website offers additional information about the disease and resources on how the public can support its efforts.
Thanks in large part to the work of the CDCN ― and Fajgenbaum's personal research ― he is currently enjoying his longest remission to date, a little over three years. Fajgenbaum has been treating himself with a drug that he identified on his own and that no other patient has taken before for Castleman. However, his mind is not at ease. There's still no cure for the type of Castleman that Fajgenbaum has ― and no one knows exactly what causes it. His period of reprieve could end at any moment.
Patients who have the rarer and more deadly forms of Castleman have only a 35 percent chance of surviving five years past their diagnosis. It's this sense of urgency that drives Fajgenbaum to work to save his own life, and those facing similar diagnoses, every day.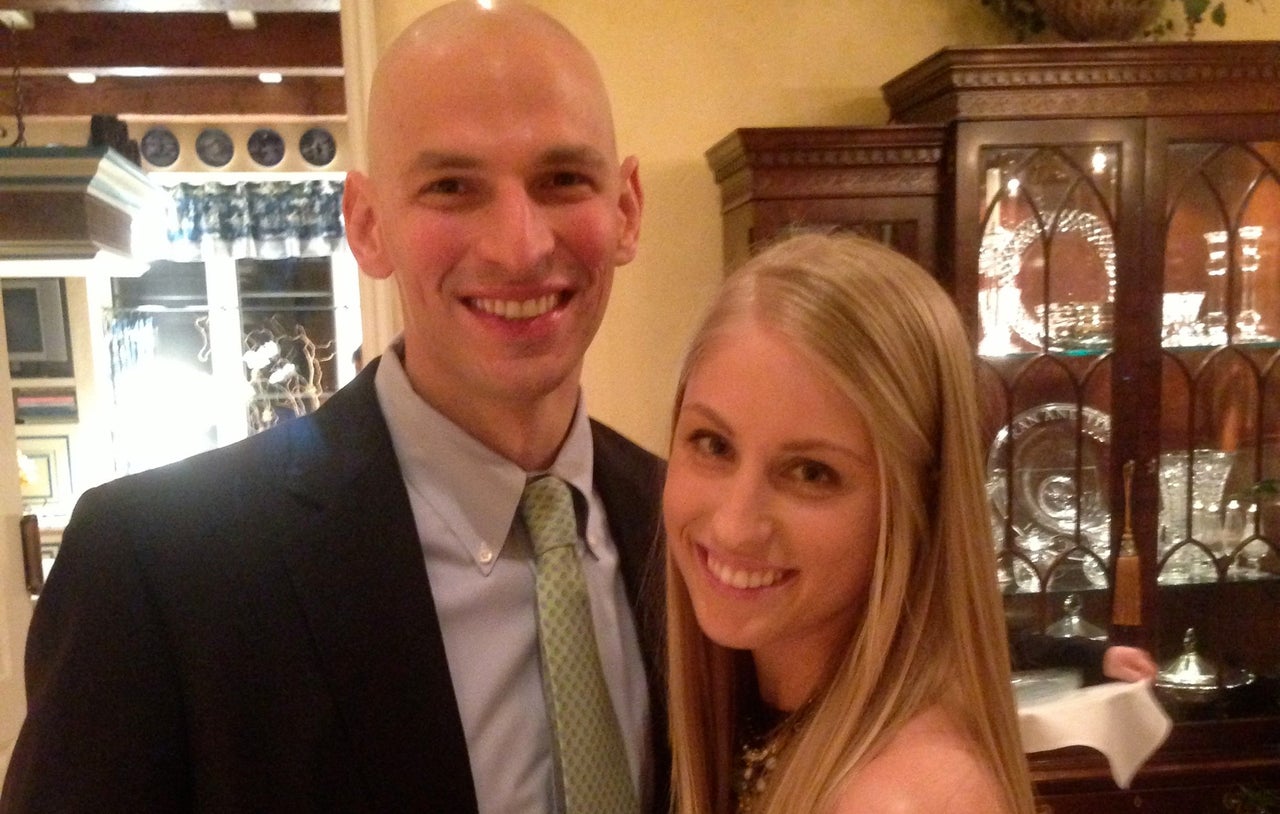 To break down the complexities of how he reached this point, Fajgenbaum often uses the lingo of his first love: football. And it makes sense. Every time he progresses a few "yards," the disease charges back and attempts to knock him down.
"We're at midfield. We've made a lot of progress," Fajgenbaum said. "But it's this next 50 yards where we're going to take the research, the data we have, and we're going to turn it into permanent cures."
As Fajgenbaum recovered from his first two near-death experiences, he began digging into the known data about Castleman. He found that researchers across the world weren't communicating with one another. Castleman experts were virtually cut off from each other, and breakthroughs failed to become cures ― it's a common refrain in the rare disease space.
"I think about Castleman disease almost as like a serial killer. Every time it attacks, it leaves fingerprints and it leaves tracks. But no one has been able to put all the clues together.""
If he could just get the top minds working on Castleman to meet in person on a regular basis ― and share their data via one accessible platform ― then maybe he could accelerate the process of finding a cure, Fajgenbaum thought.
It's a simple concept, but one that too few researchers have been able to pull off. In Fajgenbaum's case, it's working.
"I think about Castleman disease almost as like a serial killer," Fajgenbaum said. "Every time it attacks, it leaves fingerprints and it leaves tracks. But no one has been able to put all the clues together to figure out how to stop it from striking again."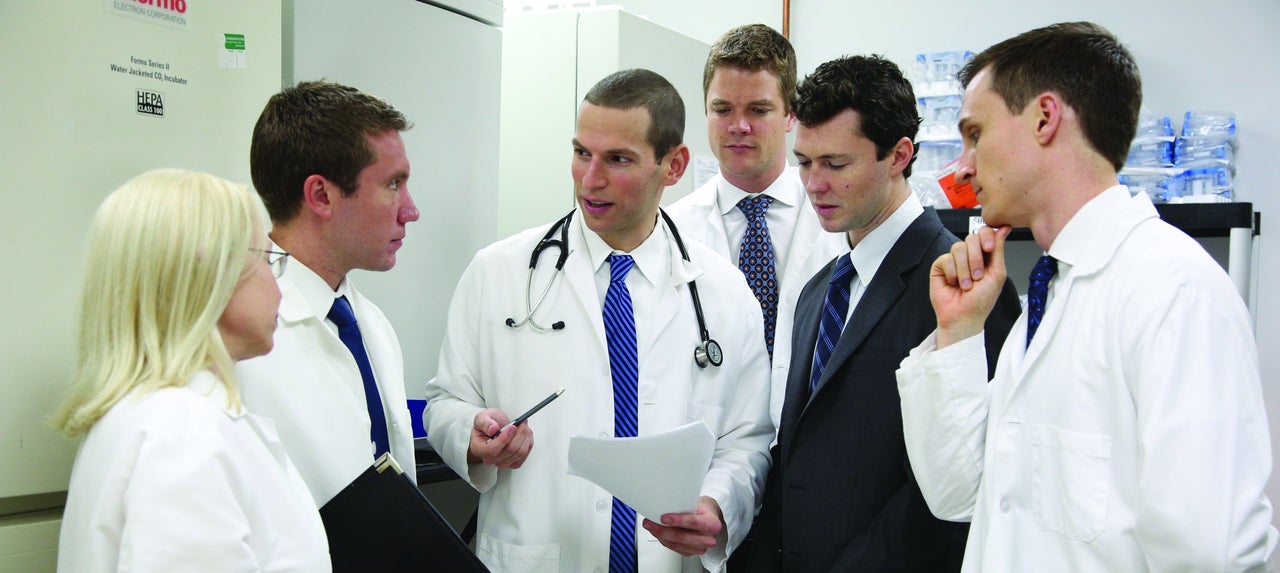 When HuffPost visited Fajgenbaum at UPenn Hospital last month, the fresh-faced physician ― who's also an assistant professor ― was teaching a weeklong course to fourth-year medical students. As he animatedly discussed his medical journey, he looked more like the guy he was at 19, a fit college quarterback, not someone with a terminal illness who was once so swollen that another patient mistook him for a pregnant woman.
It's tempting to call his remission a miracle. But that would undermine his herculean efforts.
"Castleman picked the wrong people this time," Fajgenbaum told HuffPost, "and we're not going to let it get away with it anymore."
Today, the CDCN comprises about 400 researchers and physicians worldwide. It's creating a new, more streamlined research model, which is helping the group inch toward a cure.
The CDCN has already made a number of impressive inroads. For example, in 2011, Fajgenbaum was granted special permission from the FDA to try siltuximab, a medication for Castleman that was still in the experimental phase. It didn't work for Fajgenbaum, but the CDCN still had faith in it. The group helped in moving along the clinical trials for siltuximab, and it's currently the only FDA-approved drug to treat Castleman. It isn't a cure, and patients have to stay on the medication for the rest of their lives. But it's something. About 1,000 patients have benefitted from it.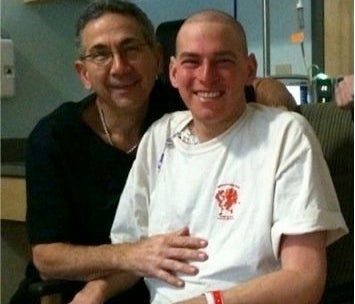 While Fajgenbaum has developed a novel research model, patient-run advocacy groups are often a driving, and necessary, force in the world of rare diseases, said Mary Dunkle, vice president of educational initiatives at the National Organization for Rare Disorders. The Connecticut-based organization works with its member groups to develop treatments and cures for rare diseases through education, advocacy, research and patient services.
"We see this fairly frequently in the rare disease community," Dunkle said of patients or family members starting foundations. "Almost every day, we talk to ordinary people who are doing remarkable things, because they suddenly were faced with a life-or-death situation."
"Almost every day, we talk to ordinary people who are doing remarkable things, because they suddenly were faced with a life-or-death situation.""
These groups play a critical role for a number of reasons, she added. Because the patient populations are so small, there often isn't funding available from traditional sources. Patient organizations can draw from their personal networks to raise money. These foundations are also plugged into the patient communities and can help with recruiting for clinical trials.
For Fajgenbaum, building a Castleman network from the ground up wasn't anything new. After his mother died from brain cancer in 2004, Fajgenbaum ― then a freshman at Georgetown University ― launched a national nonprofit called Actively Moving Forward, which supports young people who have lost relatives. And he did it while balancing football practice and a rigorous pre-med course load.
"I've always been crazy, hyper focused on stuff," he said.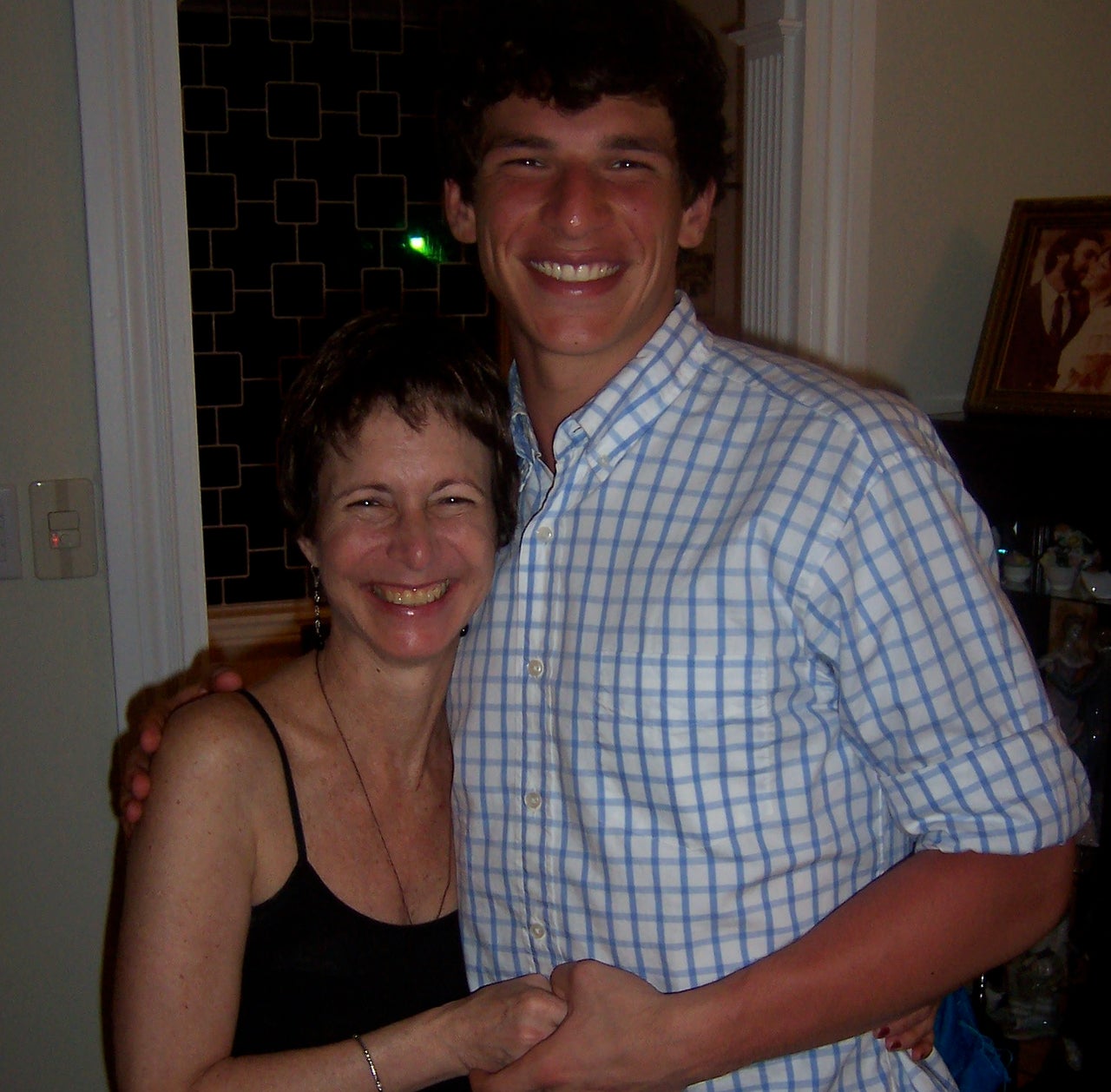 This dedicated approach has persisted, despite his terminal illness.
In 2013, a year after founding the CDCN, Fajgenbaum graduated from medical school. He was also diagnosed with a rare form of cancer that doctors believed was linked to Castleman. After he had a tumor removed from his liver, Fajgenbaum bounced back and enrolled at the Wharton School at Penn. He figured that an MBA could help him run the CDCN more efficiently.
He also started closing in on Castleman. He wrote a paper for a respected medical journal suggesting an entirely new way to look at the disease. Up until that point, Castleman was believed to act like a cancer. According to Fajgenbaum's research, it should be considered an immune system disorder.
In November 2013, just one week after his paper was published, Fajgenbaum relapsed for a fifth time. It was his most dispiriting episode, he said. He had just gotten engaged to Caitlin, now his wife.
"For the first time," he said, "I had a lot of plans for the future."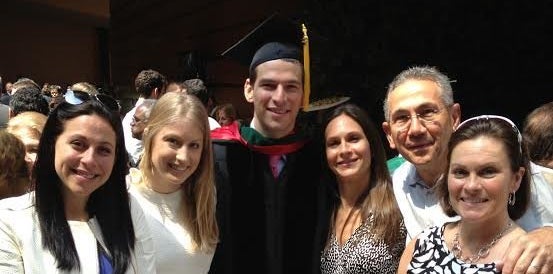 He spent nearly two months in the hospital at Penn, where he got a heavy dose of chemotherapy for a third time. During his brief periods of lucidity, he strategized how to gather every bit of evidence related to his illness to crack his case.
That process involved pulling medical records, lab results and other information from all the hospitals that had treated him.
When he returned home, he took the semester off from business school and spent every waking hour poring over those documents. The Philadelphia apartment he shared with Caitlin became his Castleman war room. There were more than 5,000 pieces of paper strewn across the living room.
"I was in my living room at my desk all day and night. [Caitlin] was kind enough to remind me to eat every once in a while.""
"I was in my living room at my desk all day and night," Fajgenbaum said. "[Caitlin] was kind enough to remind me to eat every once in a while."
For advice, he often turned to the army of experts he had recruited to the CDCN. But it was a suggestion from Tom Uldrick, the National Cancer Institute clinician, that resonated most.
Uldrick pushed Fajgenbaum to single out specific drugs to evaluate ― and to do it when he was coming out of a chemotherapy cycle so there were still symptoms to follow.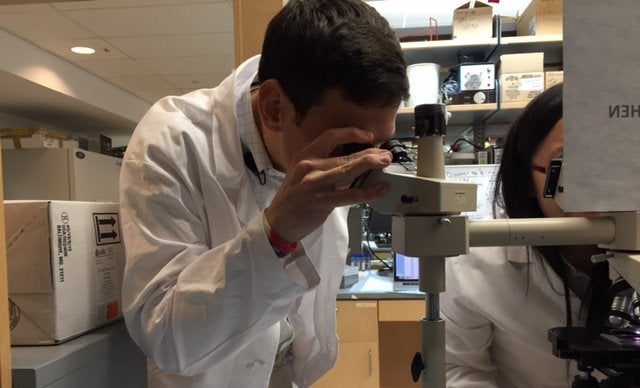 Fajgenbaum analyzed blood samples from the year prior to his fifth relapse.
He finally hit upon some clues as to what might be turning his immune system against itself, and he began looking for a medication to stop this. A month later he identified sirolimus, a drug that's typically prescribed to kidney transplant patients. The drug keeps the immune system from attacking the new kidney. It had never been used for Castleman disease before.
Fajgenbaum presented his idea to anyone who would listen. No one discouraged him from trying a drug on himself, but many physicians he consulted with were skeptical that it would actually work. Fajgenbaum wasn't all that confident himself.
"I was willing to take that risk because we had tried everything else," Fajgenbaum said. "I wanted to try it for my wife, and I wanted to try it for my family and my sisters and for me."
Uldrick wrote him the prescription, and Fajgenbaum's physician ― the world's foremost expert in Castleman disease, who's based in Little Rock, Arkansas ― gave his blessing.
The "risk" has proved worthwhile ― so far. As Fajgenbaum puts it, he's living in "overtime." He and Caitlin got married in May 2014, just as they'd planned.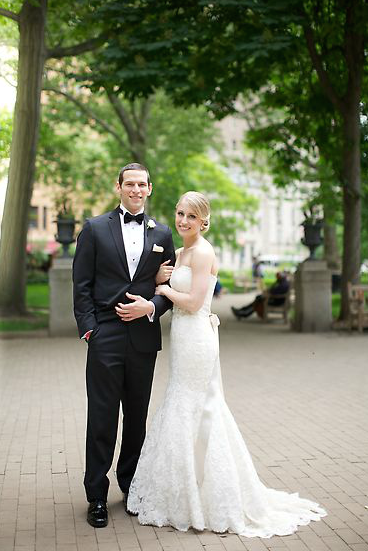 A modest office at UPenn Hospital ― where Fajgenbaum scrawls equations on the window overlooking the university's downtown campus ― is where he often meets with other Castleman patients. Many say they have hope only because of this young doctor's work.
Fajgenbaum said he spends 90 percent of his time on Castleman work and 10 percent with his wife.
"I don't have any other hobbies," he added.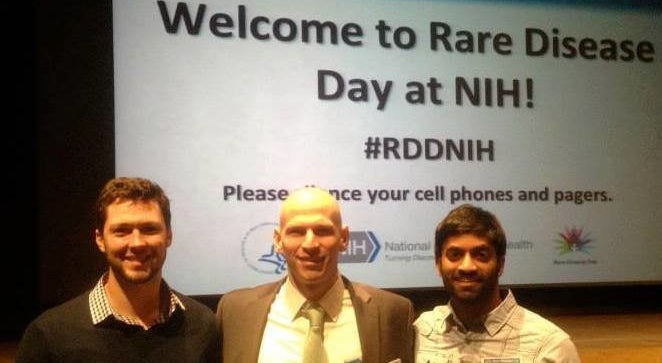 The intense commitment had paid off.
There's now a defined set of diagnostic criteria for Castleman disease, so patients are getting diagnosed faster. There's also a uniform terminology system, which makes it easier to understand ― and compare ― research.
And, about six months ago, the CDCN launched a patient registry to more effectively study the disease.
While there's cause to celebrate, ending the disease may still be far off.
"There are a lot of remaining unanswered questions," Uldrick said. "In terms of figuring out what the right treatment is ― to be honest ― we're in the infancy stage."
While Fajgenbaum knows this to be true, and is aware that his next episode could be lurking around the corner, he remains upbeat. In some ways, he says, he's grateful for the perspective the disease has given him.
"I wish that I had never gotten [Castleman] and I wish that I could give it back," he said.
"But the reality is that it's given me the ultimate purpose," he added. "It's given me something to keep me up late at night and wake me up early in the morning. This feeling of having something that is my calling ― and my drive ― is something that I want everyone to have."
Support HuffPost
The Stakes Have Never Been Higher
Related
Popular in the Community