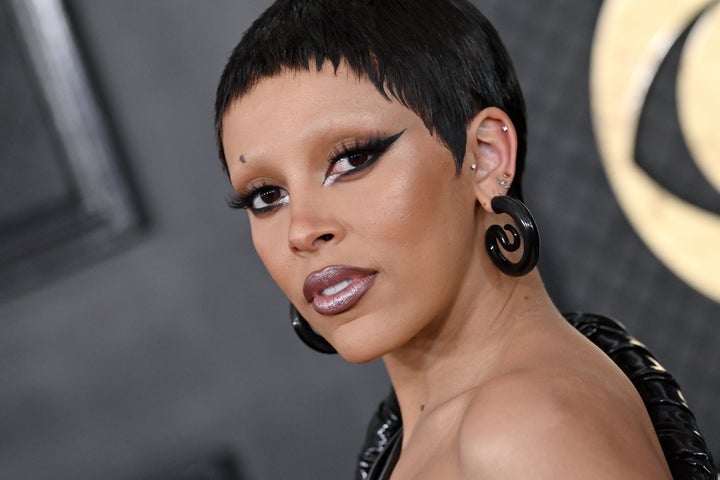 Doja Cat hasn't shied away from detailing her recent cosmetic surgeries. Now, she's shutting down a Twitter user's claim that she's "encouraging" her young fans to go under the knife.
The exchange happened Sunday after the "Woman" singer took to social media to post about her recovery from breast augmentation and liposuction.
Doja first revealed last week that she had undergone the procedures, tweeting that she was "healing really fast."
"Feels ok. I got lipo so my thighs hurt a lot if I move too much," she wrote on March 20, which opened the floodgates for curious followers to ask for more details over the following days.
One fan said, "we want to see your new boobies," prompting Doja to nonchalantly state, "they're swollen."
Shortly after, a different Twitter user jumped in to slam the singer for "encouraging your young and impressionable fans to change their bodies."
The Grammy winner, who's never been one to hold back a snappy retort, replied with a majorly Doja-esque response.
"Eat my long quiet and warm farts," she quipped.
Some fans chimed in to defend and support the singer.
"How is she encouraging it. shes just sharing her experience," one Twitter user commented.
"Baby anyone can do what they want to do," another wrote. "You can't stop anyone from doing what they want to do."
The hit-maker had originally revealed her plans to undergo breast augmentation in November.
"I'm literally about to get surgery this winter," she wrote at the time. "I just want my titties pulled up cuz some of my tops don't fit the way i want them to."
During a discussion with VladTV in 2018, Doja appeared to have a vastly different attitude toward "fake boobs."
"There's these boobs out here that are just like two basketballs, and they don't make sense," she told the celebrity interview site that year. "They defy gravity, they defy science — it's unexplainable. ... I don't get it. I don't get fake boobs."
She added, "I don't think I would want bigger boobs than I have now, either."
Popular in the Community